GLOVES
Waterproof G50 Basic Sport Series Wet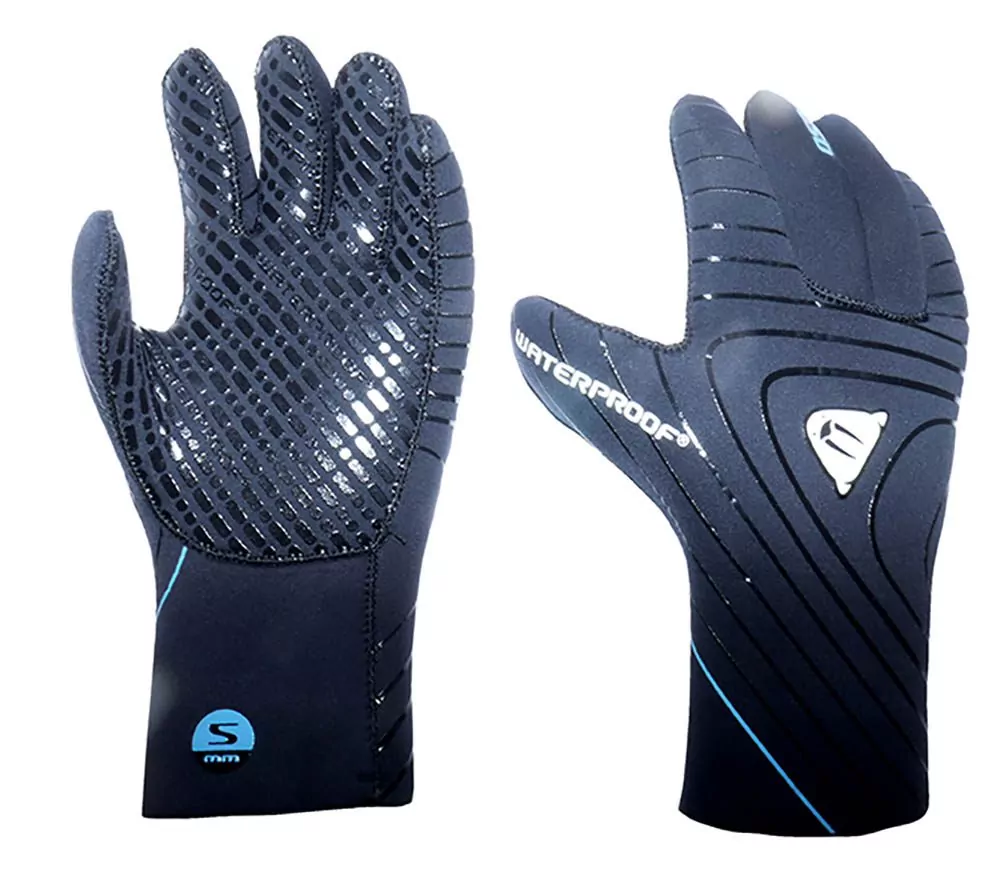 Appeared in DIVER May 2018
I'VE NEVER REALLY LIKED dive gloves.  The water has to be 12° or below before I reluctantly reach for a pair. But in the days when I was regularly instructing at UK inland sites in the winter months there was no alternative.
When it's that cold, your fingers will hurt and become claw-like eventually, even through thick wetsuit gloves.
Design and Use
Waterproof is a Swedish manufacturer of wet- and drysuits and is considered a high-end brand. The G50 gloves are the least expensive in its range.
They are made from double-lined 5mm neoprene, with a plasticised non-slip panel over the palm and undersides of the fingers and thumb for grip and durability.
The seams are dry-stitched, and the cuff-edge isn't bound. The G50 just pulls on and off – there are no expanding gussets in the cuff that then need to be cinched down with straps or zipped tight.
To test the gloves for dexterity, I went through a full function check of my underwater camera. Watching my menus, I turned dials, flicked levers and, most tellingly, pressed push-buttons, all intricate operations.
How easy they are reflects partly on the glove and partly on the housing controls. I have one video housing that's so badly designed that the run control button sits low enough to be almost impossible to depress through a 5mm glove.
More realistically for normal diving, I tested the G50 with the routine gearing-up and dekitting operations involved on any dive.
I checked to see if I could fit my mask-seal under my hood and adjust the strap, close and release BC buckles and don and doff my fins.
The G50 gloves allowed me to complete all these tasks very easily, helped by a good fit. Some gloves are too long for my fingers,
so fingertip control becomes very difficult.
I liked the uncomplicated cuff, too. I'm sure I'm not the only one, especially as a solo-diver who struggles with the one-glove-on syndrome – you know, that situation where you've zipped or strapped on your first glove, and now need to take it off in order to put on the second!
A nice touch is a bit of cord that lets you link the gloves together and hang them up for drying.
Conclusion
Towards the end of a long dive, I took the gloves off. It was then that I really felt the shock of cold water on my hands. G50s might be low-cost, but they are effective.
Specs
TESTER> Steve Warren
PRICES> £35
SIZES> XS-XXL
COLOURS> Black
CONTACT> cpspartnership.co.uk
DIVER GUIDE>  10/10