RED SEA DIVER
Southern Exposure
The winds were blowing offshore, but that hardly mattered to RICHARD ASPINALL while he had the run of the inshore reefs from two southern Egyptian bases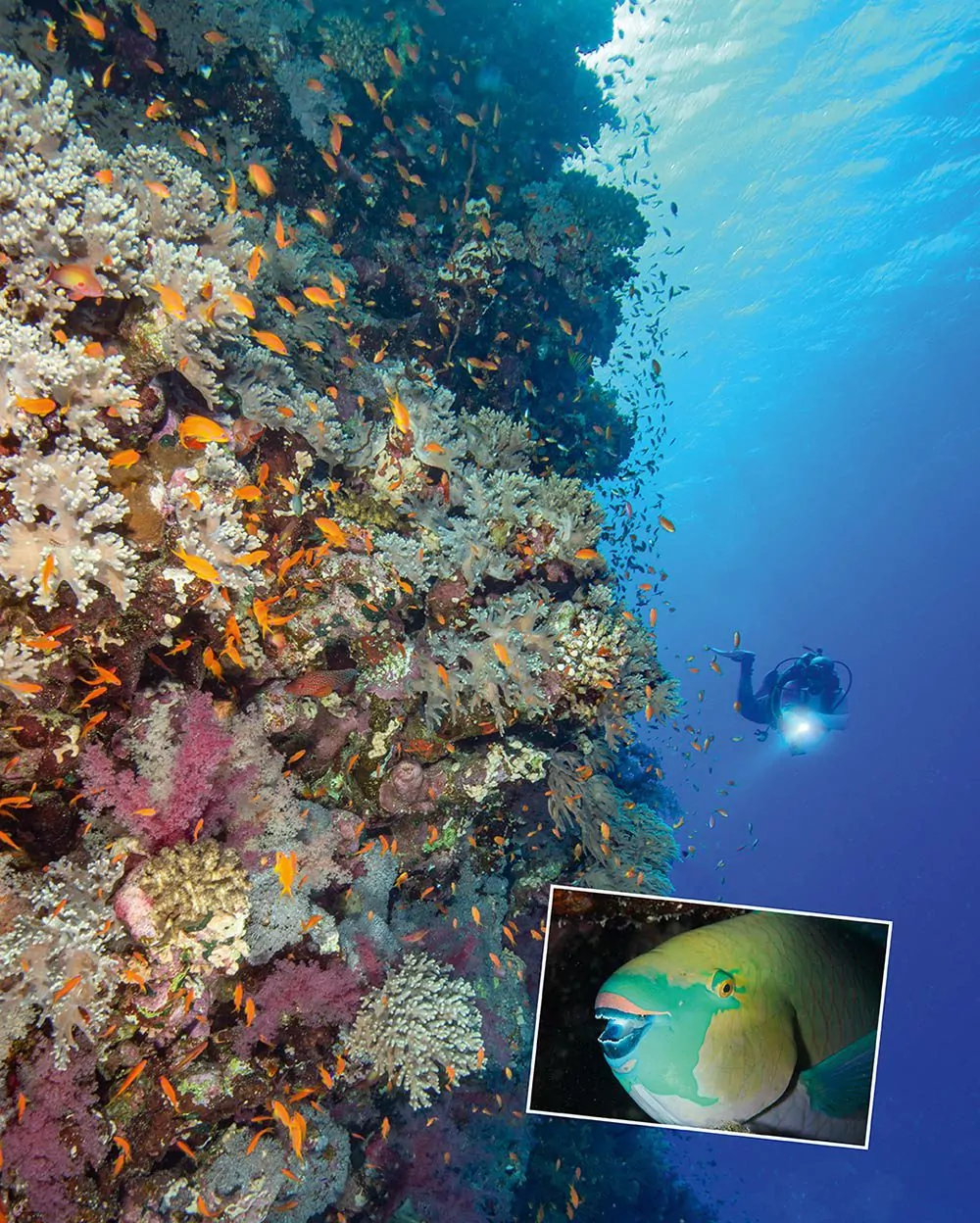 Appeared in DIVER September 2018
THERE HAS NEVER BEEN a better time to visit the Red Sea! I know, I'm by no means the first person to say this, and I'm sure the diving community won't stop reminding UK divers that the wrecks and reefs of one of our favourite destinations are as good, if not slightly better, than they were when the present woes of the Egyptian tourism industry began.
Travelling to Sharm el Sheikh is no longer a direct process; at the time of writing, you can't fly direct from a UK airport to the Sinai. Sharm's loss has offered a respite to resorts and operators served by Hurghada and Marsa Alam airports, though tourist numbers (divers or otherwise)
remain low.
While this might not be good for the resorts and infrastructure that supports the diving and wider tourism industry, including many hard-working people, it is almost certainly a good thing for us divers. We have more room on reefs that have seen a reduction in diver and snorkeller pressure.
Eager to find out for myself if the reefs of the "pristine" south were as good as I remembered, I headed about as far down the Egyptian coast as you can go for a land-based diving trip, to the resorts of Marsa Nakari and Wadi Lahami.
Leaving Marsa Alam, with the Red Sea a deep blue on your left, you traverse a landscape of ancient fossil reefs, now high and dry, separated by ochre-brown wadis, the flat areas, where the brief
and occasional rains allow low, scruffy vegetation to cling on in this unforgiving environment.
WHERE THE WADIS meet the sea, sandy-bottomed bays are uncharacteristically green with mangroves; those bizarre salt-tolerant trees that not only protect the coastline but offer refuge for a complex assortment of animals above and below the surface.
Marsa Nakari is one of three resorts that have been at the heart of shore-based diving in the Red Sea for many years. It is centred around a sandy bay with a small timber jetty for access to the RIBs, with the palm-frond-covered kitting-up and briefing area just above the high-tide line.
Back a little from the shore sits the tent accommodation and, on a rise, a line of Nubian-style chalets.
Diving on the house reef at Nakari is free and essentially unlimited. There are a number of options that you can mix up to vary your dives and provide for different amounts of exploration and varied profiles, from shallow, hour-long dives to 25m-plus dives around coral pinnacles reaching from the seabed, surrounded by pure white sand.
You can go north or south on the reef that fringes the shore, using RIBs to take you out or pick you up. As you can imagine, if your plan is to go to the very furthest part of the reef you'll want a RIB for both ends of the dive, and a delayed surface marker buoy. If you're feeling a little less adventurous, a simple "go shore/ out shore", as it's known, is the way to go.
It's this simple system, reinforced by a straightforward map and sign in/out board, that's at the heart of Nakari's offer.
FOR EXPERIENCED DIVERS, simply walking from the shore to a coral-rich reef might not hold much excitement, but for a newly qualified buddy-pair keen to test their mettle, hoping to try out a new camera or simply marvel at the fish, the corals and all the rest, this is a seriously attractive proposition.
I was unsure what to expect from the house reef. Fringing reefs are some of the most easily damaged, being at the mercy of land-derived pollution and coastal development as well as ill-timed fin-kicks from inexperienced snorkellers and divers.
I was pleasantly surprised, however and, as we left the ropes that guide divers past the area where the RIBs come and go, we passed a gathering of blue-spotted rays hunting in the sand: the coral I saw there was in great condition.
Small fish, from black and white half-and-half chromis to striped humbug damsels, hid among the coral-heads.
Bright yellow butterflyfish nipped away at the corals, and a crocodilefish did its best impression of a piece of old rock.
Overall, I'd rate this as a pretty good house reef – in fact, one of the best I've seen. And this is, in no small part, due to the Red Sea Diving Safari philosophy of keeping diver numbers low, to avoid placing undue stress on the reef. The resort's simple construction and low-key development reflect this aim.
That evening, I chatted to some of the other guests, many of whom return to these resorts year after year, or intersperse their stays with liveaboard diving. They relished the freedom and space offered – and the avoidance of seasickness.
A 45-minute night-dive offered more evidence that the local reefs were rich in life, especially around the sandy-floored pinnacles and bommies to the south.
I had the time of my life, photographing everything from cuttlefish to large hermit crabs, lumbering round the reef carrying masses of anemones on their shells.
The anemones benefit from the crabs' messy eating habits, and offer protection in the form of an arsenal of sting-laden tentacles.
Later that night I heard that the wind was expected to pick up in the following days, and we were going to make the best of it by heading out to an offshore site, Habili Nakari, before the weather turned.
This would be my first chance to witness the spectacular colours and life on the offshore reefs on this trip.
At seven o'clock the following morning we were in the RIB and speeding east. The captain had his phone in hand to follow the GPS. He did a remarkable job of riding the already-building wave crests, whipped up by the northerly.
It was a blessedly short trip, and within a matter of minutes we were in calm, clear waters, passing what appeared to be an artificial cylinder the size of a house, upended on the seafloor. It was almost perfectly circular in cross section.
THIS PARTICULAR HABILI (a name for a small reef that doesn't reach the surface) was one of the finest I've seen.
Occasionally strong currents had allowed vast swathes of purple, red and pink soft corals to clothe its flanks. Thousands of bright orange anthias pulsed in and out of the corals, as my strobes fired.
We finned across to a series of smaller habili, each with its own character (almost a coral personality), before returning to the main one, shallowing up for a safety stop on the habili's topside.
The RIB was waiting for us. With no permanent mooring, this is a site you can only realistically dive from Nakari.
The next dive would take us to Sha'ab Nakari, a larger and more typical offshore reef, though no less attractive than the habili. We maintained a shallower profile, again marvelling at the visibility, given the sea state.
I finished my safety stop and carefully photographed the top few metres of the reef, making sure that I wouldn't get washed onto the reef flat. (I've often done this, occasionally to a guide's confusion.)
The colours up there can be astounding: pinks, yellows and violets brought out by the intense sunlight.
That night, the wind really ramped up and, the following day, we dived the house-reef and a bay rich with seagrass – the ideal place to find green turtles which, as adults, have a vegetarian lifestyle. The pigments in the seagrass give the turtles' flesh a greenish hue, hence their name.
A dive off the house-reef in search of the elusive velvetfish also proved well worthwhile and, afterwards, I got chatting with Red Sea Safari Diving's owner, Hossam, who was one of the pioneers of diving along this coastline back in the 1990s.
Hossam has had an interesting career: there can't be many former Presidential Guards now running environmentally conscious dive-resorts.
THE TIME TO MOVE even further south arrived and, as we hit the desert road, the landscape became more natural, and I started to see what it must have been like when this area was, except for a few military bases, largely empty.
When we arrived at Lahami, the feeling continued. This is a much smaller resort than Nakari and felt more intimate.
With only a handful of guests present, I quickly found people with common interests. As a lone traveller, I'd say this might be the better option for anyone arriving without a buddy.
I'm not sure if there are any centres further south than this, and it retains a pioneering feel. While so much of the Red Sea coastline has been developed (and perhaps over-developed in some cases), at Lahami the mangroves are healthy and intact. A wealth of bird species, including ospreys, can be watched from the shaded dive-centre.
Diving from Lahami is all RIB-based. Two offshore dives in the morning and then shorter RIB rides to the house-reef for an afternoon- or night-dive are the norm.
For my first dives, the wind limited us to the house reef, also known as Torfa. Visibility was quite poor but the reef was clearly excellent, and a pair of green turtles cheered us up. The main thing was that we were able to dive – even in the worst weather diving there, and good diving at that, was still possible.
Night-diving at Lahami was a pleasure. Kitting up as the sun goes down is always exciting as you wonder what you'll find and we wouldn't be disappointed.
Minutes after dropping onto Torfa I spotted the yellow and black of pyjama slugs before another diver flashed his torch, which seemed to cause a glow of red! Sure enough, he'd spotted the king of all nudibranchs, a Spanish dancer!
As he moved off to let the rest of us have a gander, his torch-beam fell on a fully unfurled basketstar, filter-feeding in the slight current. He signalled me to come over: "Did I want a shot?"
I signalled "no" as the inevitable happened and, disturbed by his light, the basketstar furled itself up and left. It moved surprisingly quickly.
Back ashore, the diver told me that both creatures were new to him. If I'm honest, I slightly envied him: imagine learning that these two remarkable animals existed for the first time.
OVER A DECO BEER, I asked my fellow-divers (some from Cairo, some from Italy and the rest Brits like me), what was it that they liked so much about this spot? What kept bringing them back?
They all appreciated the space and the uncomplicated nature of the offer: tented accommodation, diving, good food and somewhere to relax and get away from it all.
And, as one reminded me, the only other way to dive these sites is by liveaboard and even then, many sites within the complicated reefs are not accessible to larger vessels, especially when the wind is up.
During the night the wind dropped somewhat, much to the relief of the ospreys, who would find hunting for fish far easier in the calm. They eyed me suspiciously the next morning as we walked our kit out to the RIBs.
The trip would be a bum-bruising 45 minutes to a section of reef known as Lahami South.
What a reef this was! It consisted of coral gardens with often improbably tall and thin growths of staghorn-type coral over white sand.
Areas of small bommies often included an anemone and attendant clownfish buried among the bubble-like tentacles.
As we shallowed up we came to a V-shaped notch in the reef; a series of massive blocky corals, one after the other in pastel shades, looking like huge stairways, before dropping down once more to reveal a massive arch.
In darkness, a different community of feathery corals prospered, their yellow and purple colours hidden without torchlight. Above, a crack in the reef shone dancing shafts of light down to the seabed.
AS WE FINISHED the dive the prettiest part of the reef was revealed to be in the shallows: bright yellow and baby pink corals, vivid in the late-morning sun, almost overhead at this time of year.
Grazing tangs busied themselves on the reef-flat, and some broke away to pick algae from the hull of the waiting RIB.
A titan triggerfish came with them to see what was going on. Meanwhile, we decided to keep well away from this pugnacious fish.
It's easy at this point to start to ask: shore-based or liveaboard, which is better? But a trip to Lahami, Nakari or, even better, both, makes that argument somewhat moot. Choosing one over the other is like comparing apples and oranges.
With reliable and guaranteed diving on impressive and thriving reefs, Lahami and Nakari can't be beaten. Couple this with access to some of the best offshore sites (that truly deserve the "pristine" tag often attached in the south) and these are impressive destinations. If you want the best of shore-based diving, you need look no further.
FACTFILE
GETTING THERE> Direct weekly flights from Birmingham on Mondays, and from Gatwick on Thursdays and Sundays. Regional departures are available to Hurghada but with a longer transfer. It's a one-hour drive from Marsa Alam to Nakari, two to Lahami.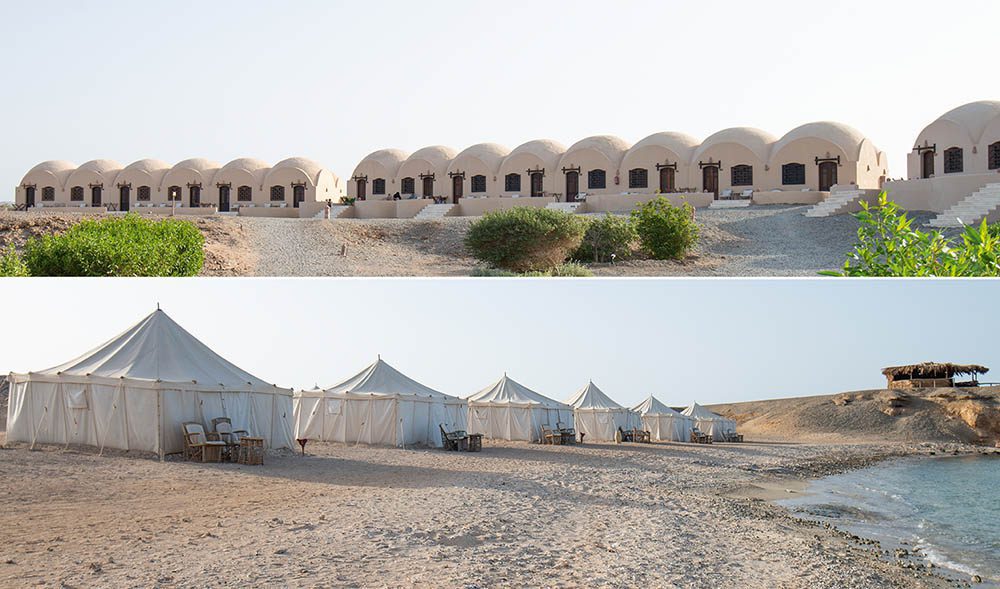 DIVING & ACCOMMODATION> Four styles of accommodation are available (three at Lahami) ranging from a Beach Safari Tent with shared facilities to Deluxe Chalet with air-con and en suite. You get unlimited house-reef diving at Nakari with complimentary use of RIBs for drop-off and pick-up. Boat and truck excursions cost extra. Offshore diving (by RIB) with up to four dives a day is available at Lahami. Nitrox and kit-hire are available at both locations.
WHEN TO GO> Year-round. Water temperatures range from 20-30°C.
MONEY> Euros preferred currency but Richard was also able to use sterling.
PRICES> Oonasdivers offer stays at Lahami from £805pp with five days of shore diving, or Nakari from £725pp with five days' unlimited house-reef diving. Prices include flights, transfers, seven nights' twin-share Beach Safari Tent and full board. Low-season (January, February) and group discounts are available, oonasdivers.com
VISITOR INFORMATION> egypt.travel