OMAN DIVER
Surprise Surprise
It's one surprise after another for JOHN LIDDIARD as he dives the Gulf of Oman – starting with a shark that by all accounts shouldn't be there at all
WHILE OMAN IS "Just"across Arabia from the Red Sea, the diving can't be directly compared. It's apples to oranges.
At the top of the Indian Ocean, deepwater currents are pushed shallow into the Gulf of Oman to meet Jacuzzi-warm surface water heated by the desert sun. This doesn't provide the sort of visibility you get in the Red Sea, but it is highly nutritious for plankton and hence all the marine food-chain. It's a marine environment sure to bring surprises.
Such conditions can be attractive to whale sharks, but I am treated to a somewhat smaller shark on my first dive at Cave Site.
Dive-guide Julian enthusiastically points out a nurse shark snoozing in the shade of a pile of boulders. It's not the easiest place for taking photographs, so I snap the back of its head.
Back in the boat, Julian explains his enthusiasm: "You must send us the picture, no-one at the dive-centre will believe I saw a nurse shark here!" Seems it was an unusual occurrence.
First impressions are important, not just with the diving but also with the travel, accommodation and dive centre.
Check-in at the Sifawy Boutique Hotel was efficient and friendly without being brusque, the kind of check-in I like. My room looks out onto the new marina, with the dive-centre at the far corner.
Other buildings are a mix of new shops, offices and apartments, all developed to blend into just the right balance between traditional and modern architecture.
The Jibal Sifah Resort is located just over an hour south of the airport at Muscat, and is a purpose-built resort.
The first half of the transfer is motorway, the remainder a winding new road cut through the mountains, the sort that petrol-heads love to vroom along. Not that we meet much traffic.
Appeared in DIVER February 2019
SIFAH IS A SMALL resort town with an eye for a clean balance between traditional and modern architecture. When manager JP asks me if I have ever been to El Gouna in Egypt, because that is another of its resorts, my sense of deja vu is explained.
Sifah is still growing out along the beach and around the golf course, he says, though it isn't planned to grow anywhere near as big as El Gouna.
Extra Divers is located at the opposite corner of the marina to the hotel. If you don't fancy a 10-minute walk in the dry heat, an electric golf-cart runs a shuttle service. "To the airport and step on it"
is a running joke a group of Swiss ladies have with the driver. First impressions have come out just right.
Diving is conducted from a pair of 11m speedboats. We half-change into wetsuits at the dive-centre while the crew load our kit, then assemble our own sets on the boat and check pressure before departing.
The boats both have full-length canopies to keep most of the sun off, and I always have a T-shirt to wear in the boat to keep the rest at bay.
DIVE-SITE NAMES are quirky. At Cave Site there is no cave. It's named after a hollow beneath the headland that, from the surface, looks as if it could develop into an underwater cave, but does not.
Ray-Monde is named after a diver called Raymond, but is also a pun in French. The literal translation is Ray-World, and it's where many rays have been seen. At Ray-Monde there is a cave, or to be more exact, a barely submerged tunnel through the headland. It's a good second dive, with no need to go deep.
I see no rays, but perhaps that's because I stayed in the shallows above the thermocline. If I had done this as a first dive I would have gone deeper and might have found them. A few days later at Ras Abu Dawud there are so many torpedo (electric) rays that it adds an extra reason not to sit on the reef.
Typically the water is warm enough for a shortie down to 8-10m, then a sharp thermocline into cold murky water, then another layer that clears again below 15-16m. But while that sets the pattern for my trip, such layering is not dependable. Layers can vary with the season, between dive-sites and with the weather.
As the financial salesman has to say when trying to flog you an investment, past performance is no indicator of future performance. The same can be said for the layering of warm and cold water off Oman.
While I have chosen to bring my 7mm one-piece without hood, others survive in 5mm suits. Those with a hooded over-jacket appear happy, but those in only a 5mm steamer are noticeably reluctant to linger in the chilly deeper water.
I actually enjoy dropping below the thermocline into colder water. An initial "ooh" soon transforms into a pleasant and refreshing "aah".
The range of water temperature, turbidity and current leads to a wide assortment of marine life, often all on the same dive. We get reefs of hard and soft coral in the shallows, then in the deeper water walls of purple gorgonians more reminiscent of the Mediterranean.
In some places we get a strange mishmash where the conditions just can't make up their mind, and warmer-water life just about survives through cold periods while colder-water life struggles through the warmer periods.
Every dive is a string of little surprises. Fish species are the usual suspects, but with a local twist. In the shallows, examples of one of my favourite fish, the Picasso triggerfish, are everywhere.
I don't need to go searching, just look over the reef and 20 or more are in sight.
Why won't these annoyingly camera-shy cubists ever let me get close enough for a good picture?
I am compensated by a profusion of honeycomb moray eels, which are extremely co-operative. There are so many that they could easily outnumber all the yellow-mouth and mosaic morays added together.
ONE OF THE ONGOING hassles with diving travel is baggage allowance, especially with a camera system. For this trip I have a new Olympus micro 4/3 in a Nauticam housing and wet lenses. This is so much smaller than my old SLR system that I can fit it all in hand luggage and don't need an extra bag in the hold. That saves me £70 each way on excess baggage.
Having opted for Nauticam's wet lenses for the new camera rig, there is a great temptation to spend every dive hopping about between standard lens, wide-angle and close-up/macro.
The temptation is not as tough as it seems. The wet wide lens is so flexible that I can zoom out for a big scene or zoom in on larger nudibranchs and shrimps close to the glass. It's only for the tiniest critters that I really need to swap.
Fish such as moray eels, scorpionfish, lizardfish and flatties fit somewhere in the middle of the range. If only I could get the Picassos to co-operate, I could no doubt use it for them as well.
So a flexible lens and a bit of mental discipline saves me from too much underwater lens-fettling.
That is, until I'm into a macro subject and a turtle, giant cuttlefish or mobula ray turns up. Then it's a frantic rush to swap lenses back again. Every dive is full of little surprises.
WE COME TO OUR boat captain's favourite, the Al Munassir wreck. The captain actually served on the vessel, so he's not as young as he looks.
This 2991-ton ex-Royal Oman Navy LST (Landing Ship Tank) was sunk in 2003 for multiple purposes – as a sonar target for anti-submarine training, an artificial reef for divers and to promote fish stocks.
He wastes no time finding the wreck, and a buoy is attached to the bow. The main deck is a good 10m above the 30m seabed and a tour at main deck level or just below allows for a decent dive-time, especially as we are diving on nitrox and I have a 15-litre cylinder.
Having experienced the winding road cut through the coastal mountains, it's easy to appreciate why the Royal Oman Navy maintains a small fleet of landing ships. They are the best way to move the army quickly along the length of the country.
The Al Munassir was only lightly armed. There would originally have been a gun-turret for a rapid-fire gun on the bow, now removed. Either side of the superstructure are nests for twin 20mm guns. The guns are removed, but the pintles and shields remain.
The aft half of the deck is one long helicopter-pad, big enough to land a SeaKing. At the stern is a winch and locker big enough for the stern anchors that are a standard fitting for such ships.
The anchors would be dropped when nearing a beach and used both to control the approach and to pull the vessel off afterwards.
While our dives so far have been back in the direction of Muscat, for my last couple of days we head in the other direction to Ras Abu Dawud, a headland and small island of the same name about 10 miles south of the dive-centre. In common with many translations from Arabic names, the spelling can vary.
At dive-sites to the north we had occasionally overlapped with boats heading south from dive-centres closer to Muscat. Ras Abu Dawud is beyond their range, and we have the ocean to ourselves, except for the occasional fisherman.
The first two dives follow a wall along the north side of the island – jumping in at the middle, one day swimming to the east, next day swimming to the west.
The wall descends to a sandy seabed at 26m with crags and boulders at its base. As usual, the thermocline brings murky water that clears as we venture deeper.
There have been plenty of scorpionfish through previous dives. The terrain here suits other camouflaged lurkers such as crocodilefish, stonefish, sting rays and those torpedo rays.
I don't even notice one buried in the sand until it moves to obscure the nudibranch I'm trying to photograph.
THE SWISS LADIES are well ahead of me, and report after the dive that they had seen a squadron of mobula rays on their safety stop. Never mind, a second dive at the ironically named Coral Rocks leads to a mobula circling a cleaning station, many pairs of large broadclub cuttlefish and a few hawksbill turtles.
For my other second dive at Ras Abu Dawud, and to finish my trip, we head to the wreck of a small steel boat of unknown history. Dive-guide Julian jumps in on the GPS numbers, lands on the wreck and sends up a DSMB for the rest of us to follow down.
The bow of the wreck is at 10m, still
in the warm and clearer water. The thermocline is particularly murky just below. While others head down to explore further, I loiter at the bow with the shoal of pufferfish flying formation in the gentle current.
A few minutes later, with everyone else now ahead of me, I dip into the murk. With the seabed at 16m, it's not quite deep enough to clear again. Does that matter when we're looking for Fatima the seahorse?
Not really, Julian points her out in the middle of her favoured mass of old cable. She certainly isn't a media diva. Her nose is barely discernible among the tangle.
The stern rises a little and, while not quite back in the clear layer above, visibility is a little better and more daylight gets through. Just a couple of metres makes the same difference in daylight that 30m would at other locations.
As promised in the briefing, the site turns out to be infested with nudibranchs. Why so many more than at other sites? The simplest explanation is that the hull and deck of the wreck just make them easier to spot.
Other factors could be involved. Lying just into the mucky layer, the deck of the wreck is not a great environment for corals but is ideal for small sponges and hydroids.
Nudibranchs are generally very fussy about their diet, with each species of slug often eating a specific species of food, such as a particular sponge or hydroid. The wreck has lots of nudibranch food, so it hosts lots of nudibranchs.
I thought my final surprise was a blue gem nudibranch, a variety I have never seen before. According to a sea-slug forum Dendrodoris denisoni "is a widespread common species throughout the Indo-West Pacific".
So not a rare species, but I won't let that rain on my parade – it's new to me!
WHEN I GET HOME and study my pictures on a big screen, I discover the nudibranch I had photographed immediately before was a Gulf hypselodoris, an endemic species.
Even though it hadn't registered in my mind at the time, I can be pretty sure I hadn't seen it before. So two new slugs to round off my last dive.
Then I notice that a pair of yellow-spotted chromodoris playing chase also have a tiny blue and yellow nudibranch just in front of them. The little surprises keep on coming.
As for the new camera system, given another 40 or so trips it will have paid for itself through savings on excess baggage.
FACTFILE
GETTING THERE> John Liddiard flew with British Airways to Muscat. Ground transfer to Sifah takes just over an hour. Pre-registration is required online or a visa obtained at evisa.rop.gov.om
DIVING & ACCOMMODATION> Extra Divers, extradivers-worldwide.com; Sifawy Boutique Hotel, sifawyhotel.com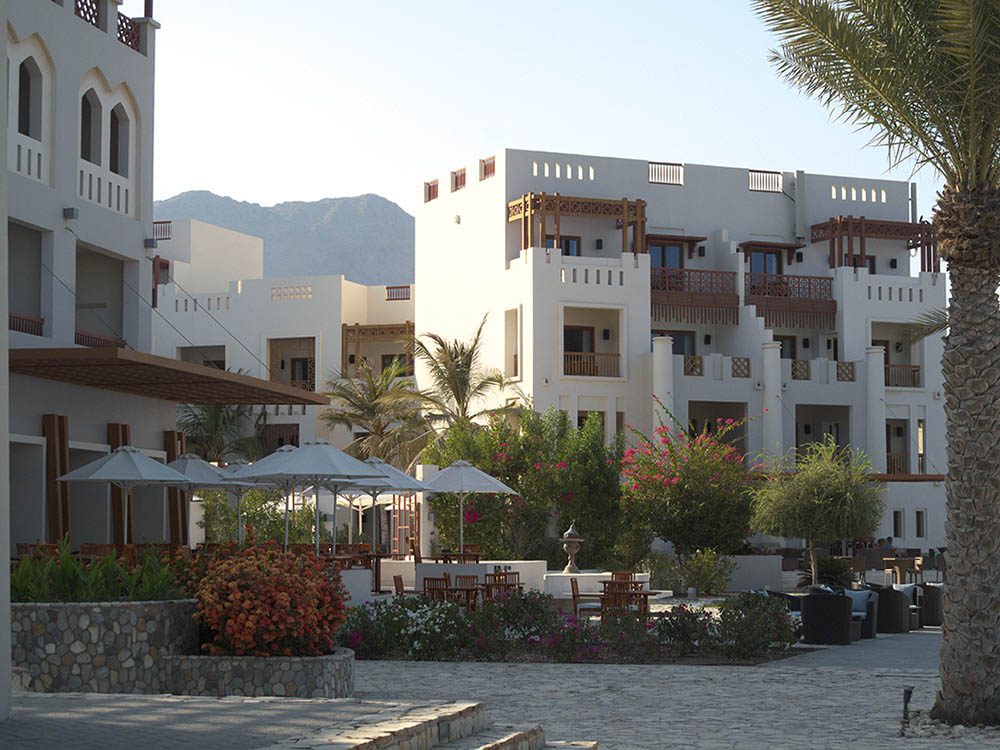 WHEN TO GO>Year-round but best April-October, though it can get very hot.
MONEY>Oman rial.
PRICES> The trip was arranged by Dive Worldwide, which offers a nine-day holiday with half-board at the Sifawy Boutique Hotel, 10 dives with Extra Divers, flights with Oman Air or BA and transfers from £1445pp, diveworldwide.com.
VISITOR Information> experienceoman.om