WETSUIT
Mares Coral Dive Skin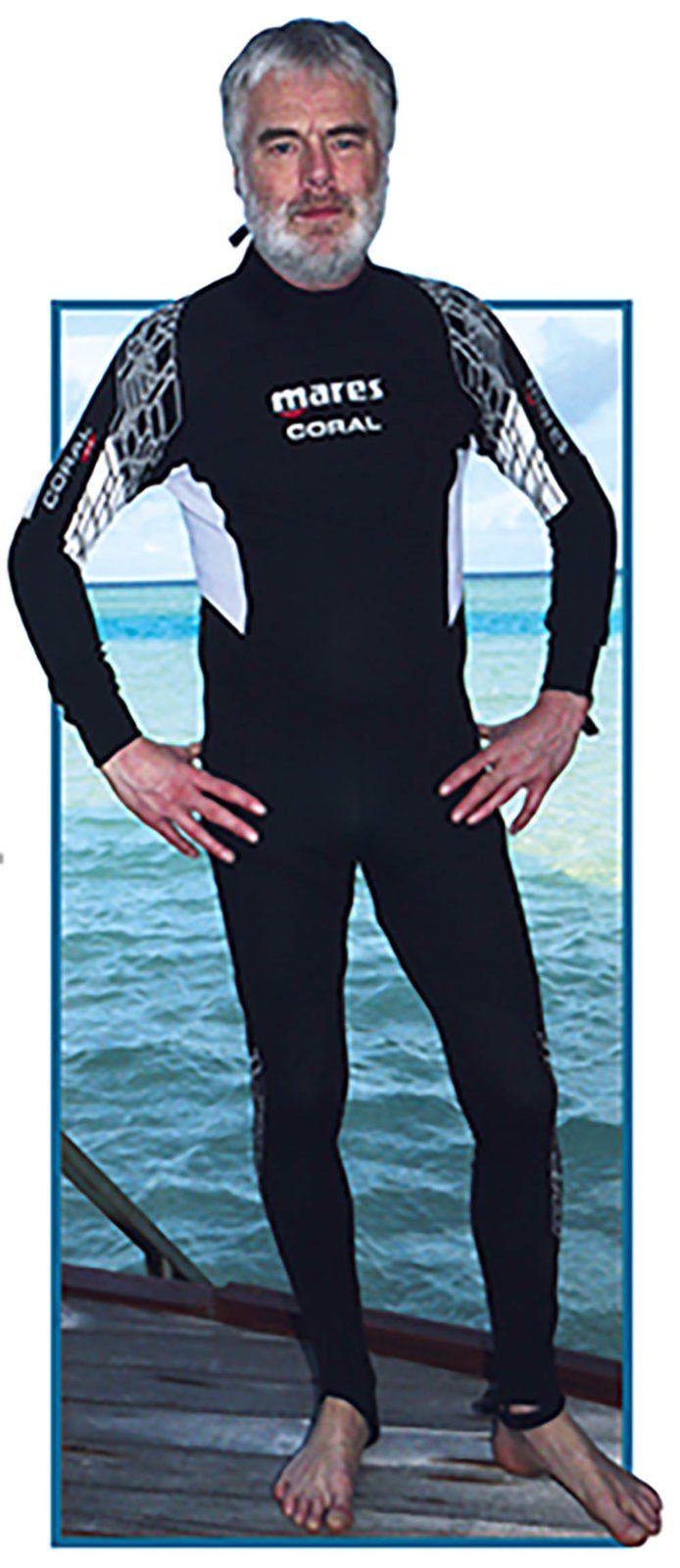 Appeared in DIVER May 2019
You have to admire the Aussies. On one TV special about sea wasps, there's the legendary Ben Cropp layering tentacles over both arms to test competing first-aid treatments. On the docu-soap Bondi Beach Rescue, the lifeguards do the same with bluebottles.
But it's better not to get stung in the first place. Dive-skins emerged from the desire to protect against jellyfish stings in tropical waters, where a full wetsuit would be overkill.
They can also prevent sunburn and minor scratches from coral and wreckage.
And some dive-centres claim that people are much happier to go for try-dives if they feel their bodies are screened from view, rather than face embarrassment at hanging out of ordinary swimwear.
The Design
The Mares Coral dive skin is a one-piece jumpsuit design with back zip, and is only half a millimetre thick. The material is a combination of Lycra and Metalite-infused rubber, which is claimed to reflect back body-heat that would otherwise be lost to the water.
Even in tropical waters, on a multi-day, multi-dive trip, you can get chilled. After all, if you're too warm you can flush water down the suit neck to cool down, but you can't warm yourself up (not hygienically, anyway).
So the insulation provided by the Metalite does help delay cooling a little.
To aid with donning, there are thumb-loops on the cuffs and heel-straps to keep the sleeves and the legs in place. Dive-skins can be used under wetsuits for extra warmth, so these features stop the sleeves and legs riding up as you pull your dive-suit on over the Coral.
In Use
I took the Coral to the Anantara Dhigu & Naladhu Resort in the Maldives. Lightweight, it rolls up tight for easy travelling. For snorkelling, it'll happily fit into most over-the-shoulder snorkelling kitbags.
The Metalite lining can make the suit "stick" a bit as you pull it on – a trivial compromise you have to make to enjoy the warmer lining.
The zip has a long leash, so it was easy to find, and a tab at the base of the spine gave me purchase for zipping up. However, there's no restraint for the leash, so
I tried to tuck it under my BC to prevent it floating around.
The collar is adjustable for size via a Velcro tab. Below this is another tab to secure the zipper, so it can't open up accidentally.
Flashes on the shoulders provide a bit of traction for your harness-straps to minimise slippage, and the knees have some reinforcement (Mares has stamped "knee pad" on the shins for the avoidance of doubt).
My BC is comfortable but I wouldn't want to wear it over bare skin, so I felt that the Coral did usefully prevent chafing.
Stretchiness made the suit very comfortable out of the water. Under water, the lining tends to grip your skin, minimising flushing. You feel streamlined as you swim.
A dive-skin is really meant to be used only in water in which you could comfortably dive without thermal protection, as was the case in the Maldives.
I used the Coral as a standalone suit for two repeat dives of around 60 minutes each with an hour in between, and never felt cold under water.
The ride back on the Aquafanatics boat created a fair breeze over the bow, but the dive-deck was well protected and, anyway, it's a warm wind, so it was difficult to evaluate the Coral's resistance to wind-chill on location.
Instead I tested it at home, wearing the water-soaked suit in front of a floor fan.
As you'd expect, such a thin suit isn't going to have a lot of resistance to wind and you'll feel that. But in the context of tropical diving, this would probably be noticeable only in a fast open boat such as a RIB, and you could always throw a windcheater on over the Coral.
Conclusion
Diving in the tropics is a rare luxury for me. One of the blessings is being able to wear thin suits and dive with minimal weight and, a lot of the time, no air in my BC. It's liberating.
Getting sunburnt or stung by underwater no-see-ums takes the edge off that pleasure. The Mares Coral offers a practical solution to these annoyances in a comfortable, travel-friendly and well-made dive skin. Recommended.
Specs
TESTER> Steve Warren
PRICES> £120
SIZES> Male 2-7, Female 1-5
COLOUR> Black
WEIGHT> 250g
CONTACT> mares.com
DIVER GUIDE> 8/10