PRO DIVER
Local Intelligence
Pre-lockdown we asked 16 pro divers from around the world to share their favourite local dive-sites with DIVER readers. Their colourful accounts will make you long to experience these dives – and look out for 16 more great dive-pro favourites in the August issue of DIVER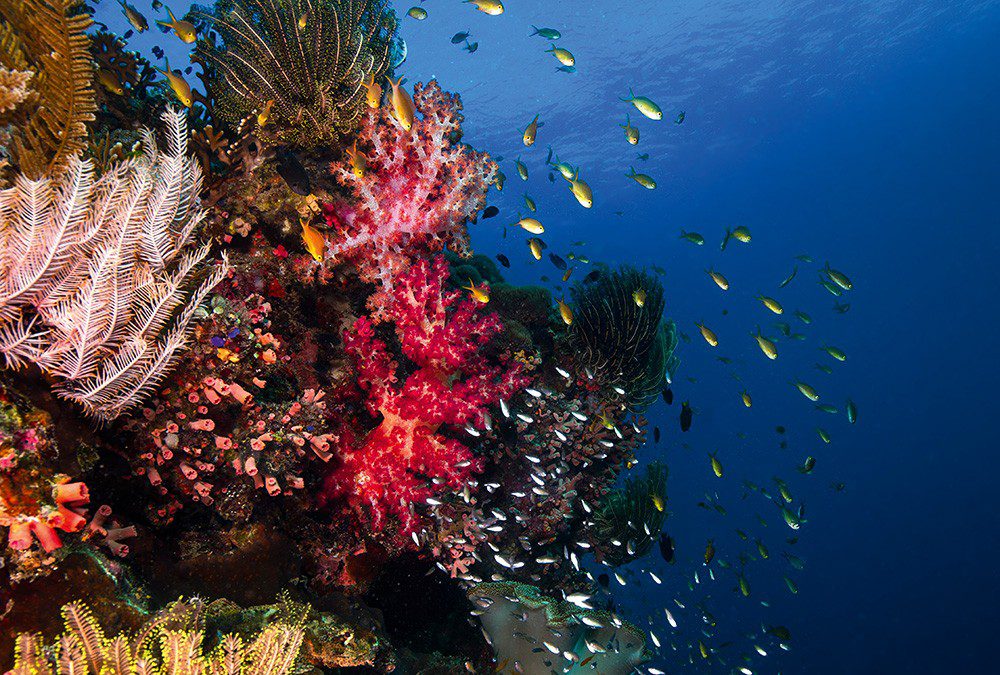 Appeared in DIVER March 2020
In the western part of Anda, a small, peaceful town in south-eastern Bohol, lies a dive-site that showcases an incredible diversity of marine life, a valuable experience for underwater enthusiasts.
One of the best diving spots you could find, it's suitable for both beginners and seasoned divers and should definitely be part of a rewarding diving holiday for those who love to see healthy, colourful reefs full of marine life.
Coral Garden is 3-5 minutes away from Magic Oceans Dive Resort, a 4* boutique dive-resort, and offers a great combination of walls and sandy slopes that host a lot of marine life, creatures from XXS to XXL. More than 90% of it is made up of beautiful soft and hard corals, especially on the reef top, which is also great for snorkellers as it is only 3-5m deep.
The wall, which is 5-20m deep, has a lot of small caves and crevices that host a lot of fantastic gorgonians and sponges (ideal for wide-angle photographers).
You can see a lot of different species of reef-fish here and there is a higher chance than elsewhere of witnessing visiting pelagic fish such as giant trevallies, barracuda, Spanish mackerel, eagle rays, whale sharks and more.
This place is also home to diverse macro creatures. Among the most significant are the creature from the Magic Oceans logo, the pygmy seahorse (Hippocampus bargibanti) found on seafans living on the wall.
You can also see a lot of leopard anemones living on dead gorgonians, and there in turn you can find leopard shrimps.
This environment is also home to frogfish, countless resident resting sea turtles and, of course, many types of colourful nudibranchs, sea-slugs and other Indo-Pacific crustaceans.
Coral Garden is guaranteed to provide you with an incredibly pleasurable dive.
Spooky channel is a different kind of dive, because it offers divers a different type of experience. As you approach the site you feel an adrenaline rush, because you don't know what's coming next.
It might start out as a mystery, but once you begin making your way down you'll see the amazing formations, caves, swim-throughs and canyons. It gives a feel of sightseeing but also of exploring.
At some point we think this was a waterfall, from the way it sits on the reef and how it connects from the inner lagoon to open ocean.
Visibility can vary, depending on the water conditions and also the time of year. The deepest point is about 30m, it's 15-18m wide, and because of the way it's set up it allows penetration of the sun's rays from the top part of the reef to create what looks like a cathedral under water.
This is a cool dive on which you can enjoy the topography of the waterfall and the chamber-like environment, which makes it close to cave-diving but without needing certification.
As soon as you leave the main chamber of the channel you end up over the usual Caribbean shallow reef in less than 10m, and get the chance to see common sea life such as turtles, parrotfish, angelfish and big schools of blue tangs.
At certain times of year you find giant balls of silversides seeking refuge from predators, tarpon, big snapper, grouper, green moray eels, lobster and small shrimps.
Taking a torch is recommended for exploring under crevices and ledges – you never know what you might encounter in Spooky Channel.

My favourite dive-site around Pulau Pef is Karang Sembilan, and it's so much more than just our house reef. Sembilan means "nine" in Indonesian, and the reef has the shape of the number 9.
It offers an incredible variety of types of marine life that I have rarely seen at other dive-spots.
During a typical dive, we jump from the jetty and go down to 8m. We have a good chance of seeing different types of pygmy seahorse, ghost pipefish, sexy shrimps, various types of octopus – including the blue-ringed and beautifully patterned wonderpus – and electric clams.
Following the ridge, there are many big coral blocks swirling with glassfish, sweetlips and, here and there, wobbegong sharks.
We then head down to 23m, to find big shoals of yellowtail fusiliers, many blacktip sharks and occasional whitetip sharks or eagle rays.
With the reef still on our right shoulder, we slowly go up to 15 or 10m to get to the coral slope, where we usually find candy crabs, turtles, razorfish, anemones and their clownfish, bumphead parrotfish – shall I go on?
On the way back to the jetty, scattered on the reef, there are around 30 beautiful and healthy giant clams. We collected and planted them there to regrow a population that had been threatened by extinction.
Back at the jetty, we linger around our Raja4Divers' statues, covered with colourful sponges and corals.
Night-dives are especially spectacular, as we often see the endemic Raja Ampat walking shark (above left) and sometimes Walton flasher wrasse, along with lobsters and many other nocturnal creatures.
And snorkellers have come back with huge smiles on their faces after seeing a dugong swim by over the seagrass-covered area on a late afternoon!
You can walk out of your room straight into the ocean at Buddy's Reef. It's located right in front of the resort, with a spacious dock area and different easy entry-points.
Once you descend to 4m you'll find a yellow rope heading out to the drop-off. From there on, it starts sloping down from 6-30m.
I was blown away by the marine life and healthy corals when I first saw this house reef. Most of the marine life is found cruising around between 12-18m.
On every dive I've done here I've found big tarpon cruising along, a lot of spotted eels, slugs and octopuses. There is even a little wreck located on the north side, between 9-18m deep.
The reef has loads of different soft and hard corals, all very healthy. Because it's located in Bonaire's "bay area", currents are usually very weak.
There are 34 "Reef Renewal" coral trees right in front of the drop-off – spectacular to see, and also allowing you to find your way back super-easily!
The staff and Reef Renewal Foundation take good care of their reef– it's one of the most alive and cosy reefs I have dived on Bonaire.
Depan Kampung means "in front of the village" in Bahasa, and as the dive-site is a mere 200m from Bunaken's largest village, it is aptly named. It's a continuation of the famous Lekuan wall, only here the reef becomes a slope, rather than one of the vertical underwater cliffs for which Bunaken is famous.
Mooring up at the dive-site, you can already see the corals shimmering under the water's surface, and you might spot a turtle's head appear briefly as it comes up to breathe.
Bunaken is well known for drift-diving and Depan Kampung is no exception, so the typical entrance point is on a sheltered corner of the slope.
As soon as you descend, you're greeted by thousands of reef fish darting above the pristine shallow corals, and once you reach 5m, some parts of the reef are already above you.
With the slope on one side, the gentle currents push you effortlessly along.
And on your other side is the endless blue, home to tens of thousands of redtooth triggerfish, schooling black snapper and the occasional eagle ray or tuna.
Crown jewels of the site are the abundant green and hawksbill turtles. It's not uncommon to spot 20 in an hour, some in the blue, others resting on a sponge. The slope goes very deep, much deeper than most divers could ever visit. Visibility is good most of the year, so it's easy to spot some of the many reef sharks that patrol the depths.
It's not just the big things you can find here, either. The slope is home to endless critters – nudibranchs, ghost pipefish, frogfish and more.
You need to visit Depan Kampung more than once. You could dive it 100 times, and never get bored.
For years during the 1990s, I used to dive in Sharm el Sheikh with my club on a diving holiday. We usually visited the Red Sea at the start or end of the UK dive season (in April or October).
Shark & Yolanda Reefs was always my favourite site, for its amazing topography and different corals. It has walls plunging down into unreachable depths, currents on which to drift with no effort, and behind the massive coral pinnacles was a plateau of soft coral among which could be found turtles, rays, crocodilefish and many other species.
However, it was only in July 2002, when the UK weather was getting my father down and he offered me the chance to join him and his dive-buddy for a week's diving in Sharm during the summer months, that I got to appreciate the true magic of Shark & Yolanda.
Year-round this site is magnificent, fed by the constant soup of nutrients that flow up from the depths to feed and replenish the reefs at the southernmost point of the Sinai Peninsula, but during summer the place comes alive, with so many shoals of different fish that have come to spawn.
With them come bigger predators. During the parrotfish aggregation, you can see giant trevally as big as cars – or so they look in the water.
We have seen a blackfin shark taking a barracuda from the midst of a swirling school, and many other types of shark, as well as manta rays, sailfish and dolphins.
Now I work full-time as a dive instructor and guide in Sharm and manager of our family-owned dive centre, and get to dive this amazing place regularly. I get to choose who does which dives and who teaches the courses, although of course I do share it out. After all, our instructors are here because of their love of diving and marine life, and all still want to see these amazing phenomena each year.
So divers who stay away from Sharm during the summer months because of the warm weather are missing some of the best diving in the world!

Your alarm goes off in what feels like the middle of the night. But then you remember what it's for, and you jump out of bed and rush off to the dive-shop.
Before you know it, you're on the dive-boat, sipping a cup of coffee, heading east into the rising sun. Your fellow-passengers might still be waking up, but you can feel the excitement starting to build. The divers on the boat have come from all corners of the world specifically to this unique dive-site: Monad Shoal off Malapascua Island, the only place in the world where you can reliably see thresher sharks!
The second you hit the water, you're wide awake. You start to descend, and in many ways it feels as if you're on safari. The straight drop down to 16m is quite spooky, and in the early-morning light and with 10-15m visibility, it almost feels as if the site is shrouded in mist.
Then you're off, swimming slowly over the bottom of the shoal, eyes darting left and right in search of that shark, your heart thumping in anticipation, and you feel as if you're stalking big game through the jungle.
When, finally, through the haze the stunning silver outline of the majestic thresher shark makes an appearance, it seems to come out of nowhere. You sit still and watch in amazement as this graceful creature circles in front of you.
The shark doesn't even seem to notice you; it is just there for its early-morning cleaning.
Another thresher might join it, and perhaps a third. It's not uncommon to see several circling at once. Often they come so close that you could almost reach out and touch them.
As the dive comes to an end and you hit the surface, there are whoops and hollers and high fives all round.
You can almost taste the adrenaline in the air. What a buzz! It's a dive you remember for the rest of your life.
Breaking the surface of the eastern Mediterranean a mile from Larnaca port, and looking down the shotline into the abyss, we see every shade of blue and silver imaginable – and nothing more, until we reach around 5m.
At that point a huge, imposing shadow looms into view – our first glimpse of the Zenobia.
We reach midships on the starboard side that lies uppermost at around 18m, and at once are engulfed in a melee of two-banded bream, saddle bream, damselfish and huge grouper. This is a breath-taking wreck, its impressive 172m length disappearing into the distance to left and right.
We descend over the starboard rail and immediately see some of the 104 articulated lorries that were once secured to the deck.
Now they either lie like corpses along the seabed at 42m, or cling precariously by their chains to this huge roll-on, roll-off ferry in their final acts of defiance, as they are slowly claimed by the sea. We descend to a trailer at 30m.
It still contains the skeletal remains of its cargo of meat.
We continue towards the stern cargo doors, maintaining our depth of 30m halfway down the deck. We see many lionfish, briefly encounter the resident loggerhead turtle and might have the pleasure of swimming through huge, menacing schools of barracuda, all the while enjoying this impressive scrapyard of trucks and trailers.
Once between the cargo doors we continue to the bottom of the wreck to explore the two impressive propellers, the uppermost at around 25m.
We ascend to the starboard side at around 20m before heading back to the shotline, over the huge funnels, starboard rail and mind-blowing amount of aquatic life now resident on this magnificent wreck.