PHOTO TECHNIQUE
Be The Champ!
With his 2014 DIVER article I-SPY the Thistlegorm, in a Whole New Light, ALEX MUSTARD transformed the way in which divers viewed the iconic WW2 Red Sea wreck. But how best to photograph that vehicle cargo?
'The vehicles are what differentiates this wreck, so this is where we should focus our attention and our lenses'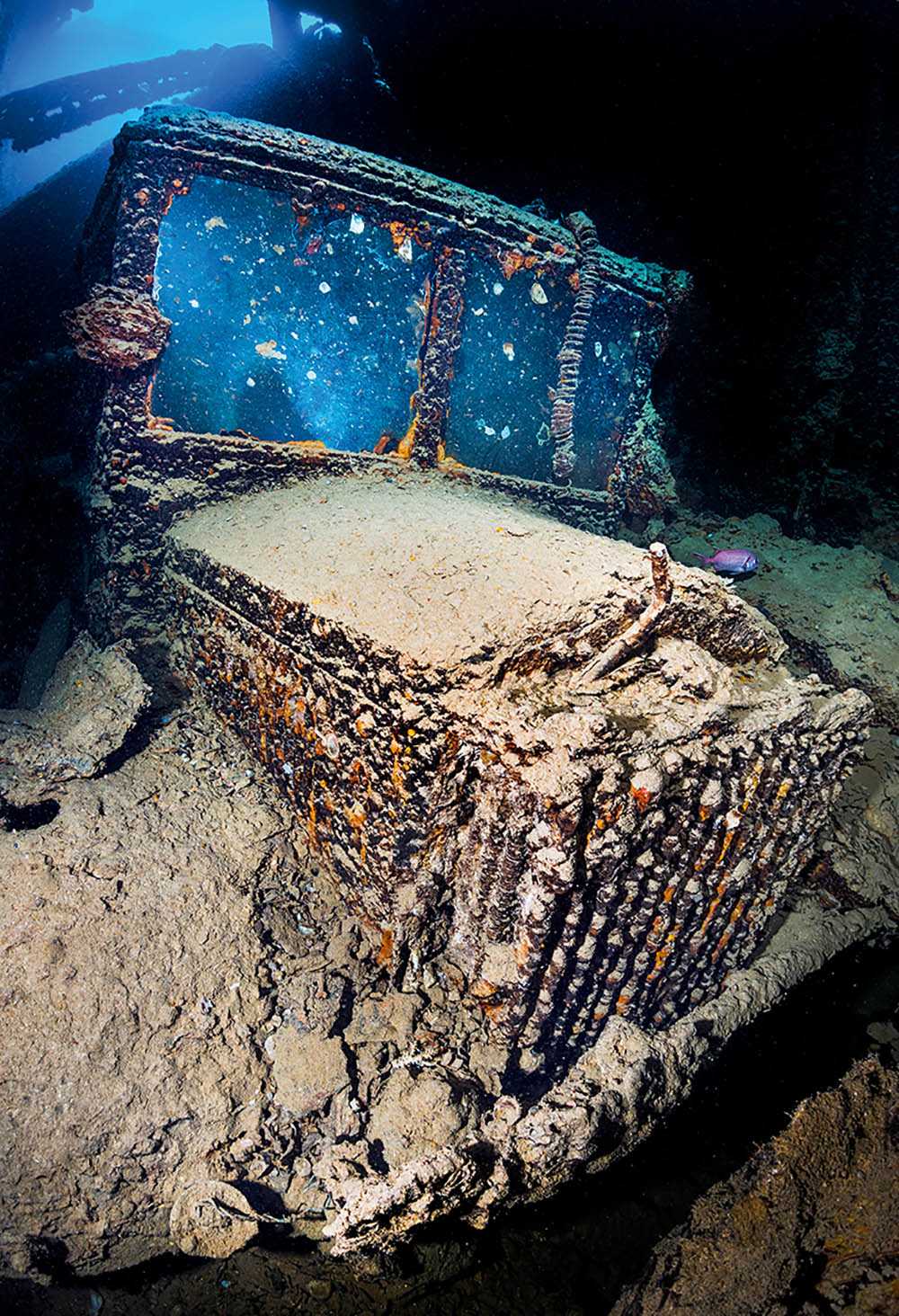 The vehicles of the Thistlegorm, such as the Albion AM463 aircraft-refueller, offer a unique underwater photography challenge and opportunity. Taken with a Nikon D4 and Sigma 15mm. Subal housing. Seacam strobes. 1/25th @ f/11, ISO 800.
JUST BACK FROM DIVE 2017 at the NEC – a weekend packed with old friends, new gear and enticing travel opportunities. It was also an occasion on which many of us keenly felt the loss of Nigel Wade, although I'm certain that Saeed Rashid's ribbing tribute was precisely what Nigel would have wanted.
With much to see and so much going on, we all come away with different experiences and favourites from the Show. The best talk I caught was Dr Richard Smith's How To Capture Reef Life 'Au Natural', extolling the virtues and benefits of photographing marine life on its terms.
Richard's argument was that those photographers who attempt to stage marine-life shots, don't just risk harming the creatures, but also eradicate any chance of observing fascinating and photogenic natural behaviours, a point that Richard lavishly reinforced with his images.
My main presentation at the Show involved teaming up with Martin Edge to tackle the important subject of ideas and experimentation in underwater photography. I believe that this is more important than ever before, with cameras so capable and photography standards so high.
We ran the audience through our process showing how ideas develop: from early failures, through images that show real promise of something new, and finally to the finished pictures we normally show.
I think people enjoyed this peek at the cutting-room floor and went away prepared to take on more trial and errors, rather than sticking to the tried and trusted.
One of the examples I spoke about was my backlit BSA motorbike from the Thistlegorm, which you will see on these pages next month.
To freshen up Be The Champ! we're introducing an alternating format: one month it will be the column as you see it here, the next month a more image-led piece and a chance to enjoy underwater imagery printed big across two pages.
Appeared in DIVER December 2017