archive – Travel NewsDive the fourth Cayman Island!
Twelve miles west of Grand Cayman is a pristine kidney-shaped coral bank often referred to as the fourth Cayman Island, said to feature dramatic drop-offs populated by turtles, sharks and both reef and pelagic fish.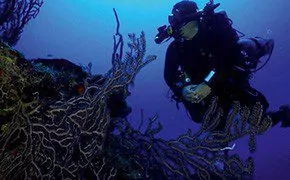 Depths and distance make The 12-Mile Bank inaccessible to most divers, but Divetech is taking a land-based rebreather-only group of divers on expeditionary boat-trips from 19-26 August, and offering the possibility of technical dive profiles down to 75m.
"12-Mile is unique in that it is remote and seldom explored," says Divetech General Manager Tony Land, who led an exploratory dive trip to the banks in 2015.
"Our divers were probably among the first humans to lay eyes on sections of those walls."
The package from US $2900pp includes seven nights' shared condominium accommodation at Divetech's Lighthouse Point, transfers, five boat-trips with diving plus unlimited diving at the resort, breakfasts and lunches, with dinner option and farewell barbecue. Divers must hold a minimum certification of CCR Normoxic Trimix.
Divernet – The Biggest Online Resource for Scuba Divers