archive – Diving NewsDiver banner raises protests in Thailand
A dive-boat has been banned from entering a section of a marine park in Thailand, after a group of its divers were allowed to hold up a sign on a coral head congratulating a Japanese diver on completing 200 dives.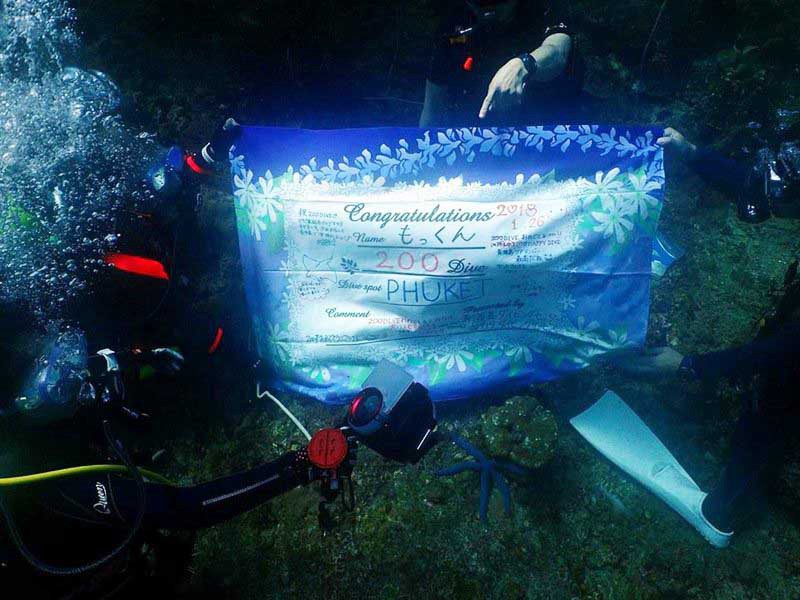 The dive-group were diving from a boat called North Star in Hat Noppharat Thara-Mu Ko Phi Phi National Park near Koh Phi Phi, on 26 January.
Nares Choopueng, Chief of the Department of Marine & Coastal Resources (DMCR), which is responsible for protecting coral reefs off Phi Phi, confirmed the ban to the Phuket News. North Star, which operates dive-trips for Happy Star Tour Co, had already been criticised in early December for allowing a diver to sit on a coral head at Koh Racha Yai island, south of Phuket.
Conservationists Go Eco Phuket, a group of local dive-centres, posted photos of both offences on social media, eventually prompting the DMCR and marine-park officials to track down the boat.
The government's Tourism Business & Guide Registration Office is now considering Go Eco Phuket's call for the licences of any operators found causing damage to corals to be revoked.
"We have had enough, we can no longer stand the ignorance of local officials," Ittiput Schadt of the campaign group told the paper.
"Nothing has been done since I presented evidence of the bad practices of these companies and guides, including photos of divers sitting on coral reefs."
Divernet – The Biggest Online Resource for Scuba Divers