archive – Diving News
Diver died after rapid ascent from 71m
A diver who died following a rapid ascent at the National Diving & Activity Centre (NDAC) last October was not qualified to dive beyond 40m and should not have been diving solo, an inquest has heard.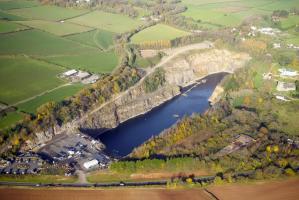 The incident, originally reported on Divernet, involved 28-year-old truck-driver Wlodzimierz Jurasz from Upminster in Essex.
According to Gloucestershire Live, reporting on the proceedings at Gloucestershire Coroner's Court, Jurasz took only 11 minutes to make an uncontrolled ascent from 71m. He died after sustaining a gas embolism and pulmonary barometric trauma.
His deep dive at the inland site in Tidenham near Chepstow followed a morning group-dive there. The inquest heard that Jurasz announced in the afternoon that he intended to dive solo and borrowed a 7-litre cylinder for the purpose.
He was found face-down and unresponsive at the surface 20 minutes after his departure, his computer showing that he had reached a depth of 71m.
Firefighter Paul Hargreaves, who had just completed a dive, told the Coroner that he had used an NDAC defibrillator as well as carrying out CPR for 20 minutes in a bid to resuscitate Jurasz before paramedics had taken over.
Jurasz's sister described him in court as a passionate diver who "drove at night and dived in the daytime. He loved it. He was very experienced and it was his life".
Instructor Alexander Fox said that Jurasz had completed his Tec 40 qualification, permitting him to dive to 40m.
He told the court: "On this day he had exceeded his competence levels. He was diving solo, which was not permitted at that depth. He missed one hour of decompression by coming up so fast."
He added that Jurasz was overweighted and had dived with his equipment set at "extreme levels".
Gloucestershire police reported that its investigations had shown no third-party involvement or suspicious circumstances.
Jurasz "was not qualified to do a solo dive but he made the decision to do that," summed up Coroner Katie Skerrett. "The reason for his uncontrolled ascent is not entirely clear. It may have been caused by how his equipment was set up.
"He was a qualified diver but he had exceeded the limits of his certification. It was a tragic accident involving a 28-year-old man doing what he enjoyed doing when he made a fatal error."
Divernet – The Biggest Online Resource for Scuba Divers