archive – Diving NewsMissing British sub located after 76 years
Long-lost British submarine HMS Tarpon, which was sunk by a German Q-ship in the North Sea in 1940, has been rediscovered by Danish divers.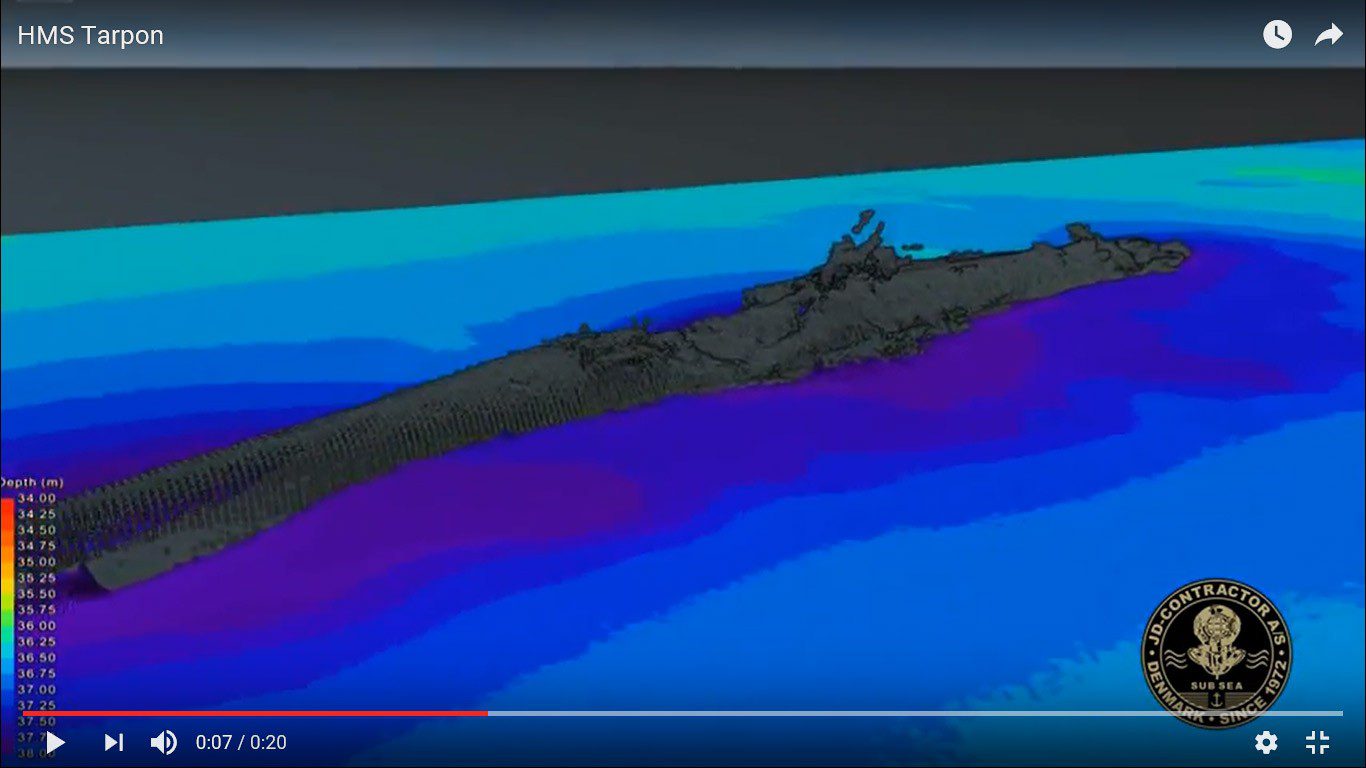 The 84m-long submarine, commanded by Lt-Cdr HJ Caldwell, was destroyed by the armed German merchant vessel Schürbek with the loss of its 59 crew on 10 April, 1940.
The wreck was discovered by chance off Thyborøn in Jutland in March by a local company called JD-Contractor, and dived by a team led by its founder and maritime historian Gert Normann Andersen, along with UK sub specialist Innes McCartney. The wreck was treated as a war grave.
Normann Andersen runs the Sea War Museum in Thyborøn, which centres on the WWI Battle of Jutland. "Tarpon is an unusual find, especially so close to Jutland," he told Jyllands-Posten. "It was a very special feeling for us to see the submarine wreck after its dramatic end."
HMS Tarpon had left Rosyth, its mission thought to be to intercept any German merchant vessels running arms to occupied Norway. Shortly after being ordered to take up a new position it ran into Schürbek, though it was reported missing only on 22 April.
According to Normann Andersen, previous information about HMS Tarpon's whereabouts had been misleading and inaccurate. He said that he would have expected to find the wreck in the very deep waters of the Skagerrak, the strait between Jutland and Norway.
In the event it was found standing almost upright in 40m with both periscopes raised and some hatches open. Severe destruction behind the conning-tower and a crater on the seabed indicated the dropping of numerous depth-charges, at least one of which had found its target. The crew would probably have been killed by the shockwave.
Two of Tarpon's 10 torpedo-tubes were empty, tallying with German naval records stating that the submarine had fired twice at the Q-ship but missed its target. Tarpon carried 17 torpedoes. The Schürbek had located the submarine using its sonar and remained at the scene after its sustained counter-attack until certain that it had sunk.
JD-Contractors was previously responsible for finding WW1 submarines E50 and KI off Jutland. See the 3D sonar scans of HMS Tarpon here
Divernet – The Biggest Online Resource for Scuba Divers