SHARK DIVER
Russian diver IRINA BRITANOVA lives her surreal dream, with photography by ANDREY NEKRASOV
HOORAY – IT'S HAPPENED at last! From the moment I entered the diving world, the idea of being photographed with sharks while wearing a dress would not leave my mind, not only during the day but at night too.
I was looking through the photographs of "mermaid" Hannah Fraser with tiger sharks not only in admiration but with envy.
I examined her movements, I studied the different emotions on her fantastic face, and I was sad to think that it would just be too difficult to organise a similar experience for myself.
My first open-water dives had been on a safari at St John's in the Red Sea in 2010.
My leaking mask had been a huge problem, and my buoyancy still wasn't the best, but despite all that I felt as if I was inhabiting a fairy-tale. No HD TV screen can do justice to the range of colours, the textures of the corals, the beauty of the reef inhabitants or that cosmic zero-gravity feeling.
As our liveaboard moved further from civilisation, so the sites became ever-more interesting and the volume of marine life rose. I was feeling anxious about my first encounter with sharks, which didn't occur until my fourth dive, when a long-finned oceanic whitetip approached us at Habili Ali Reef.
When I saw this elegant beauty moving gracefully towards us my fear vanished, leaving only enormous admiration and happiness. I realised that this sea-raptor meant me no harm, and the adrenaline flowing through me was of the positive kind. The shark was looking into my eyes as if trying to hypnotise me.
On that first dive-trip I spent time with big shoals of fish, small turtles and even dolphins, but that Longimanus inspired the most incredible feelings.
Each new safari strengthened my love for sharks. We saw many more oceanics in Egypt, dived with Caribbean reef sharks near Cuba, saw scalloped hammerhead, grey reef sharks and tawny nurse sharks in the Maldives, and whitetip reef sharks almost everywhere!
The only thing I missed was photos of the sharks or, more specifically, photos of me with the sharks, but what can you do with a simple underwater glove-box camera?
My dream of being in the same frame, wearing a beautiful dress, was getting stronger by the day. My scuba skills were improving, and I also managed to obtain a freediving certificate.
I never missed the chance of an amateur photo-shoot in a swimming pool, I watched webinars and went on photo-modelling courses. I was inspired by photos of such famous women as Cristina Zenato, Hayley Jo, Ivana Orlovich and the wonderful Hannah Fraser, and was sure that I could do it!
ONE COLD WINTER EVENING I was looking for an inexpensive Maldives liveaboard trip and thought: why not risk it? My next thought was: how could I organise this to happen on a regular dive safari?
I embarked on a long exchange of emails with various Maldives operators, and eventually managed to reach a mutual understanding with one of them.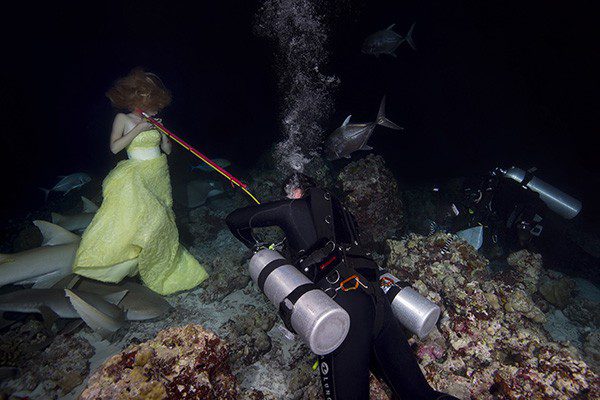 Our first attempt in January 2017 was not a success. I found a German photographer on Facebook. He had the expensive equipment, but he was not a professional. Besides, this would be a first for everyone, including the dive-guides.
Despite this, the shooting process was a great pleasure for me and the results were quite nice because a few whip rays and small sharks got into the photos, but it was not exactly what I was looking for.
In March I was lucky enough to encounter award-winning professional underwater photographer Andrey Nekrasov. As he tells it: "I was supposed to be on a photo-shoot somewhere entirely different – under ice in Lake Baikal. I had spent a year preparing for a dream trip. I had bought a new drysuit and equipment, figured out the logistics and all but bought the tickets when circumstances beyond my control forced me to cancel the expedition.
"You can imagine my state of mind as I sat disconsolately at home. My lovely wife, aware of my mood, began trawling the Internet for other adventures to make me happy – and came across a post from Irina Britanova.
'Some crazy dudes like you are gathering for a safari,' my wife told me. 'That's enough moping about here, this should interest you!' That's how I got to know the Britanov family and learnt about Ira's dream of doing a night shoot with sharks.
"And it would be modest in scale, so I wouldn't have to lug any additional photographic or lighting equipment around with me."
As manager of our small creative team, Andrey was strict during rehearsals, getting us to share duties and reprimanding us for our mistakes.
I got the brunt of it – the position of my hands was clumsy, my legs wrongly positioned or something else was wrong.
There were two assistants: Stanislav Duz, who was helping Andrey with the video, and my husband Petr, who would stand beside me to feed me air via an octopus on a 2m hose attached to a pole. It was also his job to shoo away curious groups of divers.
Andrey ordered a final rehearsal during a morning dive in Ari Atoll away from the rest of the group.
We rose at 5.30 for a short but detailed briefing. I put on a beautiful blue dress, and we headed for the site.
WE SUBMERGED to more than 25m, and I was attached to a reef with the help of some fishing-line.
Our dive-guide Sinan had kindly brought us to a very special place. Huge shoals of bluestripe snapper were circling me picturesquely. The photographer gave the sign, the assistants moved into position and I took off my mask, holding my breath…
Looking at the photos with their wonderful colours for the thousandth time, I still couldn't believe that it had happened to me – I was in raptures!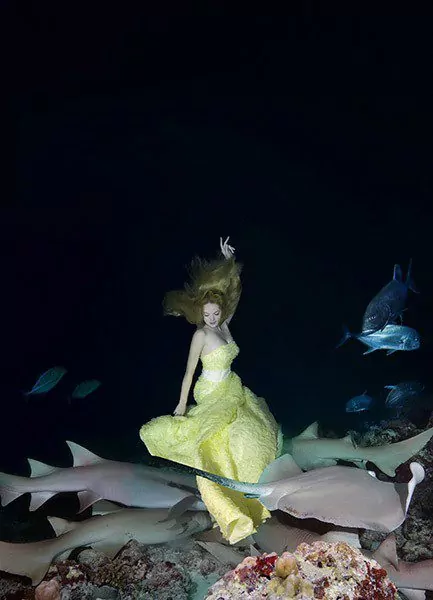 We were pleased with our work, but it was too early to relax, because the most important session still lay ahead – a night shoot with the tawny nurse sharks. This was why I had come to the Maldives!
We carefully checked the outfit and prepared the equipment, the cameras, lights and my accessories, and dived at last into the night ocean. Our chosen shooting spot was in a depth of 18m. I was fixed to the bottom with the fishing-line and a small strap on my leg, and the performance began.
Those unbelievably graceful sharks moved unhurriedly around me, touching me with their fins or tails, sometimes bumping into me with their curious muzzles.
Huge pink whip rays smoothly echoed their movements, swarming near my legs or just circling. Jackfish were fussing around everywhere.
You can't see much without a mask, but thanks to the large amount of video-light I could recognise the animals' silhouettes.
The dive lasted an hour, the shoot itself just under half an hour, and during that time, which felt like a minute, the experience just took my breath away (lucky my husband was standing by!) and left me brimful of joy.
We picked up the equipment and headed back to the surface. As Andrey later summarised it, with greater detachment: "Ninety-five per cent of everything was realised in a great way, and the other 5% we'll leave for the next time."
I could hardly feel happier when I saw the results than I had while being a part of the process. Dreams do come true if you move forward without seeking out obstacles.