archive – Diver TestsCOMPUTER
SUUNTO
EON CORE
GO ONLINE TO THE SCUBA FORUMS and you can still find passionate debates on the minutiae of decompression theory and dive-planning, but out in the real world divers just rely on their computer to keep them safe.
And I include tec and rebreather divers in that sweeping generalisation. In fact, I don't remember the last time I saw a diver without at least one computer, even if he or she also had a slate and timer as a last resort.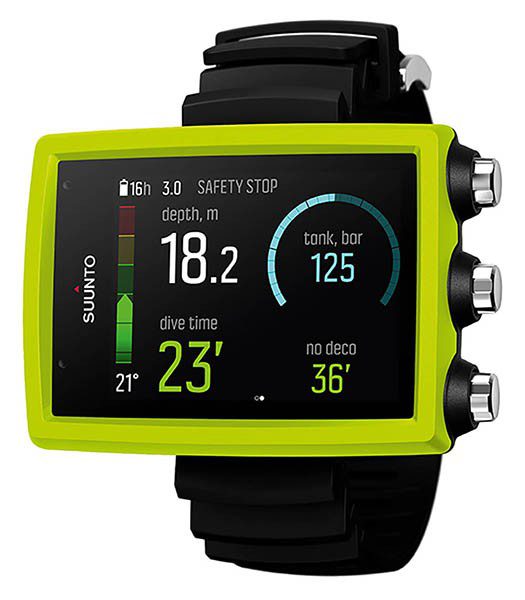 The universal acceptance of computers is one of the most profound changes to sweep the sports-diving world, and Finnish company Suunto has done as much as anybody to encourage that development.
Its products have been pretty much standard issue at various times, and it has always seemed to hit the features/usability/ price-point combination nail firmly on the head, which makes any new Suunto dive computer of more than passing interest.
The Eon Steel came out a little while ago. If I looked up the words "fully featured" in a dictionary I wouldn't be surprised to see a picture of one in place of a long description. And the build quality suggests that you could use it as a club if the scramble for boat places ever got out of hand, and still take it diving.
The new Eon Core is effectively a less extreme version of the Eon Steel, and – spoiler alert! – it's an excellent piece of kit that isn't overshadowed by its slightly older sibling.
It comes in a neat box that also contains a user manual and a USB charger cable.
To activate, you attach the cable to the back of the computer. It's held in place magnetically, with the four pins on the charger lined up over the four metal contacts on the computer.
The USB end of the cable can plug into a laptop or a dedicated USB charger.
In use, the display shows remaining dive-time available before you need to recharge the battery at the top left of the screen.
Setting Up
The first time you fire the computer up you'll need to set the time and date and the units, metric or imperial, that you want the computer to use. This will be the first time you get to see the screen in action.
I could rave about the screen, but let's just say that it's colourful, large and supremely easy to read. I dived Hodge Close in murky conditions a few years ago and would have dearly loved a computer this easy to read.
The information shown on the screen varies according to how you set the computer up, and you can also customise the display to your own liking, but it remains intelligible at all times. It's a cracking screen, and well thought-through.
Out of the box, the Eon Core is a recreational single-gas decompression computer able to monitor depth and time, manage ascent rates and calculate mandatory decompression for air or nitrox with a maximum oxygen content of up to 100%. It also has a usably large compass.
Adjustments and selections are made using the three buttons on the right of the computer. They have a decent length of travel and need enough force to push in that you won't change any settings unless you mean to.
That doesn't mean that they're in any way hard to press, just that Suunto has hit the Goldilocks spot in terms of operation.
A long press on the centre button enters the set-up menus. Then you scroll up and down using the top and bottom buttons to find the setting you want to alter. A short press of the centre button enters the appropriate sub-menu. The top and bottom buttons are used to make changes, and the centre button confirms them.
Among the many parameters you can set are your cylinder size and gas-consumption rate, and alarms for depth or time. The set-up process is fast and intuitive, and within five minutes of opening the box you'll be ready to take your new computer diving.
The only other thing you'll need to set is the compass. A short press on the centre button brings up the compass display, which you need to calibrate by moving the Eon Core through a "three-dimensional figure-eight".
I quote from the instructions, but I'll confess to struggling to get my head round what that meant. In the end I just did my best, and the computer liked what I'd done enough to acknowledge that it had been calibrated.
And that's it, you're ready to go.
In Use
Drop into the water, and the computer turns on automatically and enters dive mode when you go deeper than 4ft. The display changes to show dive-related information, including dive-time, remaining no-stop time, current and maximum depth and more.
If you have the optional tank pod, it will also tell you how much gas you have in your tank.
Actually, it will allow you to monitor up to 10 different tanks, which should be enough for most dives.
And the good thing is that even if you haven't so much as glanced at the instruction book it will be blindingly obvious what the data on the computer screen is telling you.
Bottom line, then, the Suunto Eon Core is as good a recreational dive-computer as anything out there. And then it gets better. Being able to set pure oxygen as your breathing gas should have given you a clue that this computer has a few more tricks to share.
The App
Go online and download the Suunto DM5 dive-planning and recording app, and you can now connect your dive-computer to your PC or Mac to download detailed dive information, using the same USB cable you used to charge the Eon Core's battery.
So far, so what, you may say, but the DM5 app also allows you to turn on the settings for Gauge mode, or diving with multiple gases, or using trimix, or even have your Suunto act as a backup in case your rebreather throws a hissy fit. In fact the DM5 needs to be considered as part of the Eon Core package when you make your buying decision. It's free to download.
The Eon Core unit itself has some basic dive-planning functionality built-in, allowing you to plan a square-profile single-gas dive taking into account the size of your gas supply and your breathing rate, assuming you've set them up in the computer.
However, the DM5 app provides you with a much wider range of tools, including multiple gases and even a choice of three Suunto decompression algorithms.
The app will also automatically check that your Eon Core has the most recent firmware installed, and will prompt you to upgrade your computer if not, which is a simple one-click-and-wait-until-it's-finished process.
The idea is that you can buy an Eon Core as a recreational newbie without being put off by complexities you don't need, but then it can be updated with new firmware to make sure it's current as long as you are.
Then, if you're drawn to the dark side, it'll go with you almost as far as you want to go.
Take it diving, and the Eon Core sits nicely on the wrist. It's big enough without being over-sized, and the slimline design should keep it at least partially protected from knocks.
A stick-on protective film to provide extra protection against scratches for the mineral-glass screen comes in the box, and you can buy extras if you need them.
The strap is plenty long enough for even the thickest arm and drysuit combination, and it has closely spaced slots so that you can tighten it exactly to your liking and make sure it stays put.
I've already said that I rate the readability and the layout of the screen very highly, but it's worth repeating.
To be very critical, the screen is a bit directional in brightly lit water, but a turn of the wrist restores readability. And if anything that strap is so long as to be annoying. A replacement bungee arrangement is available for around £21 but being cheap, I'd put up with the strap until it broke, then get the bungee.
If the strap on my original Suunto Solution is anything to go by, that could be a long time.
Conclusion
I was a bit underwhelmed when I first opened the box. It didn't seem to have moved the game on much at first glance, and looked to be just another decent dive-computer. But it's grown on me.
The more I think about it, the more I believe that Suunto has been very clever with the Eon Core. Keeping it simple out of the box will perfectly suit the overwhelming majority of divers, who will go their entire diving career never using more than one gas on a dive and rarely, if ever, needing to complete any mandatory decompression.
But just in case, and for divers who want more, there's the option to add comprehensive functionality, and the automatic firmware updates to keep the computer current are an added benefit to anyone who buys the unit. And there's that lovely screen.
This is another in a long line of well-thought-out products from Suunto.
SPECS
PRICE: £599, tank POD £250
ALGORITHM: Suunto Fused RGBM
WEIGHT: 150g
COLOURS: Lime, white or black
CONTACT: suunto.com
DIVER GUIDE: 9/10
Appeared in DIVER February 2018