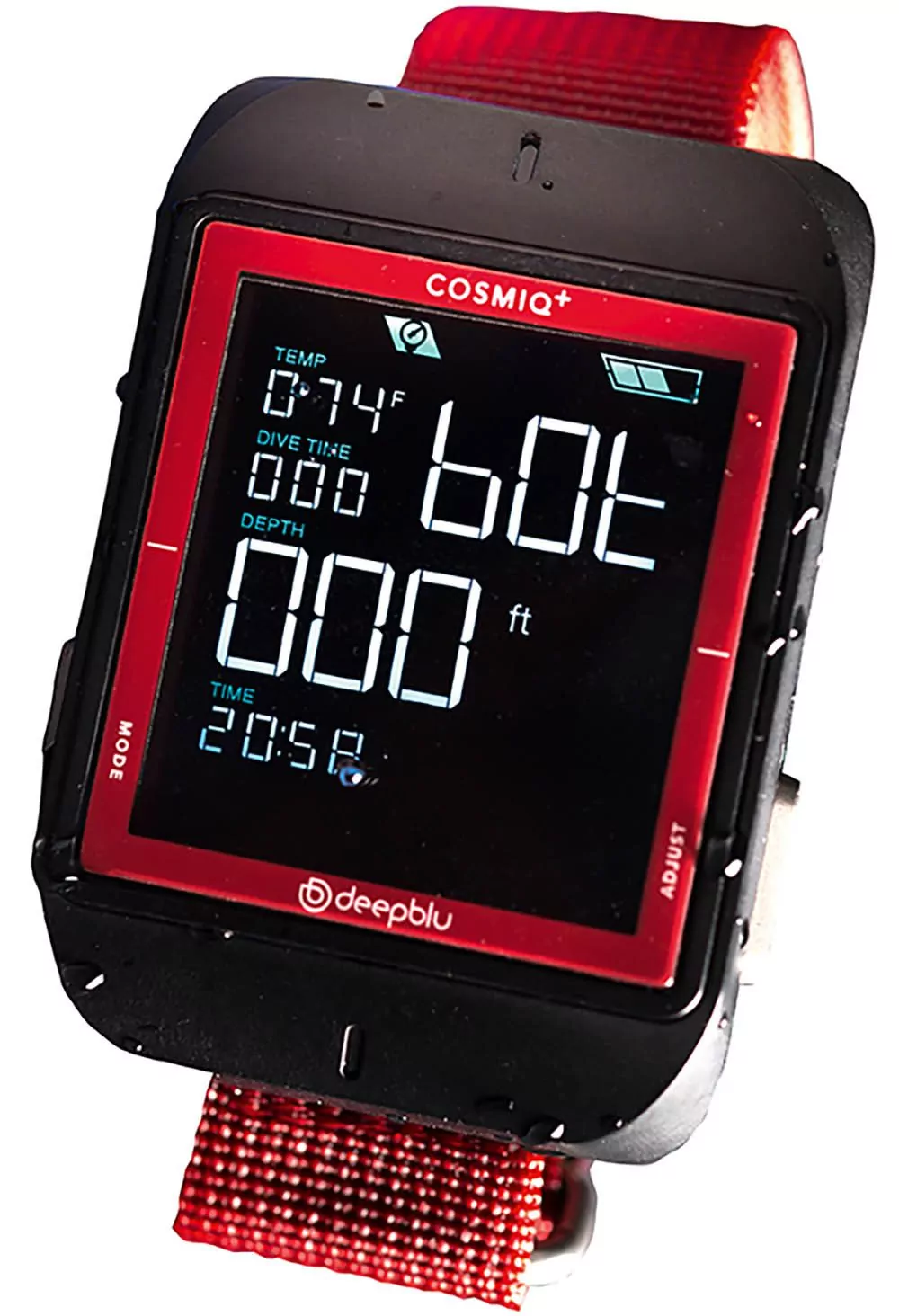 Appeared in DIVER May 2019
First impressions count. And the moment I switched on the Deepblu COSMIQ+, I was seduced. I'm 55 and my eyesight is pretty bad. At the press of a button, up came a huge time display, brightly lit and by far the clearest, cleanest read-out I've ever seen.
This is currently Deepblu's only computer.
It's suited, in my view, to a very specific market – recreational divers who intend to use only air or single-mix nitrox and aren't planning any serious decompression dives. And that's quite a big group in today's dive market.
I suspect, for reasons that include the easy reading, mostly unambiguous displays, plus others we'll get to, that it might be especially attractive to oldies. Oh, and youngsters. So that's nearly everyone who isn't a tekkie, then.
The Design
At the heart of the COSMIQ+ is a Bühlmann ZHL-16C decompression algorithm. The 5.5cm LED screen combines graphics and digits. The size of the screen means that information isn't crowded, and even the smallest legends are more easily read than most computers I've used.
Two large side push-buttons turn on the unit and change functions. You can dive normal air or a single nitrox mix up to 40%. A simple dive-planner lets you scroll through your NDLs for different depths and takes into account your maximum operating depth for the PO2 you've chosen. A basic logbook stores 25 dives – it's expected that you'll download your profiles.
The unit has a built in li-ion battery, recharged via a USB cable. The claimed life per charge is 7-12 hours of use, or several days' diving for most of us.
There's no need to open the unit to charge it. A USB cable attaches to the unit with a magnet, which isn't strong so is easily dislodged if you knock the computer or power source.
In its favour, keeping the unit closed eliminates a fail-point, because there's no O-ring to deal with as there is with computers that have user-changeable cells.
However, the battery cannot be replaced. Deepblu estimates that the li-ion is good for around 500 charges before performance might begin to drop. For most people, the computer should outlast their diving career anyway.
The COSMIQ+ is the first computer I've used that requires you to have Bluetooth and an app to set many of the menus. This could either win over or dissuade people from picking it over other entry-level competitors.
By splitting the functions, you make this computer especially safe to use, because you can't easily change many key factors accidentally.
Those settings you can change using the buttons also have simplified menus, because there's no need to navigate complicated layers of sub-menus to get past those you don't want to alter to get to the ones you do. So, there's less confusion and subsequent room for error.
The functions you need to set using the app tend to be those that an owner will probably want to change only rarely, such as PO2 and safety factor. However, changing the time, which you might need to do more frequently as you travel, also calls for the app.
The COSMIQ+ is not intended as a timepiece. In fact it shouldn't be activated on a plane, as it could be fooled into thinking you're on a dive during the descent, and lock up.
Two NATO wrist-straps are included. You choose the colour you like most, I guess, or use them to differentiate your computer from your buddy's.
Normally, the main benefit for divers is that NATO straps pass through both pins of an instrument, so if one pin fails the device isn't lost. It's why you'll see cheap-looking straps replacing the luxury bracelets on Omegas and Rolexes.
The COSMIQ+ has no pins to break, so the NATO strap is probably overkill. Instead the strap threads through slots moulded into the casing, and these look as if you'd have to destroy the computer itself to break them.
NATO straps also tend to stop your watch moving around on your wrist. Because the strap supplied has no elasticity, you can expect the COSMIQ+ to loosen up as your suit compresses. I usually end up tightening wrist instruments anyway.
In Use
Once paired with your smartphone, up come nice easy-to-follow displays with multiple-choice boxes from which to make your selections. For example, the test computer had already been dived by someone else, who had selected a PO2 of 1.3 bar, and I set it to my preferred 1.4.
The computer powers up when you descend below about 1.5m. The screen is always lit up, though via the app you can reduce brightness to prolong battery life.
Current depth and remaining no-stop time is clearly presented. Ascend a little, and your maximum depth is also discreetly displayed.
The large displays and always-illuminated screen are a big selling point. Some computers have digits so small I can read them only using magnifying lenses, and at night some have inadequate backlights that require a torch to be shone across the screen at a readable angle.
Not so with the COSMIQ+. Swim into a wreck and it's there like a beacon on your wrist. For night dives it'll make checking your ascent rate and holding a safety-stop extremely easy. It's also a boon for nocturnal photographers who have hands only for camera controls.
Equally practical, in very bright sunlight just cup your hand around the face and you're done. It's also an easy computer for your buddy to read from a distance.
For no-stop diving, I'd guess that you could show this computer to most people under water for the first time and they'd be able to assimilate important information such as your NDL quickly and intuitively.
I liked that the time is also included in the displays. If you've agreed to be back at a certain time, you don't have to try and remember when you hit the water, then add your dive-time on.
Deco Diving
The simple Plan mode indicates that this machine is not really intended for full-on deco diving. It scrolls through no-decompression limits only for given depths – you can't run a full simulation or play out "what if" scenarios.
We dive to be wilfully distracted, and it's easy enough to accidentally exceed your no-stop time. I wanted to see how straightforward the decompression displays are to follow if that happened.
So I took the COSMIQ+ down to 22m to test its decompression read-outs for real. On this dive, not a repetitive one, the NDL between it and my own computer, which uses a more common RGBM algorithm, kept varying.
First one, then the other, was the more conservative, but the difference was never more than two or three minutes.
The COSMIQ+ is supposed to sound a series of alarms to warn you when you get within three minutes of entering stage deco. It then sounds a long sequence of beeps when you cross the NDL line and must decompress.
I was watching the countdown to decompression closely, but never heard the alarm; nor could I hear it as I entered deco, even with the computer held close to my ear, perhaps because I was wearing a hood.
I also couldn't hear the beeps when I exceeded the ascent rate, though the graphic warning was very clear.
In truth, I can't usually hear the audible alarms on my own computer either, especially if breathing hard in a current, and my view is that they should never be relied on. You need to be disciplined and watch your screens.
Once you go into deco, the COSMIQ+ panics! It flashes "ceiling" repeatedly at you which, even though I'm used to deco diving and this was planned, still unnerved me.
Eventually it settled down. In fairness, the deco display can't be overlooked, which is a very good thing. The computer displays your ceiling depth clearly, 5m in this case, but it did confuse me with the display adjacent to the word "deco".
I took this number, which started low and kept increasing, as total ascent time. It was way out of sync with my own computer's TAT.
Confused, I later went back to the manual. It is actually a timer that lets you know how long ago you went into decompression. I took an active dislike to having this useless and distracting information included on the screen when I was managing my decompression, especially given its ambiguity.
I was getting conflicting information, because my time at my stop was correctly shown – the fault was my unfamiliarity with the COSMIQ+. My stop time was only about two minutes longer than my own computer demanded.
The COSMIQ+ also displays your stop time in two places on the screen. The smaller display shows it in minutes, the larger display in seconds. I was ambivalent about this – I think I'd have preferred a single, large display just showing minutes.
The lack of a total ascent time confirms that the COSMIQ+ should be intentionally used only for the lightest of stop diving. It will guide you safely through the kind of unplanned deco that occurs through inattention or an unexpected and short delay in ascending.
A minor transgression into deco will require you to stop only at one depth, so you can more or less treat the stop time, which is displayed, as your TAT.
It's only for deco dives with stops at two or more depths that the COSMIQ+ leaves you in the dark as to how long it will take you to surface. Again, it's important to see the lack of deco facilities in the context of who the COSMIQ+ is meant for.
Safety Factors
The COSMIQ+ allows you to adjust the algorithm for greater conservatism, which permits less gas-loading than the normal setting and is sometimes recommended if you're old or unfit. It offers three choices, but I couldn't find anything in the manual that explained the differences.
Using the app does let you pre-program your unit to warn if you exceed a given depth or time.
A lock-out feature prevents you diving again for a period of time if the computer feels that you've dived "aggressively". This is not the same as a computer violation, where a machine will lock you out because you omitted decompression or dived outside its parameters – this is the COSMIQ+ playing safe.
This enforced curfew is not necessarily a decision you might want to let your computer make for you. You can disable this function only by choosing the progressive algorithm.
Along with Scuba mode, a Bottom-Timer option provides time and depth information and is suited to diving on tables.
You cannot switch between this and Computer mode for 24 hours, however, because the COSMIQ+ would not know your previous dive history for safely calculating gas-loading. There is also a Freediving mode.
You can set a series of alarms to indicate as you pass through as many as three different depths, as well as beeps to go off at preset times while under water or alert you to how long you've spent on the surface between descents.
These functions are programmed using the push-buttons. There's a warning not to combine scuba and freediving, but the COSMIQ+ won't lock you out if you do.
Social Media
Deepblu makes more on its website about its social-media platform than it does about its computer, with articles about diving, information on dive-sites around the world and lists of resorts, some of which offer community incentives. You're encouraged to become part of the Deepblu community, and post pictures along with dive-profile information onto the site.
If your underwater camera is synced, pictures will be added to your dive timeline at the precise time they were taken, providing a visual logbook for others to admire. You can tag your friends.
This is one reason I think the COSMIQ+ will appeal to younger divers. I'm not much into logging dives, but for a basic logbook record, or to satisfy a dive-marshal, you can recall the past 25 dives and see time, maximum and average depth.
Conclusion
Use the COSMIQ+ for recreational, no-stop diving, and there's a lot to like.
My main criticisms home in on the manual, which is an easy fix.
The use of an app to set and forget many functions makes this unit a real contender for anyone who dives only occasionally and finds themselves confused by menus. For anyone who enjoys smartphones, apps and social media, it should be on your short-list.
For dive-centres, the restrictions imposed by needing the app to change many functions would reduce the likelihood of a customer mis-programming a rental computer.
However, the COSMIQ+ doesn't have a reset option, so it can't be zeroed and rented to another customer until it has fully desaturated.
I really think Deepblu is onto something with the COSMIQ+, and hope it will add to its range and encompass deco and tech diving. It's a brand to watch. Recommended.
Specs
TESTER> Steve Warren
PRICE> £325
ALGORITHM> Bühlmann ZHL-16C
COLOUR> Black, lava/red, lilac/purple, steel gray, ocean blue
CONTACT> sea-sea.com
DIVER GUIDE>  9/10