Appeared in DIVER January 2020
My Nikonos V was a magnificent piece of kit. Coupled with the superlative Nikonos 15mm lens, and shooting slide film, the quality obtainable was stunning.
Set up a good projector and throw a picture 6ft tall onto a decent screen, and the colour and sharpness and detail made it almost as good as being there.
And then along came digital, with even the smallest point-and-shoot cameras offering the sort of versatility my Nikonos could match only with a bagful of lenses and for half the price. Very tempting, but what about the image quality? Still, nothing ventured, so I bought myself a Sea & Sea DX3000 camera and housing to find out what digital offered.
The camera turned out to be a Ricoh Caplio RR30, with three million pixels, a zoom lens and a 1cm macro-focusing distance. The housing was a sturdy Sea & Sea unit rated to 55m and no bigger than my Nikonos body.
A supplementary wide-angle lens, branded Sea & Sea, and a small flashgun completed the outfit. From the first use, I loved that little beast.
The picture quality didn't quite match what I was getting from the film set-up, but the difference was far smaller than I'd expected it to be. I was converted, and the Nikonos was consigned to the loft, never to be used again.
This might go some way to explaining why I was so excited to open the box containing the new Sea & Sea DX-6G compact camera and housing.
Of course, the underwater photography market is now very different. Compact cameras have been all but wiped out by phone cameras, so the compact-camera-in-a-housing that killed my Nikonos is itself now almost dead.
Instead, what you see on dive-decks are action cameras, carried by almost every diver, or proper big camera rigs, carried by divers who are photographers first and divers second. If the DX-6G is going to buck the market and sell, it needs to be good.
The Housing
The housing is a two-piece polycarbonate clamshell hinged on the right and locked closed with a sturdy catch on the left (looking from the rear).
The front section of the housing is dark grey, with a bright yellow plate on the front for your second, third and fourth fingers to grip while your index finger rests on the shutter lever.
Behind the lever is the chrome on/off button. Centrally located beside this is a cold-shoe accessory mount.
Top-left of the housing are two ports for attaching fibre-optic strobe cables. Sea & Sea makes compatible units and its strobes tend to be good. Below is a small sliding switch that pushes a blanking plate in front of the built-in flash of the housed camera, to avoid backscatter when using external strobes.
Supplied with the housing is a large flash diffuser positioned around the lens and intended to make macro photography simpler.
Remove this and you can use an optional adapter to attach an accessory wide-angle conversion lens.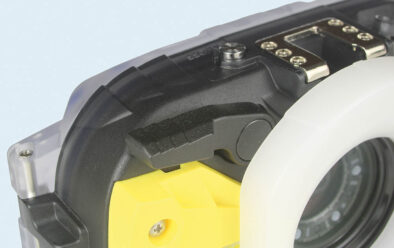 The base of the housing has an inset metal plate with three alternative screw-mount locations for attaching the housing to a tray.
Or go for extra security and use two screw-mounts, like I did.
The back of the housing is transparent, with a clear area in the centre to view the screen of the camera inside. Rails are moulded into the housing to fit a shade and make the screen easier to view in bright sun.
To the right of the screen are the buttons for controlling camera functions, marked with clear symbols. They are close together and, as with other housings, not always easy to press without also pressing nearby buttons, especially when wearing gloves.
To open the housing you squeeze the red locking buttons and pull the catch open, then pull the catch a bit further for a shaped foot to lever the housing open and break the seal formed by the blue O-ring. It sounds brutal but isn't – it's just a thoughtful design.
The housing is rated to 55m, and I'd be happy plunging it to that depth.
The Camera
The 6G is Ricoh's all-action outdoor camera, so is a sealed, watertight unit rated to 14m without the housing. I like that. While I wouldn't choose to use it under water without the housing, if the housing did leak it's a comforting second line of protection.
Ricoh also says that you can drop the camera onto concrete from 5ft up if you like – a feature I would have found useful in a couple of previous cameras.
The standard lens is a 5x zoom starting at 28mm, so reasonably wide above water, but set behind a flat port so you'll effectively be shooting with a 37mm lens under water.
That's not very wide-angle, so you'll want to add that 0.6x accessory wide-angle lens sooner rather than later, unless you intend to shoot only macro or portraits of fish.
Effective focal length with the converter under water is about 22mm, wide without being fisheye-wide. Maximum aperture at the wide end is f3.5, which is decent but in darker UK waters will require higher ISO settings to shoot scenes using natural light.
The camera shoots stills and HD video and offers a range of pre-set modes, including Underwater for both stills and video and Manual White Balance for stills.
You can choose settings for exposure compensation, sharpness, colour saturation and contrast as well as the size and shape of your images among others, but there's no way to set aperture or shutter speed manually.
The Ricoh sensor offers a maximum of 16 million pixels in a 4:3 frame, with 16:9 and 1:1 options using just part of the sensor area, or you can choose lower resolutions to keep file size to a minimum (though why would you?).
The ISO range runs from 125 to 6400 and you can preset it to automatically select from part of that range or choose a set ISO value.
Files are saved as jpeg stills, with three levels of quality available – no RAW – or MP4 movies in 1920 full-HD or two smaller sizes.
The battery can be charged in-camera.
A little door on the left requires a fingernail and some patience to open to access the USB port and HDMI-out socket, but the battery and SD memory card live in the base of the unit, and are accessed via an equally fiddly door.
That's the price of the waterproofing, I suppose, and they are easier to open once you have the knack. A small green light in the power button flashes while the battery is charging, and goes out when it's charged.
The viewing screen measures around 70mm on the diagonal and shows you the full 16:9 frame for video with smaller parts of the screen used when you select different still resolutions.
You can choose various displays to keep you on track with what the camera is doing, and there's a green button you can customise to access the four most frequently used parameters quickly.
I selected exposure compensation, white balance setting, ISO and something else, because I had to have four. I also set maximum file quality for both stills and video.
In Use
Almost ready to go. Inserting the camera was a dream – place carefully, a gentle push and job done, with the camera held firmly in place.
The housed camera works as well mounted on a tray with lights or strobes as it does standalone. Then the housing fits the hand well, making it easy to get a solid hold and with the shutter release well-placed for a forefinger.
There's not much feel to the shutter lever, but there's enough travel and what feel like two small clicks to make it easy to control even in thick gloves.
A half-press allows the camera to focus and set exposure, then a full press takes the picture. The screen shows you a small green oblong so you can see where the camera has focused.
If it's not where you wanted, release and re-half-press the shutter. I was very impressed by the ease and certainty with which the Ricoh locked focus in the low-contrast, low-light conditions we often encounter under water.
In movie mode the shutter-release stops and starts recording, or there's a dedicated movie button easily accessible to your right thumb to start and stop recording regardless of mode.
The Results
Still image quality is very good, particularly at lower ISO values. I'd be happy to use the DX-6G generally at anything up to 800 ISO, even 1600 at a pinch. After this the level of image contrast and detail recorded starts to drop off, and everything gets a little mushy.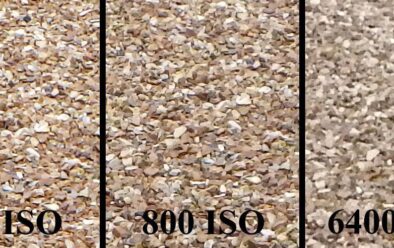 But if all you're doing is viewing pictures on a phone screen, the higher ISOs will be fine.
The lens does a good job too, nicely sharp across the whole frame and with only a very slight amount of blue-fringing visible on a monitor at 100%. A4 prints and full-screen monitor displays will look good, and the 16 million pixels allow for a degree of cropping.
The DX-6G performs well enough to satisfy most users in most situations. It's the sort of camera to make you wonder if you really need to carry that big rig.
Put a picture shot using the Sea&Sea in decent conditions next to a similar picture taken with a large-sensor digital SLR, and I suspect few people could tell the difference.
Video output is equally nice, and in reality 1920 HD is all you need, though other cameras offer 4K and manual colour balance in video mode, so maybe this isn't the DX-6G's strongest suit.
It does however excel with macro, where the small sensor gives better depth of field to render more of your subject in focus.
This camera will do very well on nudibranchs and the like and the standard flash-diffuser helps with lighting for this type of situation.
Usefully, the camera will focus at macro distances at longer focal lengths, so you can be a little way off your subject to allow you to light it nicely, but still fill the frame.
Conclusion
The DX-6G handles very well, feels well-made, oozes longevity and turns out good images.
True, it doesn't offer the level of exposure control that experienced photographers feel is essential, but there's enough control to deliver decent shots for an experienced photographer and enough automation to get newbies up and running.
My old Sea&Sea was a revelation, and this current iteration offers just as much to the aspiring underwater photographer. It might not be the last digital underwater camera you buy, but it's a good outfit to get you going.
Specs
TESTER> Mike Ward
PRICES> £700
SIZES> 16.5 x 9 x 8cm
WEIGHT> 625g
CONTACT> sea-sea.com
DIVER GUIDE> 8/10