Appeared in DIVER September 2018
SAY MARES TO ME AND I THINK WETSUITS. Then I remember computers. And regulators. And fins. In fact, pretty well everything a diver might wear and use. But wetsuits are what I think of first, mostly because my last wetsuit was a Mares and it did me for 10 years and the best part of 1000 dives before the accumulated wear and tear became so extensive that even I could see it needed to be replaced.
So when the new Mares XR drysuit arrived, it had a tough act to follow.
First impressions were good. The box wasn't over-heavy, and when I unpacked it I saw a very nice-looking neoprene drysuit in a zip-open bag-cum-changing mat, with appropriate inflation-hose and a small puncture repair kit.
Let's start with that repair kit, which might just save your precious diving week in the back end of nowhere. Or at least make the second dive each day a lot more comfortable. Big tick for Mares here.
Yes, other makers include repair kits, but even so I applaud Mares for its forethought. There's also a block of zip-lube in the kit.
The suit itself was neatly folded into the bag and unrolled into a good-looking piece of kit. It is made of what Mares describes as high-density, hyper-flexible neoprene and it's pretty much all-black, except for the XR logos, yet succeeds in looking as stylish and desirable as you could expect from a drysuit.
The Design
From the top down, the XR has graphite reinforcement panels over the shoulders for a harder-wearing, longer-lasting suit, and has a neoprene neck-seal for comfort, with a warm collar. This fastens with easily reached Velcro tabs either side, and is there so that you can tuck the skirt of the included hood under the collar to add extra water-proofness to the neck-seal, and eliminate that cold bit where neck-seal and hood meet.
A vented mesh patch at the front centre allows water to drain out so that you don't get a cold surprise when you remove the suit.
At this point I'd best talk about the hood, which has a smooth interior neoprene to pretty well seal around your face, but with ventilation holes on top and over the ears to vent any gas and ensure that you don't get ear-clearing issues on ascent or descent.
The XR suit has a standard push-to-inflate valve on the centre of the chest. This swivels through very nearly 360° and will mate with the included inflator-hose pretty much regardless of how you rig the hose, even if that means it's run from a stage bottle.
The inflate is an international fitting, as used on most BCs, so if you're one of those divers concerned about being able to inflate both BC and suit from the same hose in the event of gas loss, the XR has your back.
There's an auto-dump on the upper left arm.
It's reasonably tall, so not desperately low-profile, but that makes it easier to grab and adjust with a gloved hand.
Cuff-seals are latex, chosen by Mares for watertightness, and to allow use of dry-gloves.
The zip runs across the back of the suit and is medium-weight and easy to slide, especially when I'd run some lube across the teeth and opened and closed it a few times.
A flap on the outside of the suit covers the zip, and the design looks as if it will actually cover the zip, even though it isn't terribly large, unlike the flaps on some suits that just stick up and are neither use nor ornament.
There is no inner flap, which means taking a bit more care when zipping up so as not to catch your undersuit, but I didn't feel a cold bar across my back from the metal of the zip transferring chill from the water.
More graphite reinforcing around the backside is intended both to improve wear and the grip your bum has on the tubes of the RIB.
Further down there's a generous pocket on the right thigh, big enough for the crack-bottle DSMB I seldom use because it's bulky and hard to clip off neatly.
A big eyelet at the bottom of the pocket ensures efficient drainage. The pocket is closed by a zipper, with the tab to the front when the pocket is closed so that it's easier to get hold of.
The zip runs smoothly, but if you're wondering why I'm banging on about a zip on a pocket, it's just that even well-designed zippers aren't easy to find and operate with thick gloves, especially if there's a wee bit of stress involved. I prefer weighted flaps to close pockets. I'd add a tab to the zipper if I owned an XR.
The legs are conventional, with the whole front of the lower leg reinforced for harder wear.
They end in standard drysuit boots, with sock ends an option. Mares has seen fit to put a Velcro-fastened strap around each ankle to prevent you blowing off your boots in an inversion situation, and there's a ridge on the back of each ankle to locate your fin-straps more securely.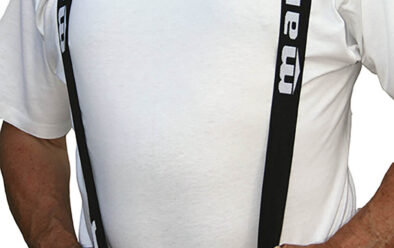 Internally you'll find a set of braces that feature Mares logos large enough to be read across the widest dive-boat deck. They do their job admirably.
In terms of construction, the suit is stitched externally and taped and glued internally. It looks pretty much bomb-proof.
In Use
That brings us to the really important bit, fit and feel. Fit-wise, it was pretty close to perfect for an off-the-peg suit, but I'm lucky enough to fit off-the-peg clothes quite well. There are plenty of size variations for those of a less-standard shape.
I did find the suit a bit tougher to hitch up over a fleece undersuit than a Thinsulate undersuit. The interior of the XR seemed to catch on the fleece, but to be fair the same comment applies to just about every neoprene suit I've ever tried.
Once on, the suit zipped easily and was comfortable to wander around in.
Unzipping and popping off the top so that it hung from the braces pushed the suit low enough to make a convenience zip unnecessary. I appreciate that this will be of no interest to female readers.
Kitting up was easy. The suit has enough give to make reaching back for the straps of your BC and bending down to rinse your mask or pull on your fins very straightforward. I don't think I'd want to go dancing in one, but if I had to, I'm pretty sure I could. As soon as I learn to dance.
In the Water
Once in the water the Mares XR was just lovely. Comfortable, easy to swim in and dry. What more could you ask for?
The inflate was controllable and easy to operate, the dump just needed a slight roll and out came the excess gas. And for sheer devilment – do not try this at home – I thought I'd see if the tape around the ankles really would stop the boots coming off if I went inverted. It did.
At this point I'll fess up and say that if you asked me to design my ideal suit the final result wouldn't be a million miles from the Mares XR.
Swap out the latex cuff-seals for neoprene and change the pocket from a zip to a flap and that'd be it, sorted. I might also like a thicker hood for colder water. But that's it.
Conclusion
I think of suits like this one as basic diving gear, and in my book there's no higher compliment. Stuff that does the job without getting in the way, everything you need and nothing superfluous. The only reason it doesn't get a 10 from me is that zip on the pocket. I know, picky, but it should tell you something if that's the only issue I have with it.
If you're in the market for a drysuit, do yourself a favour and take a look at a Mares XR before you make your mind up.
Specs
TESTER> Mike Ward
PRICES> £814
SIZES> XS, S, M, L, XL, XXL, 3XL
WEIGHT> 8.4kg
COLOUR> Black
CONTACT> mares.com
DIVER GUIDE>  9/10