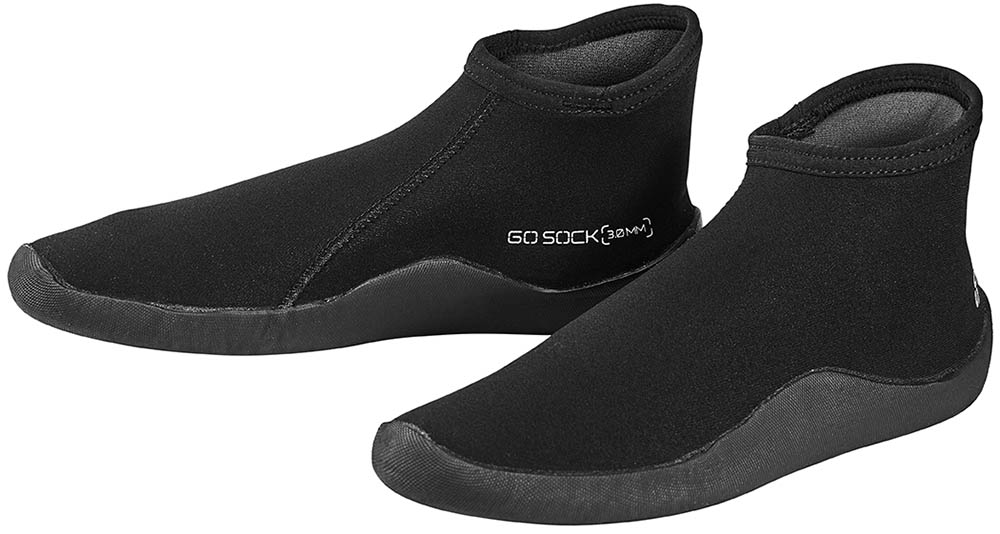 Appeared in DIVER July 2019
It's become a bit of a fad to celebrate your 100th dive by doing it naked. But, however toned your body is, once festooned in scuba harness webbing and entwined with colour-coded regulator hoses, you will take on the look of a reject advertising poster for Anne Summers.
Snorkelling in the bare feels and looks far more natural unless, of course, you're wearing full-on wetsuit boots, as my snorkelling buddy was. It's not quite wellies in Wales, but you get the picture. Best of luck getting it out of your head.
There are times when you simply don't need heavy-duty dive-boots. If you're diving in water warm enough just for swimwear, dive-skins or Nature's wetsuit, dive-boots, which are designed to be tucked under ankle-cuffs, can scoop water, causing drag and collecting sand.
They can also take a long time to dry and are fairly weighty to transport. Sometimes, all you really need are simple beach shoes.
Scubapro's slip-on Go Sock is aimed at divers and snorkellers using open-back fins. The moccasins have a moulded rubber sole with non-slip ribbing, and the uppers are double-lined 3mm neoprene.
Edging around the ankle keeps them firmly on your foot and excludes sand.
Conclusion
I used Go Socks with a pair of Scubapro Go Travel fins for a few days' snorkelling in Lanzarote. For walking around on sandy bluffs and over the volcanic rocks and rough-hewn steps down to the sea, they proved very comfortable. In the water, they went unnoticed when finning, and when I took off my fins to climb a ladder, they were secure enough not to pull away with the fin.
What more can you ask for? Highly recommended.
Specs
TESTER> Steve Warren
PRICES>£21
SIZES> 3XS-3XL
COLOUR> Black
CONTACT> scubapro.com
DIVER GUIDE> 10/10