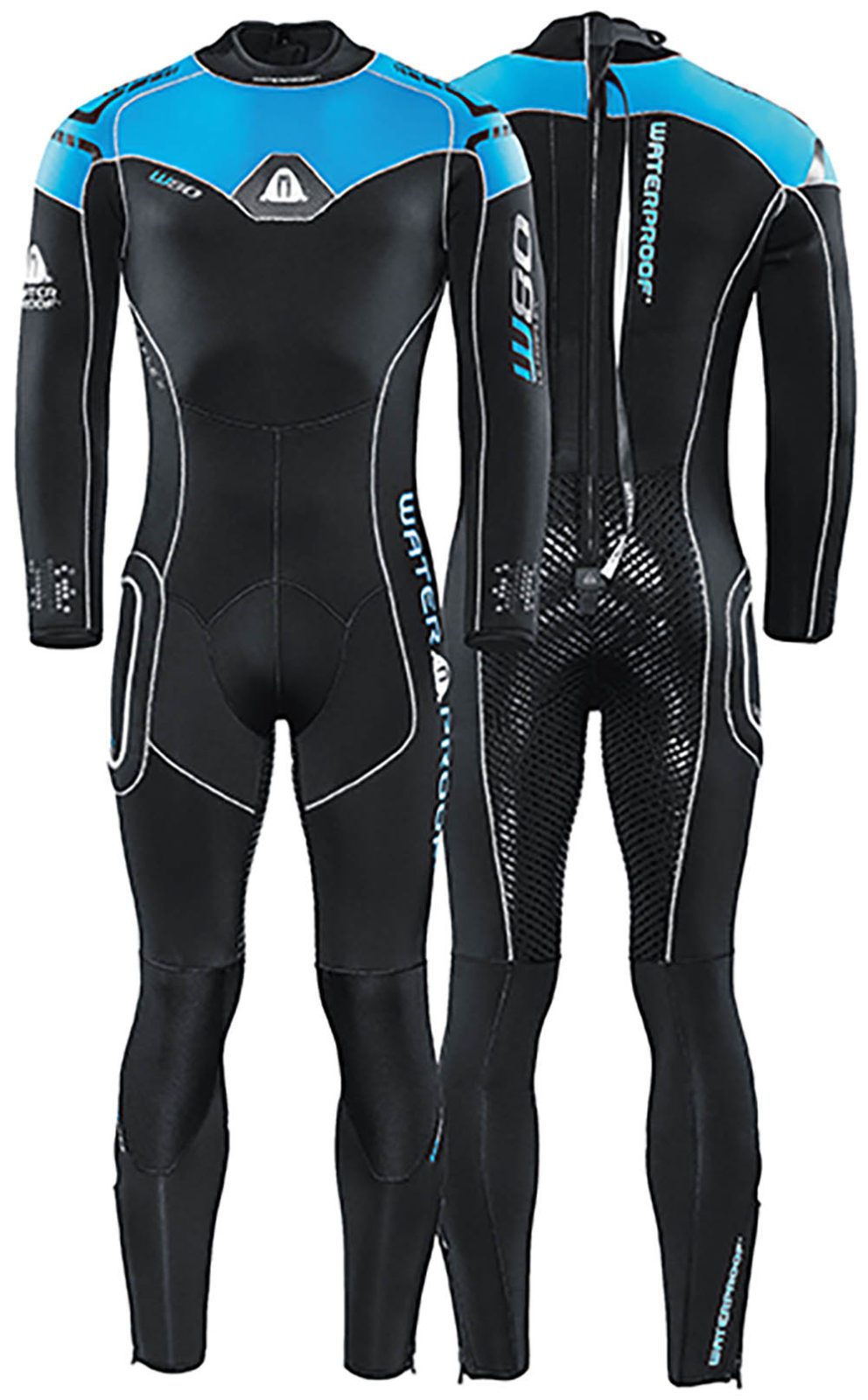 Appeared in DIVER July 2019
So many factors affect how we chill under water, apart from water temperature. Some are highly personal and variable. We lose body heat from wind-chill around the dive-site, accumulated cooling from repeat dives over multiple days, and even by just breathing, which is exacerbated at depth. Especially, we chill when we're not moving.
So any wetsuit test is subjective, and so it is with the 8mm Waterproof W80 steamer, which
I used over six dives or so, both as a standalone and with the 5mm over-shortie.
Waterproof is a Swedish company, though the W80 is assembled in the Far East. The company also runs Waterproof Expeditions, which has a special emphasis on polar adventuring.
Waterproof's suit range encompasses a broad choice of drysuits, catering to military, commercial, technical and recreational divers. Alongside sits a line of semi-dry and wetsuits, with features and benefits from premium to economy.
The W80 is from the economy range, and Waterproof states that it is designated for moderate depths and lower temperatures. It doesn't specify a specific depth and temperature range, and how could it, given each individual's personal predisposition to cold?
But Waterproof should be applauded for its candour in downplaying its claims for the W80. I'll take its lead and talk about it in that context, keeping in mind that it's a low-cost wetsuit.
The Design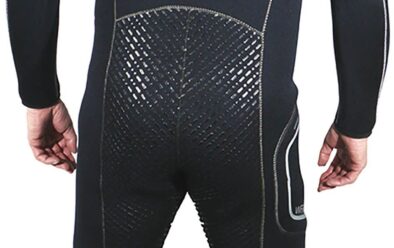 The W80 is a one-piece made from 8mm Ultraflex neoprene. While the neoprene creates an insulating barrier that slows heat-loss from your body to the water, heat-loss also occurs through flushing, which can occur through seams if they aren't watertight.
Seams are glued and dry-stitched to prevent this. Because it's not a semi-dry, the W80 lacks anti-flushing seals at wrists, ankles and neck.
Here's why semi-drys exist – the anti-flushing seals mitigate a poor fit. As a kid, my wetsuits were tailor-made in the UK, long before semi-drys existed, and they fitted me perfectly. When I took them off, the inside would be damp, not soaked, and you could tell the type of stitch used from the imprints left on my body.
Today, the British market will rarely bear the price of bespoke wetsuits, because the cost of manufacturing in the UK or Europe greatly exceeds that of even a Far East-made budget drysuit, let alone a humble wettie.
So the consumer is stuck with stock-size suits and the manufacturer does what it can to get as good a fit as possible. It's extremely important to get a close fit with a wetsuit like the W80.
In the W80 Waterproof uses a neoprene called Ultraflex that has a lot of give. If you have proper biceps (I don't) and do flexes, the material will contract and expand with your muscles.
For surface sports, such as sailing and surfing, high-stretch neoprene is essential; for diving it is less important. Waterproof uses denser neoprenes in its high-end coldwater semi-drys, but this is far costlier than that used in the W80.
I would guess that the W80 neoprene is rated for fairly modest diving exposures, because of compression causing the suit to thin out at depth and lose insulation.
The problem Waterproof has set itself is that while most rivals offer only soft neoprene suits, it sells a better suit but at a higher price.
The usual nylon lining inside and out adds strength and makes it easy to don and doff the suit. The outer adds additional scuff protection.
Waterproof builds on this abrasion protection by adding plasticised panels to the seat, extending down the back of the thighs. These have a stippled non-slip finish to help keep your butt from sliding around on boats.
Small raised shoulder flashes  prevent slippage of BC straps. Around the wrists you'll find stippling to create friction to stop your gauges shifting – all nice touches on a budget wetsuit. The right thigh is equipped to take Waterproof's optional WPAD expanding pocket.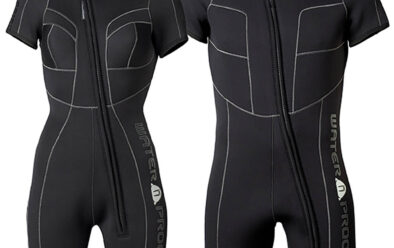 W-Series Overvest
This 5mm garment, which Waterproof calls an overvest, is front-entry. The offset zip aids freedom of movement, because when worn over the W80 you don't have two zips behind you that need to flex together.
It also further reduces any flushing through the W80's own zipper.
The sleeves come down just over your upper arms, helping to achieve a seal without appreciably impinging on movement around your shoulders and leaving your elbows completely unrestricted.
The legs end at the top of your thighs. I noticed no increased effort when finning.
A hood-attached version is available, though the one I tested was hoodless. As with the W80, this is a nicely finished suit with low-profile seams and bound edges.
Waterproof has again provided anti-skid, anti-abrasion protection to the lower back and butt, and repeated the fitting for the pocket.
With the use of the micro-bubble neoprene, you can expect a much longer working life from the premium W-Series. You should stay warmer for longer on deeper dives and experience less buoyancy shift.
In Use
The W80 is easy to don and doff by yourself.
The back-entry zip has a tab at the base of your spine to give you purchase while you do it up.
It locks in place when you close the Velcro-backed collar.
A simple underflap minimises flushing along the length of the YKK zipper. The ankles have zips, so they open right out. It's easy to put your feet through.
The zips don't have expanding gussets behind them, which would mean there's no flushing through the teeth at all. Instead they use backing flaps, like the main zip. These do reduce flushing to some extent.
I carried out a series of dives in the 15-30m range in 14° water while wearing the W80 in Gibraltar, supported by Gibraltar SAC.
The harshest test was a dive on which I was also testing a computer. It put the W80 on notice because at the target depth of 22m the neoprene is substantially compressed, so insulation is reduced. However, no-stop time is generous compared to, say, a 30m dive. You're exposed to the cold water for far longer.
I was also waiting for the computer to go into deco, and barely moving for most of the time. That dive lasted more than 70 minutes, including stops. I used the W80 with the W-Series shortie, and the Waterproof combo performed very well.
The W80 was very comfortable in and out of the water. I made some long swims in it (not always intentionally, but because I get lost a lot) and, due to the shaping of the pre-bent knees and supple neoprene in the back of the legs, it doesn't bunch up here. It won't abrade your skin.
There's no resistance when you bend your arms to raise a camera, either.
Conclusion
For a lot of casual Mediterranean and Red Sea diving, the W80 would be fine, I'd have thought, for two or three dives a day. If you feel the cold, are a slow-moving photographer or fish-watcher or are diving those locations in the winter months, I'd want the shortie as well.
For UK diving the combo should be fine as a summer suit for no-stop dives.
In very warm water, the W-Series shortie can be used on its own for a bit of extra insulation, buoyancy and to protect your shoulders and back from your BC.
Get a good fit and this makes an attractive low-cost purchase for younger divers, because the Ultraflex neoprene provides a little growing room. I'm happy to recommend the W80 for the conditions I've outlined, and commend Waterproof for its honesty about neoprene.
Which brings me back to the W-Series.
Again, easy to don and doff, very comfortable and seemingly rugged with its stand-out feature being the microcell construction. Highly recommended.
Specs
TESTER> Steve Warren
PRICES> W80 £269. W-Series Overvest (no hood) – £138. WPAD Expandable Pocket – £40
SIZES> W80  M XS-3XL (8). F XXS-XXL (8). Overvest M XS-3XL/t (16) F XS-XXL (12)
COLOUR> W80 – black/blue. Overvest – black
CONTACT> waterproof.eu
DIVER GUIDE>  W80 9/10. Overvest 10/10