DIVING NEWS
Diver shows sand tigers have favourite wrecks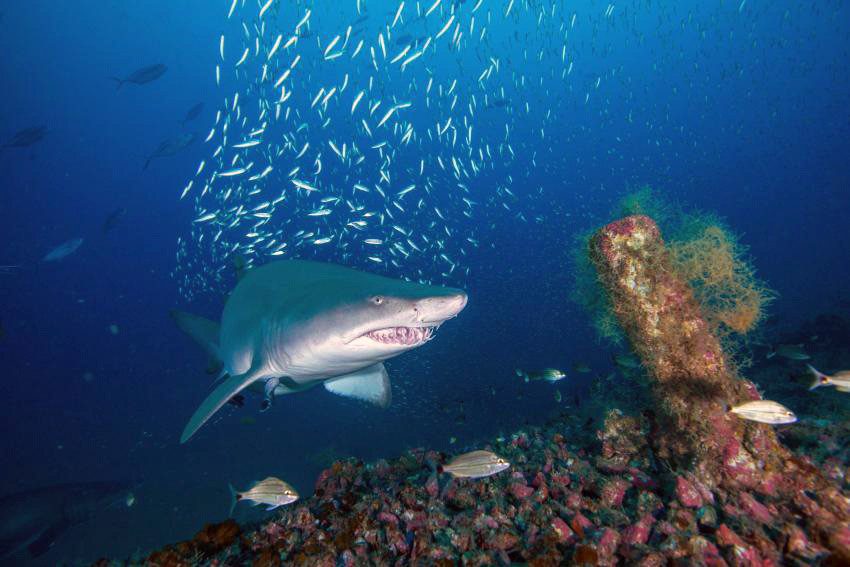 Picture: John McCord, Coastal Studies Institute.
Scuba divers have long enjoyed diving the many wrecks along North Carolina's Atlantic coast, especially because itinerant sand tiger sharks are frequently seen on them. But since a well-known underwater photographer posted two images of one of the sharks online, scientists have been taking a closer interest.
Tanya Houppermans' photography has won many competition prizes, including Underwater Photographer of the Year 2018, with a sand tiger shot that featured on DIVER magazine's cover in April last year.
She took the pictures of the female sand tiger 10 months apart, in 2016 and 2017, on the 35m-deep Aeolus cable-repair shipwreck, and uploaded them to Spot A Shark USA,  a citizen-science website set up by North Carolina Aquariums.
The site uses software that can distinguish the unique patterns of brown spots displayed by sand tigers, which are also known as grey nurse or spotted raggedtooth sharks in other parts of the world. The matching of the two images led a research team to trawl through other photographs dating back to 2007, and they were able to recognise six female sharks returning to the same wrecks at intervals ranging from one month to six years.
No photos were found to demonstrate that male sharks exhibited the same "site fidelity".
Sand tiger sharks roam over wide areas, making population counts and consequently their protection difficult. Numbers are known to have fallen by at least 75% in the last decades of the 20th century and the species is now IUCN-listed as Globally Vulnerable, but researchers have been uncertain whether the population remains in decline or has stabilised.
"Having photographic evidence that these wrecks form an important habitat the sharks return to from time to time gives us a focal point for ongoing research, so we can better understand how the species is faring," says lead author of the new study Avery Paxton, from North Carolina's Duke University Marine Laboratory.
"We're now trying to figure out why they return," she says. "They could be using the wrecks as rest-stops along their migratory paths, but they could also be returning here for mating or possibly to give birth.
"This area is called the Graveyard of the Atlantic for a reason – it has hundreds of wrecks. As researchers, we can't have eyes under water at each of them. Being able to rely on scuba divers and other citizen-scientists who are out there and have cameras with them extends our reach."
Similar behaviour patterns have been noted in the past in Australian and African waters. North Carolina Aquariums is now promoting a public awareness campaign to engage more recreational divers in the programme.
The paper "Citizen Science Reveals Female Sand Tiger Sharks (Carcharias taurus) Exhibit Signs of Site Fidelity on Shipwrecks", is published in Ecology.