DIVING NEWS
Divers can help combat White Syndrome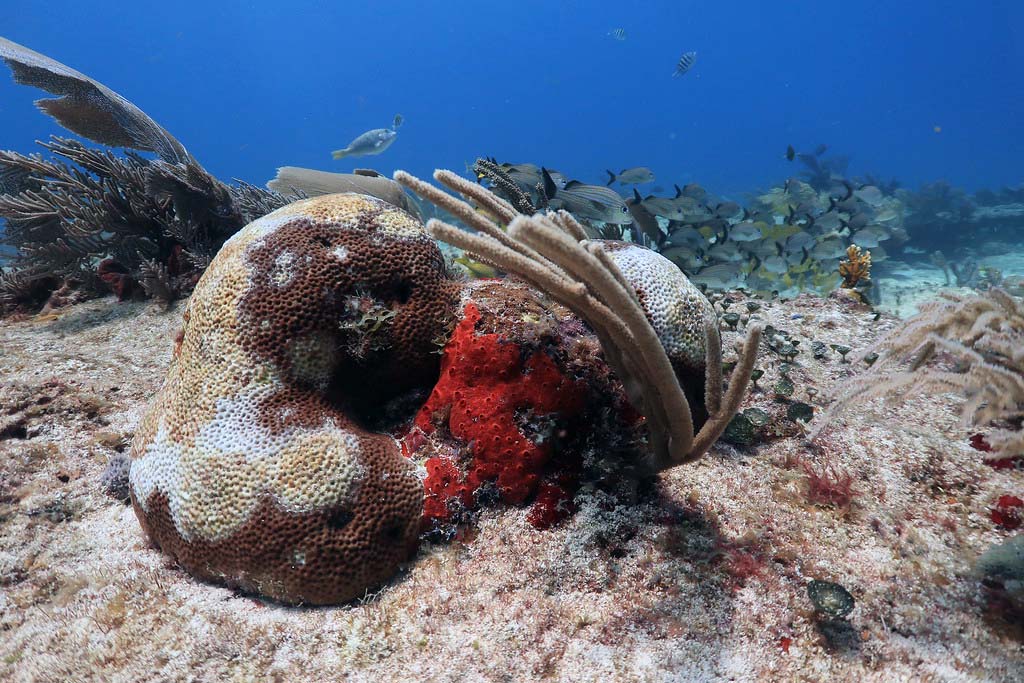 Picture: UNAM / BARCO LAB.
Divers on the world's second-biggest barrier reef, the Mesoamerican in the western Caribbean, are being asked to help combat a mysterious disease known as White Syndrome that's been ravaging coral from Mexico to Honduras.
The plea comes from charity Sustainable Travel International (STI). It has launched a  social-media campaign for divers, snorkellers and other visitors to share photographs taken while exploring reef sites.
The campaign is the first phase of a larger NEMO (Natural Environment Marine Observers) programme designed to raise community awareness about reef conservation; collect reef-health monitoring data for marine scientists; and fund expeditions to fight the disease.
The Mesoamerican Reef stretches over more than 600 miles off the coasts of Mexico, Belize, Guatemala and Honduras. It is visited by more than 16 million people a year, many of whom dive or snorkel there, supporting some 2 million jobs.
The disease was identified in June 2018. Its origin is unknown but scientists believe that it is the same as Stony Coral Tissue Loss Disease (SCTLD), which arises from poor water quality and has affected more than half of the Florida Reef Tract and spread to the Caribbean. Although STDLC also turns coral white, it is different from coral bleaching.
"SCTLD spreads incredibly fast and has a very high mortality rate," said Dr Lorenzo Alvarez-Filip from the Biodiversity & Reef Conservation (BARCO) Lab at the National Autonomous University of Mexico.
"For the more than 20 coral species afflicted by this disease, the amount of coral lost in the first six months of the outbreak alone is equivalent to the amount that was lost over the previous 40 years. We need all the support we can get to monitor this disease in order to minimise further damage."
Participating divers are given guidance on looking out for coral colonies displaying white bands, spots or lesions. They are asked to post photographs to Instagram using the #SupportNEMO hashtag, adding the date and location (GPS co-ordinates or dive site).
They are also encouraged to share photos of marine pollution and wildlife.
The photos will be analysed by the NEMO Reef Response Team, a taskforce made up of marine scientists and conservationists from the Mexican Marine Park Authority, Healthy Reefs Initiative and BARCO LAB.
They hope that the images will help them to understand the disease and track its spread so that they can develop and test treatments, reduce pollution, identify ways to prevent its spread and begin restoration efforts.
STI is also launching a crowdfunding campaign aimed at raising US $40,000 in 40 days – the time it says it can take the White Syndrome to kill an entire coral colony.
It says the funds will be used to develop a NEMO citizen-science web application, educate local communities about reef conservation and fund expeditions by the response team to fight the disease.