DIVING NEWS
Double jeopardy for sea creatures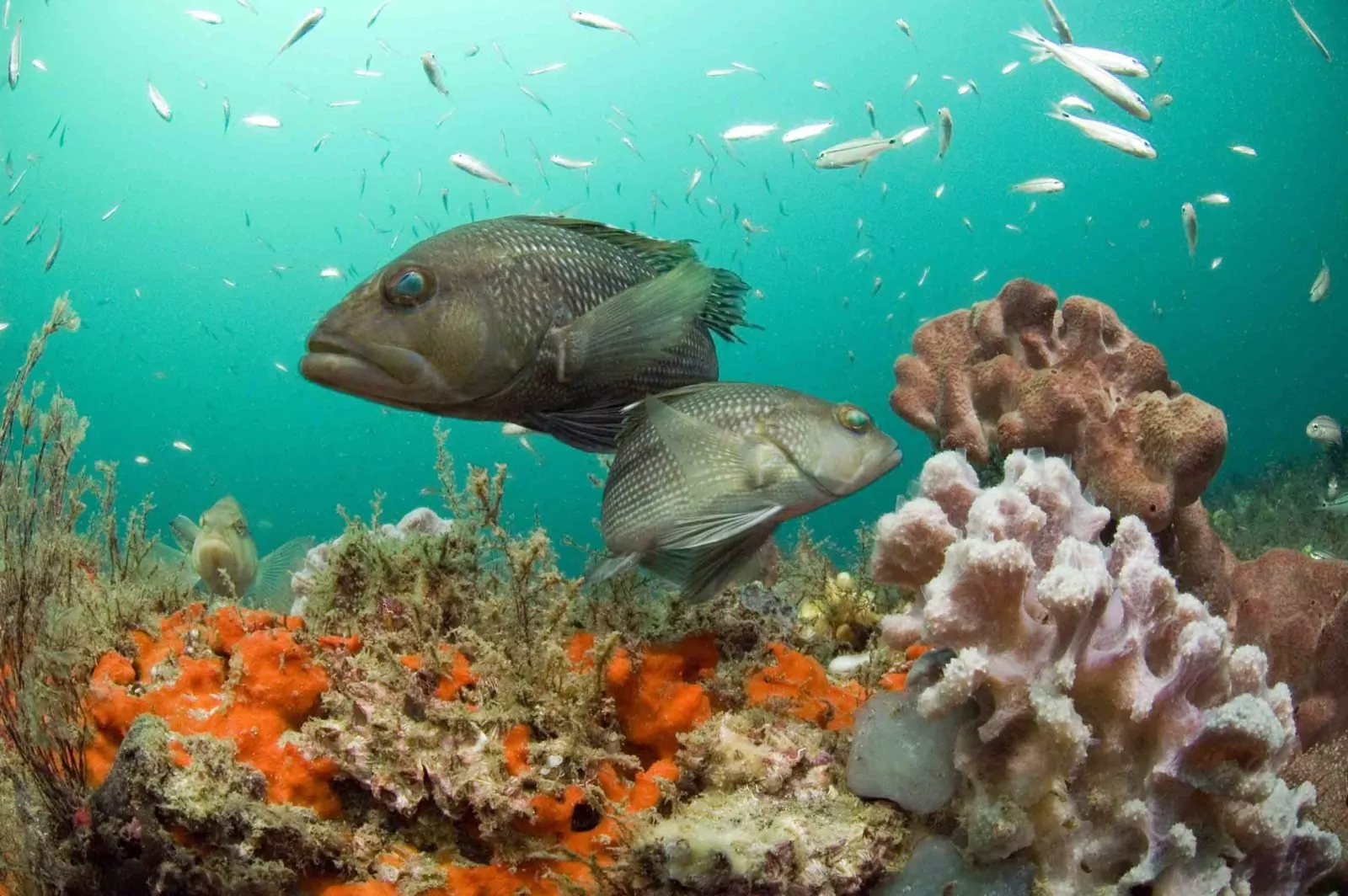 Feeling the heat: black sea bass in Georgia. (Picture: NOAA)
The news that a million animal and plant species face extinction as a result of climate change and pollution, revealed in a UN biodiversity report, has made international headlines. But a study led by Rutgers University in the USA and released at the same time, has indicated that it is sea creatures that are being hardest hit by global warming.
Climate change has caused twice as many ocean-dwelling as land-dwelling species to disappear from their habitats, according to the scientific team. They say that not only is marine life more sensitive to warming but it is also less equipped to escape from rising heat.
The study is said to be the first to compare the sensitivity of cold-blooded marine and land species and their ability to cope with heat while staying in their normal habitats.
The authors calculated safe conditions for 88 marine and 294 land species, as well as the coolest temperatures available to each one at the hottest times of year. They found that marine species were more likely to live on the edge of dangerously high temperatures, lacking as they did land animals' ability to shelter from heat in forests, shaded areas or underground.
Ancient extinction events associated with rapid climate changes were often concentrated at specific latitudes and in specific eco-systems, but the study suggested that future warming was likely to trigger the loss of more marine species from local habitats, and a greater turnover of ocean species.
The research is published in the journal Nature.
Meanwhile another worrying study, this one published in Nature Geoscience, has used four centuries of seasonal coral-reef records to highlight a dramatic change in the pattern of El Niño warming events in the tropical Pacific Ocean in recent years.
Scientists led by the University of Melbourne used the archived data to analyse and distinguish different types of El Niño occurring over the past 400 years. They say that El Niño characteristics locked into the chemistry of the corals reveal that a new, more intense category of event has become far more prevalent in the past few decades.
The El Niño changes are expected to influence patterns of precipitation and temperature extremes in Australia, South-east Asia and the Americas in the coming years. "Knowing how the different types of El Niño have unfolded in the past will mean we are better able to model, predict and plan for future El Niños and their widespread impacts," say the scientists.
THE BODY OF A SCUBA DIVER who went missing in Lake Pleasant, Arizona on 4 May, as reported on Divernet, has been recovered from a depth of 60m by a professional dive-team. Identified as Joshua Rosen, 30, he was said to have been carrying out a technical dive with two others.
ELSEWHERE IN THE USA, the Coast Guard has been coordinating an air-sea search after a man called from a boat to report his 73-year-old wife missing. They had been diving seven miles off Summerland Key in the Florida Keys on Tuesday (7 May).