DIVING NEWS
Drink up! WW1 Baltic booze recovered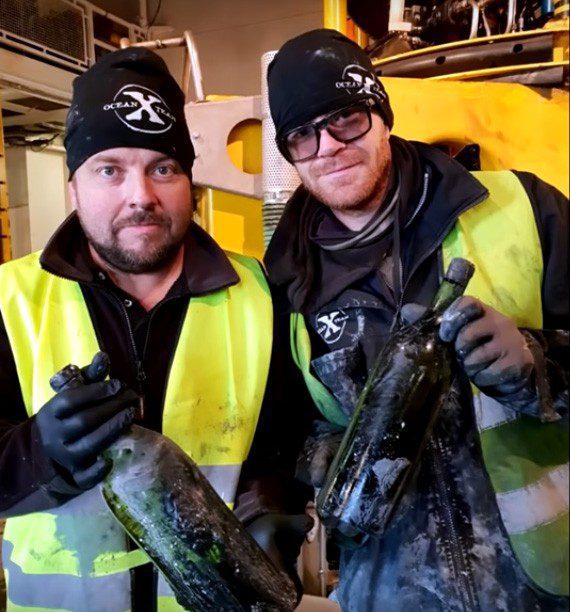 Peter Lindberg and Dennis Asberg of Ocean X Team. (Picture: Ocean X Team)
A Swedish salvage team has recovered hundreds of bottles of rare brandy and herbal liqueur from the 77m-deep WW1 wreck of the cargo ship Kyros.
The find, claimed to represent the last such shipment to Czarist Russia before the 1917 revolution, has been brought up from international Baltic waters between Sweden and Finland.
The recovery was made using an ROV, completing a search and salvage project begun 20 years ago by divers Peter Lindberg and Dennis Asberg and their Ocean X Team (OXT). They were operating from the supply vessel Deepsea Worker.
The Kyros, built in 1859, was a 220-ton steamer carrying a general cargo from Stockholm in neutral Sweden to Petrograd (now St Petersburg) during WW1. The load included 50 cases of De Haartman cognac and another 15 of Benedictine liqueur from France.
Ice in the Sea of Bothnia held the ship up until 19 May, 1917, when she was intercepted by UC58.
The German submarine captain had the Kyros crew transferred to another vessel before sinking the steamer on the grounds that it was carrying contraband goods. The crew returned safely to Sweden.
According to OXT, the wreck has been heavily damaged by trawler activity over the years, and since it was discovered in 1999 nets had needed to be cleared regularly to make it possible for the divers and ROVs to access it.
Benedictine was invented by French monks more than 500 years ago. The brand is now owned by Bacardi, which says it is "eager to learn if the product has been preserved for the duration of the stay under water".
Ocean X Team has a track record in retrieving alcohol preserved in deep, cold Baltic waters.
In 1998 its divers recovered 2400 bottles of drinkable 1907 Heidsieck Monopole champagne from the Jonkoping schooner wreck, sunk in 1916 off Finland. The bubbly realised world-record prices when auctioned at Christie's in London.