DIVING NEWS
Liveaboard blaze death toll hits 25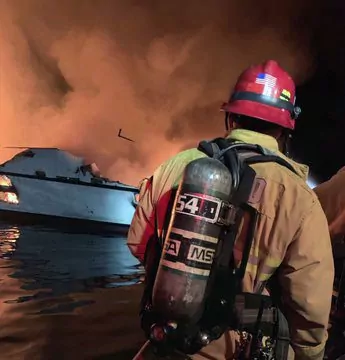 Picture: Ventura County Fire Department
Twenty-five of 33 passengers have now been confirmed as having died following the catastrophic fire that broke out on the diving liveaboard Conception off southern California yesterday (2 September).
Emergency services dive-teams have recovered four bodies from the seabed around the now-sunken boat, while another 21 have been located. The US Coast Guard announced overnight that by morning the operation would be one of recovery rather than rescue.
The passengers, most of whom are likely to have been scuba divers, appear to have been taken by surprise when fire engulfed the boat in the early hours of the morning.
The victims were assumed to have been in the open-plan sleeping quarters below-decks, which had capacity for up to 46 people to sleep in three-tiered single and two-tiered double bunks divided by privacy curtains.
The captain and four of the five crew-members, who had been in the wheelhouse, managed to escape the blaze. They jumped into the water and were picked up by a pleasure-boat, Grape Escape.
Its skipper reported that by then Conception was engulfed in flames "from stem to stern", with regular explosions occurring. One of the crew was reported to have a broken leg.
Coast Guard, Vessel Assist and Ventura County Fire Department teams responded to an emergency call made at around 3.30am local time. The caller could be heard saying: "I can't breathe…" before the connection broke off.
The boat had been moored 20m out from a harbour on the north side of Santa Cruz island, which lies about 20 miles off the Californian mainland in the Channel Islands National Park.
The cause of the fire is unknown. The Coast Guard said there appeared to be no indication that there had been an initial explosion.
With intense heat emanating from the boat and in foggy conditions the firefighters struggled to contain the blaze, which they reported to have flared up repeatedly as new fuel sources, possibly gas tanks, ignited.
The liveaboard burnt down to the waterline before sinking in 20m of water, with part of the bow still visible.
The 24m Santa Barbara-based vessel, one of three operated by charter company Truth Aquatics, was on the final day of a three-day cruise.
The trip, scheduled to coincide with the USA's Labour Day holiday weekend, had been intended to visit San Miguel Island depending on conditions, with macro diving the main attraction, but instead appeared to have concentrated on dive-sites around the more sheltered Santa Cruz.
The liveaboard was launched in 1981 and appears to have been a popular vessel among Californian divers, with a sound safety record.
According to its specification there were rafts and life-jackets for 110 passengers aboard and a fixed CO2 engine-room fire-suppression system.