DIVING NEWS
Pick your favourite wildlife photo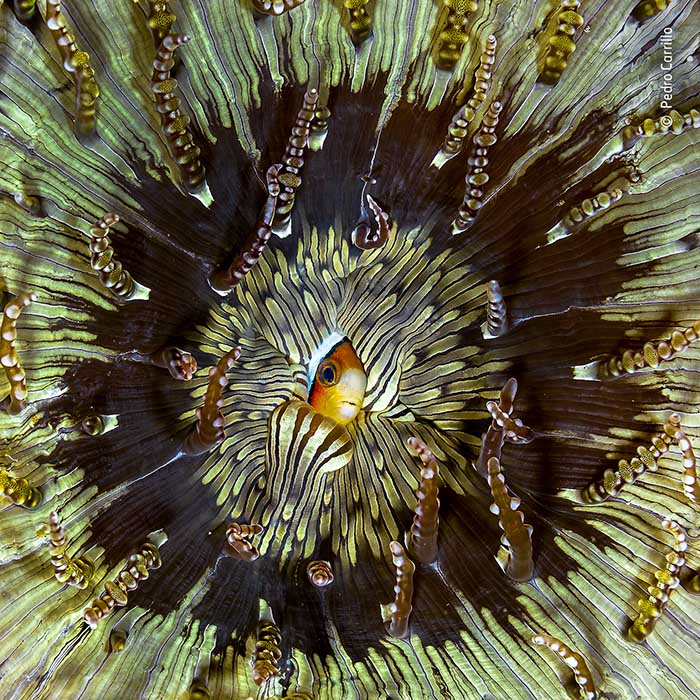 Shortlisted: Shy. (Picture: Pedro Carrillo / NHM)
Seven underwater images are among a shortlist of 25 photographs as London's Natural History Museum (NHM) invites the public to have their say in that annual continuation of its Wildlife Photographer of the Year competition, the People's Choice Award.
The 2018 award has been sponsored by Panasonic and named after its LUMIX mirrorless camera system. The 25 wildlife images have been pre-selected from the total of 45,000 submissions from 95 countries entered into the main competition.
The seven underwater images were taken by Pedro Carrillo (Spain), Christian Vizi (Mexico), Tony Wu (USA), Cristobal Serrano (Spain), David Barrio (Spain) and two by Franco Banfi (Switzerland).
In Carrillo's Shy, pictured, the pattern of a beaded sand anemone frames a juvenile Clarkii clownfish in Lembeh Strait, Sulawesi, Indonesia. Known as a "nursery" anemone, it is often a temporary home for young clownfish until they find a more suitable host anemone for adulthood.
Shortlisted images will be displayed at the Wildlife Photographer of the Year exhibition at the NHM until the voting closes on 5 February. After that time the winning photograph will be showcased until the exhibition closes on 30 June.
The top five will also be displayed online alongside the 100 entries chosen by the judging panel for the main exhibition.
You can vote for the LUMIX People's Choice Award winner here.