DIVING NEWS
Scottish club divers smash Three Lakes record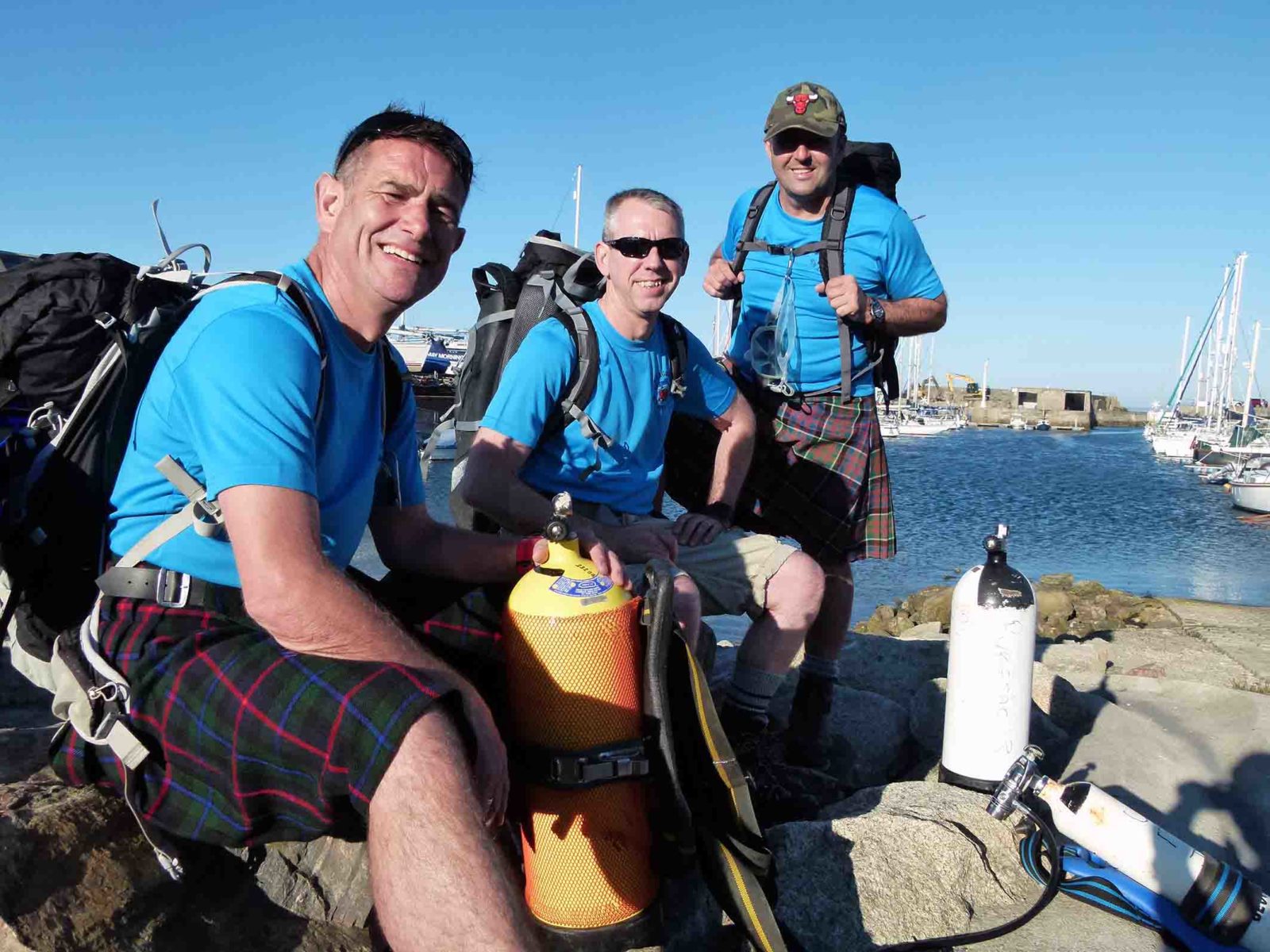 Three scuba divers from Burghead Sub-Aqua Club in Moray have outdone the pioneers of the "Three Lakes Challenge" Monty Halls and Andy Torbet – by smashing their record.
The challenge is to dive the three highest lakes in England, Scotland and Wales in under 24 hours, with the divers carrying their own 20kg backpack of kit up to each lake. Overall they had to hike some 25 miles over mountain terrain, and cover 435 miles by road between the lakes.
The dive-club had chosen the Three Lakes Challenge as a suitable way of celebrating its 25th anniversary this month, and to raise funds at the same time.
Kenny Munro, Matt Buckley and Rob Pozzi set out on Friday, 26 July with the aim of knocking at least two hours off Halls & Torbet's 23hr 10min time.
In the event they did even better than that, managing to finish in just 20hr 36min, though they said that despite the months of training the task had proved "more gruelling than imagined".
Munro, 50, is an instructor, BSAC Advanced Diver and the club's Diving Officer, and has been diving for 25 years. Buckley, 48, is a Dive Leader and Pozzi, 45, a Sports Diver, each with 10 years' diving experience. The fourth member of the team was their driver, Sports Diver Alan Gibson.
The first dive was in Loch Coire an Lochan in the Cairngorms at an altitude of 996m. Lying on Britain's third-highest mountain, Breariach, it has no access path and required the longest trek, a 15-mile walk and climb that took 6hr 48min to complete.
The divers then drove 238 miles to the Lake District to dive the 718m-high Red Tarn on Helvellyn, accessible via a path. The five-mile trek took 3hr 10min, and the divers reported that they were "glad it was dark as it was horrendously steep" – seeing the peak ahead might have proved too daunting.
The final lake was 650m-high Ffynnon Lloer in the Carneddau range in Snowdonia. After another 172-mile drive this required a walk and climb of only 2.6 miles, though the team said that the challenge was taking its toll physically and mentally by this stage. However, they managed the trek and dive in under two hours.
The men dived each lake wearing wetsuits and hoods but without gloves, and used stones collected on the mountains as weights. They agreed that at each peak it was "very refreshing to set aside the backpack and dive in the cold gin-clear freshwater lakes", and believed that the task would have been much harder without that reward. The dives were no deeper than 7.3m.
The three also mentioned that they had been "confused" to spot a river fish, a brown trout, in Ffynnon Lloer.
Funds raised through Burghead SAC's Three Lakes Challenge are to be split equally between the RNLI and a new club dive-boat
Video of the challenge can be seen on YouTube.