One of the UK's best-known scuba divers and skippers, Mark Milburn of Atlantic Scuba in Cornwall, has died suddenly at the age of 59.
Milburn, who had been conducting dive-trips on his boat Moonshadow in the days leading up to his death yesterday (6 April), suffered a large bleed on the brain, said his partner Ruth Holding. 
Milburn's diving career had made him a noted and popular advocate of UK and especially Cornish scuba diving. His family had moved to the village of Crantock near Newquay in the mid-1970s when he was 12, and much of his teenage years had been spent at the beach – though he didn't start scuba diving until 2000, when he was in his mid-30s and took an open-water course while on holiday abroad. 
His first jobs had been as a DJ, which he would continue for many years at a local pub, and on leaving school he became a computer-programmer and also a website-builder from the early 1990s. He then worked for builder's merchants before starting his own business in that line.
Milburn began diving in Cornwall the year after qualifying and had soon bought his own RIB, to be free to dive as and when he wanted. Since then he has reckoned to carry out up to 400 dives a year, mainly around the county but also travelling extensively overseas.
Diving full-time
Milburn went into diving full-time in 2008, setting up his dive-centre Atlantic Scuba at Mabe near Falmouth. He chose the location because of the kinder weather conditions in the south of Cornwall, though he has also expressed a fondness for diving in the north. The centre operated its own charter hardboats Moonshadow and Moonray and the RIB Stingray.
An advanced trimix and multi-CCR diver, Milburn became an instructor for the SDI/TDI, SSI and PSAI agencies and was a MicroDive instructor-trainer. He was also an RYA powerboat instructor, an NAS underwater archaeology tutor, a BDMLR Marine Mammal Medic and had completed AIDA freediving as well as underwater CSI/forensics courses.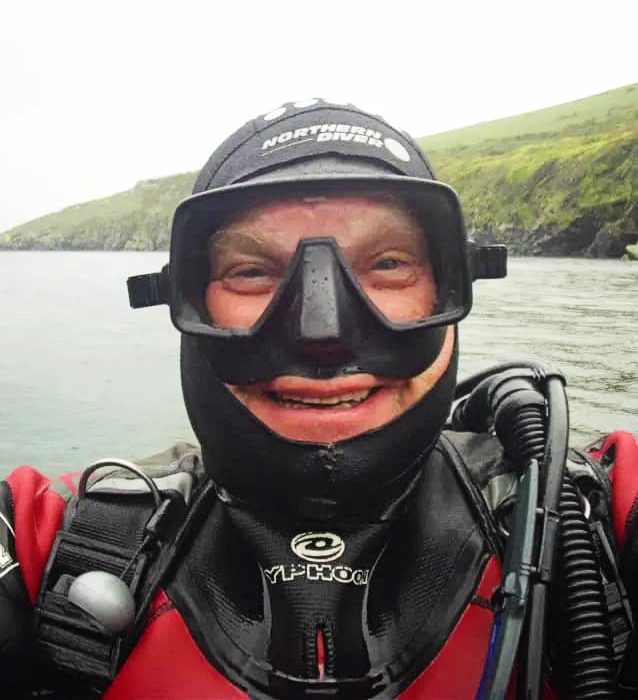 He was an accomplished underwater videographer and photographer, and wrote and illustrated the marine life, wrecks and dive-site guide Falmouth Underwater. He had been working on another book when his death occurred.
In 2016, Milburn linked up with maritime archaeologist and author David Gribbins to form Cornwall Maritime Archaeology, their aim being to explore and record as many local wrecks as possible. Many of their discoveries were shared on Divernet, whether as news stories or features written by Milburn – a number of these articles can be found here.
Early on, the divers found traces of the pleasure-cruiser Darlwyne, which had disappeared in 1966 with the loss of 31 people, and their investigation was followed by the BBC. As a result of their continuing discoveries and his natural broadcasting abilities Milburn went on to make numerous appearances on local and national TV news and features programmes. 
Other mysteries solved or partially solved revolved around such names as the Merchant Royal, Schiedam Prize, St Ives and Pendennis U-boat wrecks. The divers even found a 17th-century shipwreck at the exact spot where a wreck scene had been filmed for the TV series Poldark two years earlier.
'Larger-than-life'
"A larger-than-life character in almost every possible way, I greatly admired his efforts to remind us all about how fantastic the diving is out of Falmouth," Darkstar wreck-diver and BSAC head of diving & training Dom Robinson said of Milburn. 
"I was also very much looking forward to reading his book. Mark was integral to the successful exped to identify SM U-95 in 2021 and provided expert local knowledge to Darkstar last year. A sad loss, he will be greatly missed."
And cave-diver and Ghost Fishing UK trustee Christine Grosart noted that Milburn's "knowledge of Cornish critters, wrecks and conservation in Cornwall and specifically Falmouth is a hole that I doubt can be filled. Probably my best UK sea dives have been down there off his boat, always looked after by him and Ruth Holding."
She described him as "always friendly, chatty, willing and supportive and a huge asset to every conservation outfit that used his boats. A dive operator who has such a passion for wildlife and gets personally engaged in your projects is gold-dust and he will be irreplaceable."
Milburn's friend Nick Lyon, author of the book The Forgotten Shipwreck: Solving the Mystery of the Darlwyne, stated simply: "I am utterly devastated but so admiring of a life well lived." Divernet extends its sympathies to Ruth Holding and to the children Samuel and Natasha.