DIVING NEWS
Vanished observatory riddle – police follow new lead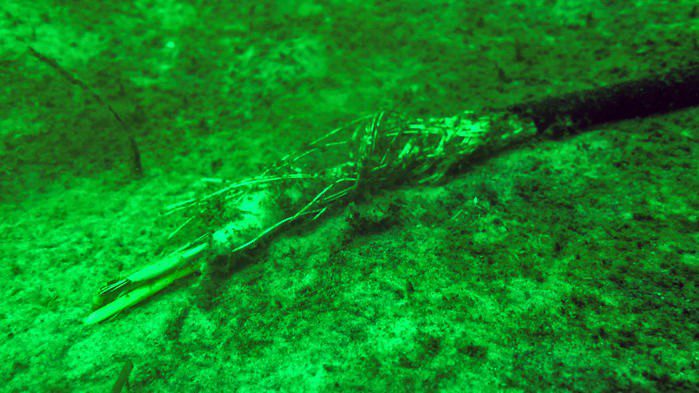 The severed main cable. (Picture: Geomar)
The mystery of a missing Baltic Sea underwater scientific observatory has given rise to speculation of dirty tricks by metal-scavenging divers or a Russian submarine – but German police are now reported to be working on a more down-to-earth theory.
The Boknis Eck station had been transmitting eco-system data to scientists since 2016 but the flow of information stopped suddenly on 21 August.
Scuba divers were sent to find out what had happened and, in a literal case of investigators finding a lead, discovered only the severed power and data cable that had connected the installation to the laboratory ashore.
The observatory, valued at the equivalent of around £270,000, had been installed in 14m of water by the Geomar Helmholtz Centre for Ocean Research in a restricted area of Eckernförde Bay, a mile north of Kiel, where the centre is based.
It contained instruments for monitoring water temperature, flow and salinity and concentrations of nutrients and gases, with the data it produced described by the centre as "priceless".
The power and instrument units were housed in two frames, one weighing 520kg and the other 220kg, and was anchored by heavy cables. This was felt to rule out damage by storm, tides or marine life, leading to the initial suspicion of underwater human intervention.
But the scrap-metal theory was discounted because the mainly steel observatory would hardly have been worth the effort, while the site's shallow depth made submarine interference seem unlikely. So police are now pursuing the theory that a trawler fishing illegally in the area caught the station with its nets or anchor and dragged it from its moorings.
Scientists at the Geomar centre have told police that fishing-boats have been known to switch off transmitters meant to alert them if they enter a restricted area. The police are appealing for witnesses of boats in the area to come forward.
Divers searching a 100m area around the observatory site have now been able to follow drag marks on the seabed, though that raised the question of why they found nothing at the end of the trail. Further dives over a wider radius are planned, and Geomar also plans to use ship-based sonar in an effort to find its missing property.
Instruments to monitor fish and measure dissolved organic material had been scheduled for installation on the observatory this month.
Although insured, the scientists say it could take up to a year to replace the station.