DIVING NEWS
Whirlwind hits trouble in Red Sea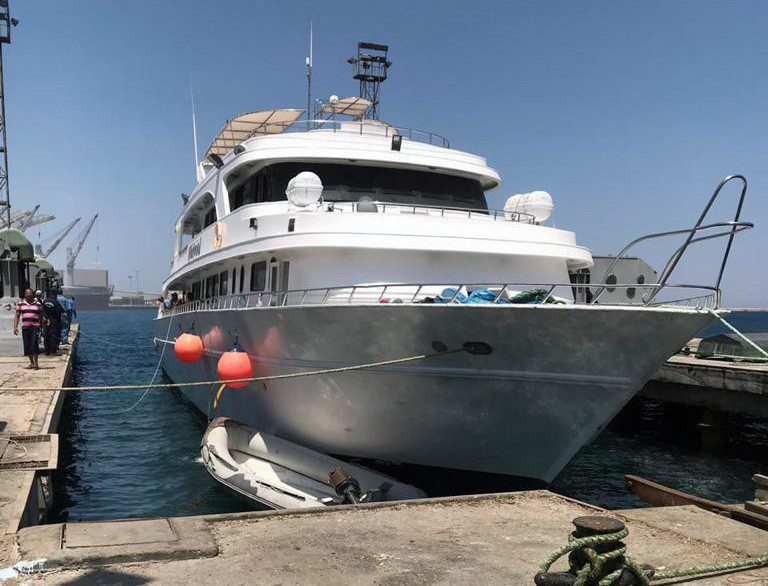 Red Sea liveaboard Whirlwind, part of the Tornado Marine Fleet, was damaged when it struck a pinnacle on Thursday, 15 August, and divers aboard later had to be evacuated.
Tornado's UK representative, tour operator Scuba Travel, stated that the boat had struck a rocky outcrop in the early morning while untying from its moorings in the lagoon at Small Crack.
Part of the Sha'ab Mahmud reef, north-west of the Dunraven wreck, this sheltered passage is a popular site for liveaboards anchoring overnight.
Scuba Travel's Managing Director Angela Nordin said that Whirlwind's captain drove the boat onto a shallow sandbank where it came to rest, listing at 25-30°, in less than 2m of water. The 21 guests were assembled and all found to be uninjured.
Life-rafts were not deployed because it was decided that the guests would be more comfortable awaiting assistance on Whirlwind which, although taking on water, appeared to be stable on the shallow bottom.
With an assessment of no immediate threat to life, no Mayday signal was required, and guests were able to collect belongings from their cabins while awaiting the arrival of two fast boats dispatched from Sharm.
It took these vessels, one of which was Pirates of the Caribbean replica ship Black Pearl, three hours to arrive, and the guests were then transferred by RIB with their dive-kit and possessions.
Whirlwind's crew had been working to patch up the damage between the bow and mid-section of the hull, and to pump out water from the lower deck, after which the other Sharm boat was able to take the liveaboard in tow.
With UK Foreign Office restrictions on flights out of Sharm, and with the Black Pearl unable to dock anywhere but that port, it was decided to call in Tempest, another Tornado Marine Fleet liveaboard, to return the guests to their embarkation point, Hurghada.
Tempest's departure was however delayed until 12.30 while it awaited Coast Guard clearance, so it was unable to complete its 4-hour journey out until late afternoon.
The divers reached Hurghada at around 8.00 that evening. Some opted to complete their diving programme the following day, while others decided to remain at their hotel before flying back to the UK at the weekend.
Whirlwind, now under repair in Safaga, caused no damage to the main reef at Small Crack, says Nordin, and neither was there any leakage of fuel or other pollutants.
The 36m vessel, which can accommodate up to 24 guests, has been voted among the three favourite liveaboards in the world eight times in the DIVER Awards, twice winning the title outright.
Divers booked aboard Whirlwind in coming weeks have been assured that their holidays will go ahead on a replacement Tornado Marine Fleet liveaboard.
"Whirlwind has welcomed over 10,000 divers over the years without any such incident," said Nordin, "but we extend our sincere apologies to those on board this week whose experience was not one any of us would ever want to repeat."