TANZANIA DIVER
Getting my Magic Eye in
A trip to Mafia Island in the Indian Ocean gave MELISSA HOBSON the chance for some practice in detecting the tiniest and best-camouflaged sea-dwellers – plus one that was hard to miss. Photos by Simon J Pierce
An unusually extrovert octopus was a popular subject for photographers.
Appeared in DIVER October 2019
Possibly for the first time in my career as a diver, I was slightly disappointed to be told that we'd be diving the beautifully healthy coral reef again. I'd rather been hoping to spend an hour staring at a patch of sand. No, really.
Because Mafia diving is tidal, the sites we visited were largely out of our control. The dive schedule was planned around tide times.
We had started with the furthest dives – outside Chole Bay – and crept closer into the bay as the days progressed.
Outside Chole Bay, weather permitting, the dives were deeper with sheer walls, slightly better visibility and drifts over long, sloping reefs.
Even on the dives that didn't go entirely to plan we found interesting marine life. On one, the suspiciously long swim and the dive-guide nervously checking his compass more and more frequently hinted that we were probably lost.
After returning to the surface for the guide to get his bearings we were off again, swimming determinedly through the blue until we reached the coral reef that had somehow eluded us.
On the way I noticed something scuttle across the sand just below me, its blue-green shell pleochroic, like oil.
Not sure what it was, but it hadn't expected company. Catching a glimpse of my ominous shadow, it had hastened back to its hole and burrowed out of sight of this potential predator.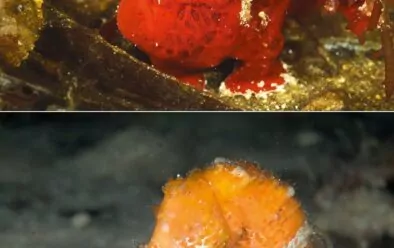 Protected from the elements, the sheltered Chole Bay has a huge variety of corals and impressive biodiversity. Sharks are rare inside the bay, but four species of seahorse and three or four frogfish variants can be found.
The marine park has extensive reefs with diverse coral and lots of marine life and critters to admire, including a dazzling array of gloriously patterned nudibranchs.
I had become known among some at the dive-shop as "that girl that loves nudis". Little did they know that, as a mediocre photographer, my "love" for nudis had much to do with the fact that they're among the most immobile creatures on the reef, making it easy to get a half-decent photo without blur or a back view.
Diving Mafia Island Marine Park's coral reefs had been enjoyable, but other divers who had been on the island for a few days had expressed a clear preference for muck-diving. When you drop onto the bottom, they told me, you'll think you're lost or in the wrong place, because there's no coral or colour – all you'll see is sand.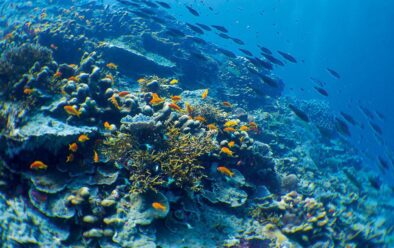 But don't be disappointed. It's when you start hunting for things on the seabed, they assured me, that you'll realise how cool this dive-site is. It's not classically beautiful, but it's teeming with life.
There were claims of having seen 18 seahorses in one dive the day before I arrived. Eighteen seahorses? Sign me up.
So after a few days out with Mafia Island Divers, it was time to see what the fuss was about and check out the shore-dives. But first, a slight false start.
To save us a swim, we were taking a boat the 300m distance to a site called Nudi City. It wasn't the muck-dive I'd been hoping for but home to a pretty coral reef, around 9m deep, chock-full of macro life.
As you might expect, a dazzling array of nudibranchs and flatworms were dotted all over the reef – as well as seahorses, scorpionfish, lionfish, gurnards and rays.
It wasn't much longer before I was able to check out Mafia's muck diving. The dive-site was right in front of the centre, so we kitted up and waddled the few metres to shore – though had I been feeling lazy I could have accepted the offer of one of the guides to carry my kit for me.
Waist-deep in the water, we put a little air into our BCs, sat down and donned our fins before starting our swim out.
I soon realised what the others had been talking about. We were only 6-7m deep, frog-kicking behind our guide to avoid disturbing the sandy bottom. Visibility was already down to a few metres, so we didn't need to make it worse.
What could we see? Sand, twigs and bits of seagrass. When would we reach the dive-site? I wondered.
A couple of minutes in, our eagle-eyed guide pointed to a muddy brown patch of seagrass. I looked but there was nothing there, just sand and grass. I looked harder, blinked, looked again.
Like a magic-eye picture, the jumble of muted shapes before me suddenly became clear, and a tiny brown seahorse appeared. Had it not been pointed out, I would certainly have swum right past it.
Not long after this, a couple of photographers started taking photos of a patch of rubbish I'd glanced at briefly and finned past.
Remembering the seahorse, I knew all wasn't as it seemed, and swam over.
I hovered nearby to figure out what they were looking at, and a small pipefish popped into view. I'd been staring it in the face the whole time.
Suddenly the photographers bubbled with excitement, strobes trained on a tiny patch of seagrass. I glided over to see what the fuss was about.
I looked around, followed the direction of their lenses, swam around and looked from the side. Nothing, nothing, nothing.
I tried to relax my eyes and not focus too specifically on one section of the seabed in case it might help the magic-eye picture come into view. Still nothing.
When they had finish taking their photos, I came closer for a hard look from all angles, but still couldn't make anything out. It was only when we were back on shore that the others explained that they'd found another tiny seahorse.
If I'd known what I was looking for, I might have seen it. Or perhaps not.
On subsequent dives I examined every patch of seabed studiously to see if I could spot a critter hidden in plain sight. Sometimes these hunts were successful, with cowfish, frogfish, shrimp, crabs and cuttlefish revealing themselves to me, but I was always convinced that I'd missed a lot too. Chatting after the dives confirmed my suspicions.
I'd been tipped me off about a friendly resident octopus that lived at a particular dive-site. It had been frequently seen in a beer-bottle, emerging to show off when divers arrived.
We found it out in the open, and it was more than accommodating. Unlike many of the critters found during the dive, this was no magic-eye puzzle; the octopus seemed to enjoy the attention as it puffed up and swaggered across the sand.
It readjusted itself, looking to left and right as if asking: "Did you get my best side?" I'd have loved to know what it was thinking, surrounded by three intrigued divers and their camera equipment.
After several minutes it decided we weren't that interesting after all, and had far better places to be. As it shimmied away, the sass in its step hinted that it was aware that it still had an audience.
Its exit was as prolonged as that of a Broadway star and signalled the end of the dive.
We barely had to swim a couple of metres before we could stand again.
As we clambered out, I wondered if the coquettish little cephalopod looked forward its daily visitors and the chance to put on another performance.
FACTFILE
GETTING THERE> Qatar Airways flies from London Heathrow to Dar Es Salaam via Doha. Coastal Aviation makes the 45-minute flight to Mafia Island daily. Note that all plastic bags are prohibited on Mafia.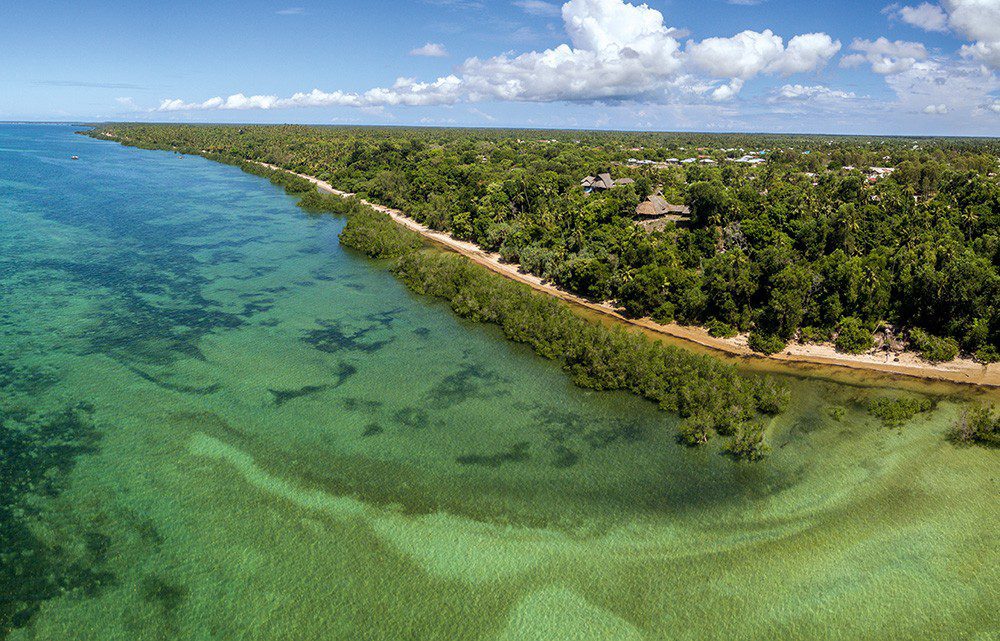 DIVING & ACCOMMODATION> Mafia Island Divers, mafiadiving.com. Dive-and-stay packages are available from Mafia Island Lodge, mafialodge.com
WHEN TO GO> October to February.
MONEY> Tanzanian shillings.
PRICES> Return flights from £1060. The lodge offers a seven-day package on half-board with eight dives and transfers for US $1133pp (two sharing). A guided shore dive costs $45, twin-tank boat-dives $105.
VISITOR Information> mafiaisland.com