PRO DIVER
Local Intelligence 2 – part 2
More favourite sites from dive-pros from all over the world –
will one of them sway your decision?
Appeared in DIVER August 2020
One of the most popular dive-sites in this region, as well as my favourite, is the Atun Wreck. It's a simple site in a way, suitable for everyone, but what makes it great is that it contains at once all the possible environments a diver could want.
There is sandy bottom all the way to the wall, with a great area in which scorpionfish and stonefish like to hide, then a wall-drop on which to look out for pelagics such as sharks and mackerel.
The very good-sized wreck lies right on the edge of the wall and is magical for wide-angle photography because of the great visibility, and for macro opportunities right across the wreck.
It sits in a perfect upright position with the bow at about 15m depth and the bottom at about 25m. It's been under water for 30-plus years, so coral growth has slowly been taking over. Beautiful carnation, toadstool, alcyonacea in stunning purple and tree corals grow all over the wreck, especially around and inside the wheelhouse.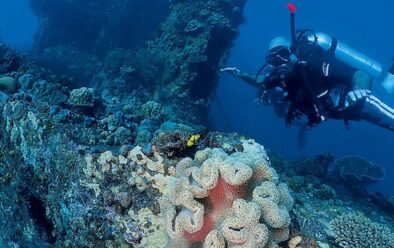 I enjoy searching for flabellina nudibranchs all over the wreck, and sometimes challenge my students to see who can find one first.
It's fun to watch new divers zooming in and scanning every inch of the wreck for this tiny 2, or 5cm-long creature.
Of course, there are many other nudibranchs but this species' outstanding colours make it slightly easier to spot than others that are even less than 1cm long. Bring your magnifying lens when coming to visit.
That's not all. This site also offers great macro for when you end your dive over the shallow part of the reef, which is perfect for safety-stops. Tiny photogenic creatures include sexy shrimps, porcelain crabs, at least five types of anemone, glass shrimps, nudibranchs, pipefish, garden eels and even the occasional mantis shrimp peeking out of its home.
And when you come out of the dive in calm, crystal waters you're treated to the eye-candy of Rabaul Tavurvur volcano on one side and Little Pigeon island with its white sandy beach all the way around on other side.
That's the lunch spot sorted!
Located on the south-west coast of Cyprus, in the Paphos region, this tiny island has a lot to offer. This is the perfect dive for a wide range of divers from novice to experienced, with depths ranging from 6-18m.
The island is small enough to dive all the way around, while still having time to take in the beautiful features it has to offer.
Drop below the waves into crystal waters, following the island's reef wall, keeping an eye out for rays, cuttlefish and the loggerhead turtles known to the locals as Caretta caretta. Keep tight to the wall, being sure to take in each feature of the site, beginning with a small notch in the wall filled with calciferous algae.
Continue as the wall leads you to the cave-like entrance of a large swim-through at around 12m.
Make your way inside, being sure to shine your torch on the surrounding walls for a further look at the algae and any of the grouper that make their home there.
Photographers can make use of the picture-perfect archway, which leads into the natural crater that we call the Bowl. You'll find yourself surrounded by overhangs and guided towards the blow-hole.
When the water is slightly rougher and there's movement beneath, you can take advantage of the surge and shoot out of the blow-hole like a champagne cork!
Swim along the top of the reef amid a variety of sea bream, damselfish and beautiful wrasse, with the occasional sighting of a moray eel as you head back towards the boat.
For me the topography of this dive-site, with its unique natural feature and beautiful seascape, makes it one of a kind.

As the population of this atoll east of Borneo is only about 2000, the magnificent reef remains in pristine condition.
Big Fish Country is just around the corner from the small diving island of Nabucco, and it lives up to its name.
The current is strongest around full moon and is matched at that time by huge fish action. For safety we dive the channel only when the current is incoming.
The dive starts a little way away from the channel entrance, so guests slowly approach the action. When all the divers have reached the edge of the channel, current-hooks are unpacked and the big-fish spectacle begins.
In addition to tuna, eagle rays and jack, various species of shark patrol the site, mostly grey, whitetip and blacktip. At the end of the dive our guests can simply drift inside the channel to be picked up by the dive-boat.
Early-morning dives at the site will, with a little luck, offer a special highlight, with the chance of hammerhead sharks out and about in the channel.
Big Fish Country originally became famous for its huge resident school of barracuda. When this cloud of fish approaches and the sun darkens, even the best-travelled divers are thrilled.
Because the barracuda are used to humans, they sometimes gather directly over the heads of the divers and can be viewed up close – providing the perfect photo opportunity.
After 23 years of diving so many beautiful Curaçao sites it's difficult to pick a favourite, but Bullenbaai is right up there. It's in an uninhabited area reachable by boat only, but within 20 minutes of the dive-shop. Few divers go there, so the reef is pristine.
Once in the clear, warm water you see the wall, in the shape of an open hand with sandy patches between the "fingers" and a lot of fish.
The reef starts at 5m and descends almost vertically, way beyond recreational limits. The wall is covered with a variety of leaf and wire corals and colourful tube sponges, highlighting the reef.
Usually there is no current, making for a relaxed dive. I love to cruise around, watching the schools of bogas swimming in perfect synchronicity, and creole wrasse "torpedoing" out of the blue like a river of deeper blue.
I peek into the crevices, finding lobsters, morays and more. Eagle rays frequently cruise over the deep reefs, hawksbill turtles love to hang out, and spotted and Pederson cleaner shrimps lurk in anemones.
There are French and queen angels, and a resident porcupinefish that always hangs out with me.
This dive is always full of surprises and great for photography. It is also perfect for technical dives, teaching and exploring.
The sandy patches are ideal for staging deco tanks, and one can go to 100m and beyond, following the steep drop-off. Even after all the dives I've done here, it always makes me happy. It would be great to explore it with you!
We're extremely lucky here in south-east Zanzibar to have amazing dive-sites right on our doorstep. Tides determine our route out, either leaving directly from our dive-centre or through the natural channel.
One of my personal favourite sites is Chupis, which means underwear in Kiswahili! This spot was found by the first underwater explorer of the coast, starting out in 1997 in bad weather conditions, in a 5m boat with one decrepit 35hp engine, no radio, no GPS, no staff but a lot of faith!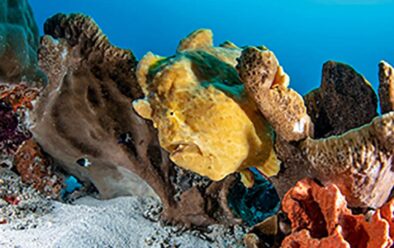 Looking down to see where the corals were starting, with his face at the surface and a very old pair of underpants floating past (hence the name), he found something amazing.
Chupis is perfect for any diver. It consists of three sections of reef.
First is Chupis Garden, 3m sloping down to around 16m and full of beautiful corals and exciting life.
Usually a mild northern current makes it easy and relaxing to drift and find numerous octopuses, different species of scorpionfish, ribbon eels, many nudibranch species, mantis shrimps, titan triggerfish, sting rays and more.
We finish over orange sponges, where we have a very good chance of finding giant frogfish (above) despite their camouflage.
Adriano Chupis has corals from around 14m to 22m and is also full of life. There are always schools of redtoothed triggerfish and many snapper along with the macro life.
This is a perfect place to descend before drifting over and shallowing up to Chupis Garden. At around 15m we have started a coral nursery and many new residents have already moved in, including a couple of Indian Ocean walkmen.
Finally there is Chupis Deep at around 30m, where you can find many moray eels (left) and blotched fantail rays along with large schools of barracuda above and butterfly and parrotfish below. It's full of cleaning stations around large barrel sponges – look out for the shrimps and cleaner wrasse.
Diving Chupis is exhilarating, but also check into the blue for surprises. Bottlenose dolphins sometimes visit the reef, along with the odd eagle ray or turtle.
One of the world's great dives can be found on the north-west corner of Yap Island, between the municipalities of Rumung, Maap and Fanif.
Mi'l Channel snakes its way from the reef and eventually connects, via German Channel, with the eastern side of the island. On an incoming tide, with lots of clear blue Pacific Ocean racing in, divers can roll into a very pleasant drift of more than an hour and cover more than half a mile.
One can clearly see the bottom some 27m below, and on a nice day you can see from one side to the other. The famous manta rays use this channel to come into the lagoon for their daily cleaning, as do reef sharks, turtles, schools of trevally jack and every other known tropical fish resident in Yap.
Come with me, as we back-roll off our boat Silvertip Express.
I have four divers with me today, and as we chat about the dive and what to be on the look-out for, we are also doing our pre-dive safety checks. Everyone ready? Let's go and meet under the boat.
Here at 5m is a flat, sandy area perfect for getting adjusted, and there just happens to be a big anemone with a beautiful green underbelly. A couple of photos from the group and it's off to Tzimoulis Ridge. As we drift along, I point out a sleeping zebra shark.
Then we spot a group of four mantas swimming past in a leisurely manner on their way to the cleaning station at Stammptisch.
There are sleeping whitetip sharks and a turtle to be seen as we approach the ridge. Here we are met by a school of jack numbering in the hundreds. We also come across a mother grey reef shark with more than 20 babies. She is careful to keep them away from us, but we are close enough for excellent photos.
Time to go up to the boat for some hot tea and a fresh warm towel as we get ready for our next adventure. Thanks for joining us!
The incredibly rich ecosystem and diversity of soft and hard coral, fish life and critters is what draws divers from around the globe to explore Bligh Water (Vatu-I-Ra Passage).
It's Fiji's top diving region and the "soft coral capital of the world".
This year we celebrate 30 years diving the Bligh, and with seven regions and more than 80 sites on our menu, picking just one is a tough ask, though wherever we venture we can't really go wrong.
A regular favourite is the genuinely world-class Mellow Yellow, which has two main pinnacles starting at 3m and sloping off to the seabed at 40m.
As the name indicates the pinnacles are covered in golden yellow soft coral as well as a myriad of black, blue, purple, orange and red corals adorning the walls.
Divers can also expect to see pygmy seahorses, scorpion leaf-fish, banded sea kraits and countless brightly coloured anthias darting around. Like most Bligh Water sites the tops of the pinnacles are filled with anemones and anemonefish – a perfect way to spend your safety stop.
Look into the deeper water for schools of barracuda, jack and curious grey reef sharks all awaiting the opportunity of a snack.
Mellow Yellow will remain on many divers' most memorable dive lists for a long time.
A dive-day when Roma is on the Wakatobi Resort schedule is most likely going to be a great day. This site is special in that the underwater topography of the reef is between that of a pinnacle and a small wedge-shaped seamount with a long, wide ridge getting progressively shallower and finishing in a shallow plateau.
If my divers are comfortable enough, I like to add a little mystery by having the captain drop us in the blue, directly over the deeper section of the ridge where the bottom is around 25m. From there, we drift in a leisurely way toward the apex of the seamount, passing over rows of lettuce coral.
The real treat is the size of each formation, about 10m diameter, so we're talking a really huge and beautiful colony of coral. With luck a turtle or two will be lying atop it – the cherry on the cake.
Current usually brings us to the shallower section, and we can gently drift there while admiring the brilliant corals and multitude of fish. Experienced and adventurous divers can drop down the sides of the ridge to see some stunning seafans and sponges.
Once we reach about 12m, the slope becomes steeper before reaching the top of this beautiful seamount. With some moderate current, this is my favourite section.
A school of black snapper will hover overhead, with a few trevally. More often than not, a school of blackfin barracuda will be showing off on one side of that slope, while yellowfin barracuda await on the other side.
In this area, there is also a small pinnacle teeming with life and colour. A photographer's dream, it's a place where you're likely to find one of our dive-guides enjoying his day off with his camera.
If the guests are slowly reaching their gas reserve, we'll make our way to the plateau and finish with an extensive safety-stop before getting back on the boat at the mooring. Otherwise, divers' air allowing, we can drift some more along the reef and the crew will pick us up wherever we emerge.
After this dive one thing is almost certain – our guests will ask: "Can we do it again?"

More dive-pros share their favourite dives
in LOCAL INTELLIGENCE 3.
And, if you missed what our first group of pro divers
from around the world nominated as their
favourite local dive-sites CLICK HERE