SARDINIA DIVER
The Med at its Best
Seek out the marine reserves around the world and divers shall be rewarded: RICHARD ASPINALL finds evidence of what time and enforcement can achieve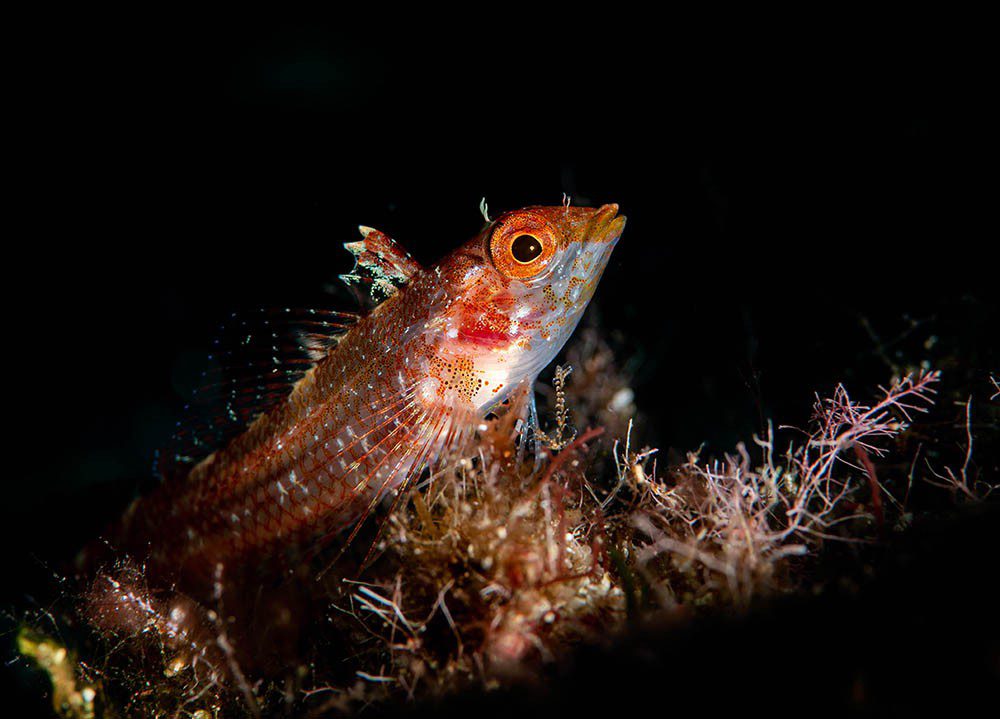 Small triplefin.
"THE NUMBERS OF FISH have increased, no question," says Vinny as we watch the low October sun rise over the Maddalena Archipelago, off the north-east coast of Sardinia.
We are moored at the tiny islet of Barrettinelli, one of those rocky specks on a map that, thanks to an accident of geography, deserved a lighthouse.
The light protects vessels passing between the larger Isola Spargi and the larger-still – and well worth exploring – La Maddalena. This is the island that gives its name to the smattering of craggy granite rocks, reefs, islets and islands that make up the archipelago.
I had just enjoyed my last dive of the week and wanted to find out from Vinny, co-owner of Nautilus Diving Centre, just how things had changed for the better for the local diving community after the area was designated a National Park in the late 1990s.
"There are more, bigger fish, more grouper and more amberjack," he told me. "We see some fish more at different times of the year, more jack in autumn, but we see more since they've controlled fishing".
The Med has been exploited (perhaps over-exploited) for centuries, so it was good to hear that the protection afforded by the park is helping to preserve the archipelago as a fascinating dive-location.
I'd seen that for myself, at a dive the guides sometimes and justifiably call Moray City. I had seen more of the eels at this one site than I had ever seen before.
A jumble of huge boulders, looking as if they'd been thrown down by giants, seemed to provide a perfect home for dozens of Mediterranean morays.
These are quite attractive fish, with tan-to-golden markings along their flanks. Not that they usually venture forth during the day, but we did get to watch one impressive specimen grabbing and consuming an octopus, thrashing it from side to side like a terrier.
Powerful jaws crushed the life out of the unfortunate mollusc.
Around the larger rocks, thousands of small damselfish shoaled. As we passed the large boulder field and dropped lower, we hit a thermocline and saw the tell-tale blurring of the water. The temperature plummeted from 23 to 17°C, and despite my two layers of neoprene,
I started shivering.
No matter, as we came across a towering wall my lights picked up the vivid violet of a nudibranch, a type of Flabellina, and I forgot the cold a little and tried to get some shots, glad to have a macro lens fitted to my camera.
Appeared in DIVER January 2019
MY GUIDE WAS WAITING patiently and his local knowledge and, perhaps, much younger eyes, paid off. He pointed towards a smallish fish resting in a crack in the wall, a red-lipped goby.
I've seen these before, but never managed to get a decent shot of one. They're appropriately named, with a vivid red pout, and camouflage that means you can easily pass them by.
It had been a fine last dive, topped off by the arrival of a shoal of amberjack, recognisable by the "slash" marking through their eye. This marking has been turned into a hand sign – a finger making a slashing action across the eye – by the dive-guides to indicate these powerful predators. It's a truism in biology that good numbers of predators indicate a healthy and thriving eco-system.
I hadn't been sure what to expect on this trip. When I arrived in the port town of Palau (nope, another place), the heavens had opened and seemed intent on remaining agape for some time to come. The occasional rumble of thunder and a stiff breeze hadn't helped.
Next morning, bleary-eyed and a little under-caffeinated, I had met Vinny and Stephanie, the other owner of Nautilus.
We picked out some kit for me and made our way to the harbour, which was packed with smart yachts belonging to the well-heeled who make this stretch of coastline their nautical playground.
As we pulled out on the centre's well-appointed boat, Vinny noted my dome-port and we chatted about the photography options for the week, suggesting that shooting macro might be the way to go, at least for the next few days with the drop in visibility caused by recent storms.
"After tomorrow it'll get better," he said. "The wind will swing round."
We dived off a small rocky islet near the island of Spargi, a well-sheltered site that was a favourite of the guides. It turned out to be a townhall-sized edifice that rose from the 30m seabed to 5-6m below the surface.
Cracks in the rock held anemones and all manner of life that scuttled out of my torchlight. As we dropped to the lowest point of the dive, three large grouper lazily swam away into the gloom. We slowly circled the rock, rising to our safety stop. It was all a little gloomy, and the rain was still pounding the choppy sea as we surfaced.
Vinny proved to be a man of his word. As we left Palau and headed east past the Capo d'Orso the next day, the sun was lifting itself over the skyline and the natural sculpture of the Roccio dell Orso (Bear Rock). It was still windy but not troublingly so, and we would be able to dive with ease.
The site, Cala d'Orso, was great for nudibranchs. The bright violet of white-tipped and purple nudis was easy to spot, as were the white-bodied migrating aeolids, with their red- and blue-tipped cerrata (the projections that cover many nudibranchs' bodies).
Damselfish were everywhere, though keeping closer to the gaps between the jumble of rocks were shoals of the juveniles, with the electric-blue stripes that they would lose as they reached adulthood.
DEEPER DOWN AND FURTHER under the rocky overhangs, the bright red of cardinalfish glowed under my torch. These fish are easily overlooked, blending in and looking decidedly drab until illuminated.
On that note a good torch, with a wide beam, is essential to see the life here in "true colour". Wherever the sun can't reach, the rocks are covered in yellow
and orange polyps and cup corals, growing within a jumble of blue and vivid red sponges. The colours can be breathtaking.
It was good to have an enjoyable dive after a long journey and some poor weather, and as we ate chocolate cake and biscuits along with hot sweet tea, I suspected that I might enjoy myself after all.
Nautilus seem to have a good thing going – a decent ratio of guides to divers (a dozen or so guests seemed to be the norm) was welcome, as was the guides' willingness to help you kit up.
Again, I thought about how hard dive-guides work. After looking after a boatful of divers on a morning, they had courses and try-dives in the afternoon, along with all the other daily duties of a busy dive-centre.
The next dive saw us back at Spargi, and how different it was. In between passing clouds the sun was bursting through, and the shoals of bream were glinting silver. Cow bream were grazing on the turf of algae, living up to their name, and shoals of damsels flocked constantly around us.
Nudis were present again, in great number and quite large. Purple nudibranchs looked like explosions of tentacles. Small but delicately marked triplefin fish rested on their fins.
A jumble of shells around a crack would indicate an octopus, hiding within its garden.
This dive would be a little shallower, so we missed the grouper, but the macro life was helping me out, and as we spent some time with a dahlia anemone I managed to get some shots of an animal with which I've always struggled – the anemone shrimp. Often tucked well into the anemone's tentacles and almost too small for my ageing eyes, these are challenging, and while I'm not saying I managed, it was the best I'd ever done.
The weather continued to improve, albeit slowly. To be fair this isn't normal for Sardinia, with rain and storms usually confined to the winter months and not the autumn, when the waters should be almost at their best.
Despite this aseasonality, the following day's dives would be my favourite. We had travelled to the eastern coast of Isola de Caprera, to a site where seahorses had been spotted. I crossed my fingers.
I've only ever seen one seahorse before, in a seagrass bed, and that's what I was expecting on this dive.
So when my guide started scanning a sponge- and polyp-encrusted rock wall, I wondered what was going on.
FAIR ENOUGH, I THOUGHT, and bothered a few wee fish, accepting that I'd go seahorseless. How wrong I was. Julie started squealing and waving me over, and there it was, tail wrapped around a growth of weed, its mane of projections looking so much like the algae around it that I'm not sure I would have spotted it.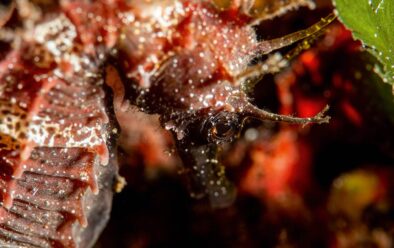 The demure little animal was difficult to shoot but I focused on its eye, willing it to rotate a little and face me. It didn't, alas, but still, I had doubled my seahorse count.
The weather had determined my diving somewhat, but it had had a more serious effect earlier in the year. The warm temperatures that the Mediterranean region had experienced over the summer had meant warm conditions for divers but troublesome conditions for some of the areas' most attractive residents – gorgonians.
Long periods during which the temperatures reached into the mid-20s at the depths in which gorgonians thrive had stressed them to the point that many had died.
I had asked if I could see some, and as we explored a site at around 30m, I was saddened to see the many gorgonians' skeletons showing creamy white where the purple flesh and polyps had disappeared. Vinny assured me that they were recovering, however, and indeed many still held purple patches where the animal was regenerating.
For years I was unaware of these species, which often lie that bit deeper than many holiday dives in the Med reach. How many UK divers are aware of these beautiful eco-systems, which rival any tropical location for colour and complexity?
With luck, a cool summer next year will ensure that they recover well. Vinny tells me that below 40m the gorgonians remain in fine fettle but it's telling that the warmth is penetrating deeper.
I WOULD USUALLY CHOOSE a reef over a wreck (though of course some wrecks can be full of life), but I did hope that I'd be able to find some iron or steel to add to my critter shots. Vinny obliged with the most unusual wreck site I've visited, Il Motore.
This is exactly what it sounds like, a motor, though in this case a 12-cylinder radial aircraft engine, sitting alone at 20m or so. Apparently it was shot off a German aircraft during the last war. The rest of the plane has yet to be found, and is perhaps somewhere on the floor of the Bonifacio Strait that separates Sardinia from Corsica.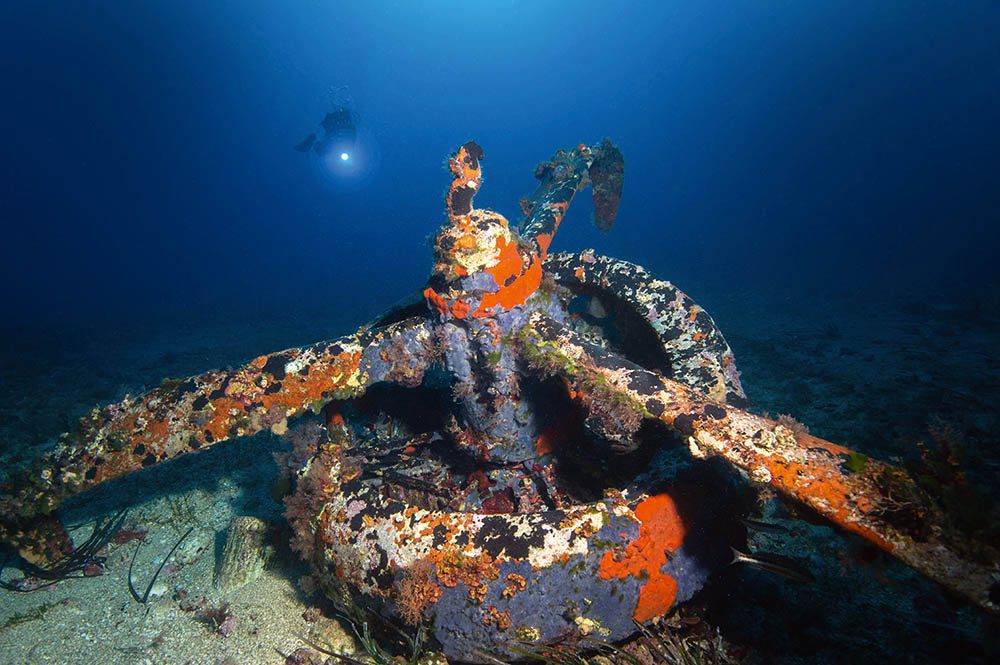 The engine is photogenic, colonised by the ever-present colourful sponges of the region, and a well-positioned buddy or dive-guide can help the image stand out. But, sadly, I can't tell you any more about this little chunk of wartime history.
It didn't take long to be charmed by the Maddalena Archipelago. Once the weather had cleared and the sun returned I could understand why all those yachts were here. I'm glad I didn't let the Med fool me – there's an awful lot of life and colour down there.
FACTFILE
GETTING THERE> Richard flew to Olbia with easyJet from London Gatwick. Nautilus can help arrange taxis to Palau, a 30-minute journey, with Sardegnatours, sardegnatours.eu
DIVING> Nautilus Diving Centre is a PADI 5* Gold Palm and BSAC resort, divesardegna.com. Nitrox is available.
ACCOMMODATION> Choose from apartment up to 4* hotels. Richard stayed at a Le Gemme apartment, palauappartamenti.com
WHEN TO GO> Best times are either side of summer, May/June and September/October.
PRICES> easyJet flights from around £80, taxi transfers 150 euros (both ways). Le Gemme apartment for two from 220 euros pp for seven nights. A guided 10-dive package at Nautilus costs 385 euros pp.
VISITOR INFORMATION> sardegna.com