archive – Diving NewsFour shipwreck sites found in Coral Sea
Four Coral Sea shipwreck sites have been identified by Australian maritime archaeologists during a recent investigation of Kenn Reefs.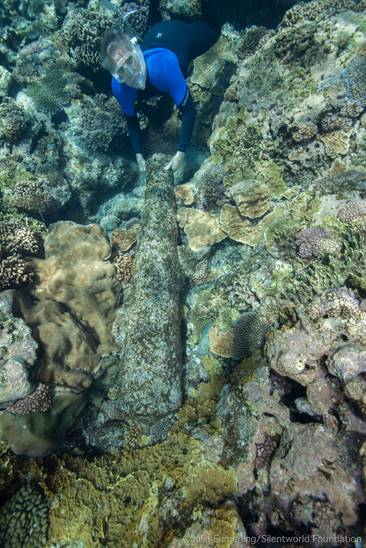 Queensland Museum first undertook preliminary surveys of the reef-top and shallow lagoons inside the reef in 1987, when a number of anchors were located and compass bearings recorded.
The recent project was to confirm the locations of those sites from 30 years before, obtain accurate GPS co-ordinates for them and survey other wrecks in deeper water off the reef.
The expedition took nine days in mid-January, including the 30-hour sailing time on each 300 nautical-mile return trip from Bundaberg in Queensland.
The expedition took about a year to plan, including historical research into ships known to have been lost on Kenn Reefs and the accounts provided by wreck survivors.
It was instigated and funded by Silentworld Foundation, a non-profit organisation that researches early Australian maritime history and archaeology, and undertakes one major project a year as well as collaborating on smaller projects. Its archaeologists joined others from the Australian National Maritime Museum and some independents.
The shipwrecks, most of which had occurred in the mid-19th century, were found through visual inspection at low tide, snorkel searches and magnetometer surveys, and recorded by measured drawings and photography.
"We have very good records of the vessels, their captains and their construction, as well as written accounts of the circumstances of their wrecking and subsequent survival activities afterward," Paul Hundley, Director of the Silentworld Foundation, told Divernet. "This will aid in the detective work of trying to identify the individual wreck-sites."
The work was complicated by the wrecks being very close to one another and of similar size and construction.
"And because they had just left Sydney on voyages to other parts of the world, most were carrying only ballast and no specific cargo that could assist in identifying individual ships," said Hundley.
Divernet – The Biggest Online Resource for Scuba Divers