archive – ReviewsPADI Dive Centre Pro Photographer Diver, by Dive4photos
TRAINING REVIEW
PADI Dive Centre Pro Photographer Diver, by Dive4photos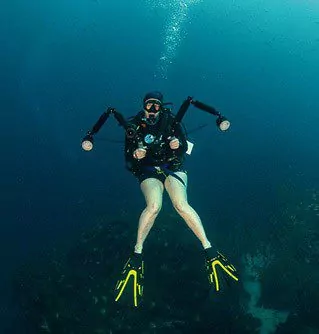 IT IS DAY TWO of my underwater photography course in Koh Tao, Thailand, and keeping in mind the previous day's lesson about shooting subjects head-on where possible, I carefully frame my first macro shot of a nudibranch.
It is only after a couple of thoughtfully composed shots that my instructor Alex gently shows me that I am actually pointing the camera at the nudi's back end!
I have embarked on a 15-day Dive Centre Pro Photographer Diver course, a PADI speciality written by Alex Tyrrell especially for people like me who aim to become a dive-centre photographer.
Alex's company Dive4photos offers one-on-one custom-made courses for all levels, from complete beginner (like me) to those who wish to work on a particular subject.
I had chosen this course because there didn't seem to be anything else suitable for someone like me: someone with zero knowledge of photography, yet who wanted way more than the PADI Digital Underwater Photography (DUP) course could offer.
I am armed with all the gear: Sony RX100 compact camera; RecSea housing; Inon close-up lens; Inon wide-angle lens and dome-port and float arms, all on the advice of my friend Steve Warren of Inon.
All the gear and, as the saying goes, no idea. I have become exactly the sort of diver I used to snigger at privately…
ANOTHER FRIEND, a pro land photographer, told me to become proficient with the camera before I even considered taking it under water. This was, of course, excellent advice, but as I didn't get the camera until three days before my trip, it wasn't advice I could follow!
The first five days began with using the camera and the TTL (Through The Lens) function on the strobe. Day two added in the macro lens and using the manual setting on the strobe.
It took those two days before I had even learned the basic camera functions, but with patient tutelage I managed to produce a few good shots. It felt as if everything I was told only underlined further how much I didn't know!
But by the third day, I felt it was coming together. Instead of focusing on the shots, I was focusing on the learning, and it was starting to make sense.
I have been a Master Scuba Diver Trainer for 20 years and have done several thousand dives, so I naturally considered my buoyancy and situational awareness to be very good.
However, hovering next to a wall, shooting a 1cm crab on a whip coral from 15cm away with a negative camera set-up, I felt more like an open-water student!
OVER THE FIRST WEEK, I managed to bump into a sea-urchin while contorting myself into the necessary position to get a shot, and I also found myself regularly neglecting to pay sufficient attention to my air consumption and NDLs [no-decompression limits] – something I have spent years warning my customers about.
The PADI mantra, as taught on its DUP course, is SEA – Shoot, Examine and Assess. It almost seems too obvious to say, yet the temptation is to just keep shooting.
However, it isn't until you look at the shot and assess composition, focus and exposure that you know what needs adjusting to improve it.
More good advice from Alex is that you're looking for a good subject, in a good location, in a good mood!
He would help me find the subjects, getting me set up on one and then going off and looking for the next, so saving me time. Frustratingly, subjects would often not be in a good position, and I would have to move on.
The good mood? That was another thing to learn, to assess which subjects were not worth wasting time on!
My evenings were spent using Lightroom (also covered thoroughly on the course), editing, making my homework portfolios, but mostly deleting! On average I was deleting 80-90% of my shots each day!
By day five I felt reasonably confident and comfortable, experimenting more with apertures and depth of field.
But then the macro lens was packed away, and out came the wide-angle.
The next five days were all spent learning about the wide-angle lens and dome-port. Here the lighting became more complex, as I learned about illuminating the shot using both the strobes and ambient light. This is also when I started to play more with the ISO and shutter-speed settings.
The course also included two days using magic filters and learning about white balance – another of those terms of which I'd heard, but had no idea about. It was halfway through
the first filter dive that I realised I'd forgotten to do the white balance – thank goodness for post-processing!
THERE WAS AN OPTION for the final five days, to focus on either marine life or photographing divers. As Alex pointed out, fish don't buy photos, but I decided to focus on the marine life, thinking that divers can't be that hard to shoot (I was wrong, especially when they're student divers).
I was surprised how much Alex taught me about marine life that helped me take pictures, such as the shrimp goby shaking its tail just before it's about to dive back into its hole.
The course ran over three weeks, with 30 dives at a maximum ratio of two students to one instructor and 45 hours in the classroom. The course fee is 62,500 baht (about £1400), and that includes any camera equipment a student might require.
By the end of the course, I was amazed by just how much we had covered, and after so many dives with Alex on Dive Point's boat, I was sorry to leave. I had become especially fond of the boat cat, Mr White.
Do I feel like a pro photographer? Perhaps not quite yet, but I have all the tools and information I need now. A little more practice and I'll soon feel confident enough to claim the title!
Apart from the course content, I also learned how easy it is to get tunnel vision. So much focus is on the camera and the shot that it's easy (no matter how experienced you are) to forget the very basics, such as checking NDLs and air consumption!
I learned to be patient, to wait for the right shot and, finally, which end is the business end of a nudibranch.
Review by Lucy Pearson
Dive4Photos, Koh Tao, Thailand
www.dive4photos.com. Three-week course, around £1400.
Appeared in DIVER March 2017