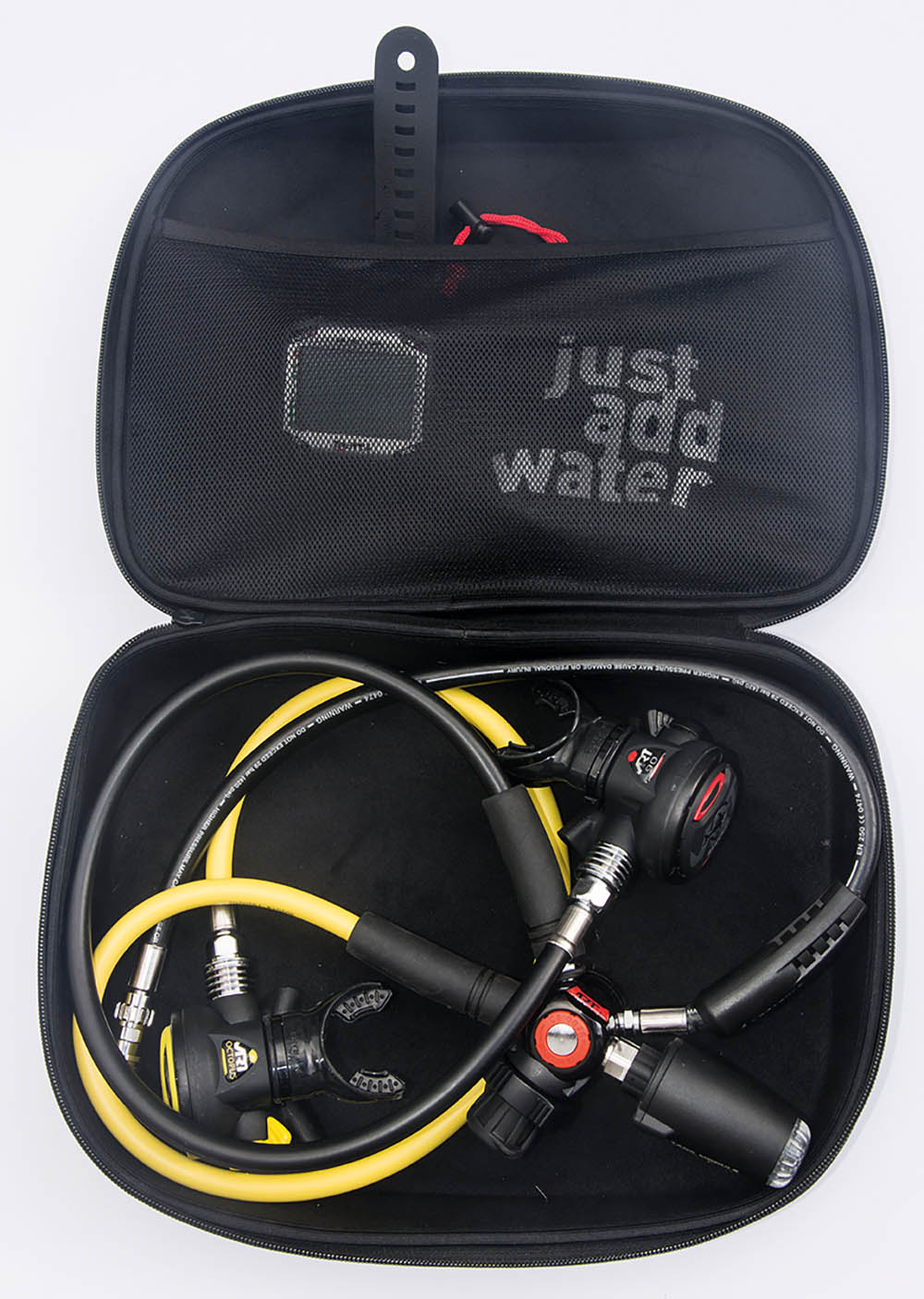 Appeared in DIVER August 2018
MY BUDDY AJ TOOK HIS AIRLINE SEAT wearing his classic 40-year-old twin-hose regulator around his neck like some kind of mayoral chain. He didn't trust it in checked baggage.
Transporting regulators can cause some soul-searching. They are rugged but not unbreakable, and we depend on them in an environment in which the only air is that we bring with us. Damage or loss in flight could force you to dive on a rental reg.
And while some dive-centres do provide high-performance regulators, which is what most of us own, not all do. There can also be concerns about maintenance.
My own regulators do tend to travel in the hold, usually laid out between layers of thick wetsuit or folded into a drysuit. My priority is getting all my underwater camera gear into my hand-luggage, not life-support equipment.
If a reg fails, I can swim up. Lose or break a camera and my will to live goes with it.
So how can you best protect your regulator and other accessories such as pressure gauges and computers, especially if you deliberately elect to check them in – or, as happened to me, your airline insists on putting your cabin bag into the hold?
I was still smarting when I arrived in Gibraltar, location for an intensive gear-testing session. At Gatwick, easyJet had done just that, having run out of room in the overhead lockers. But my case was a soft bag, sold to air-travellers because it complies with carry-on rules, including easyJet's.
Inside were primary and back-up cameras and housings, lenses, strobes, video lights, a surface rig and, of course, my laptop. Everything needed by a globetrotting DIVER star reporter.
This cut no ice with easyJet. I was allowed to take on board only those items I could carry in my hands. My land camera around my neck, laptop and one housed camera cradled in my arms, I sat and sulked. As the safety briefing moved along to landings on water, I mused that at least I'd be able to get pictures.
We also live in a world in which terrorist outrages have required all luggage to be placed in the hold unexpectedly, especially awkward if you're caught overseas when the new rules are imposed and hadn't planned for such an eventuality.
Many photographers opt to travel with foam-lined heavy-duty hard cases, but even one small enough to take as hand-luggage can weigh as much as 5kg before you pack it. They're also bulky, so can't be collapsed once you're tight for space in a liveaboard cabin, for instance.
They do offer the best protection for their contents, though I've seen even these cases holed by mishandling at airports.
The Design
Mares offers a neat solution in its clamshell regulator case. Semi-rigid, it opens and closes with a zip. A hand-strap folds flat to save space. Coil the hoses and there's plenty of room for a reg and an octopus, or two complete regulators.
Inside is a pouch-pocket for storing manuals, but I used this to pack several computers.
The case will keep dust and insects out and can be fitted into a soft carry-on case without taking up much more space than the regs do packed loose.
It's light enough not to incur weight penalties at check-in if you do choose to send it through the hold, as I did, because I'd prioritised cameras over regulators and, of courses, needed to test the case realistically for this review.
In Use
I placed the shellcase in an outer pocket of my rucksack for both outward and return journeys. This ensured that it would be taking the brunt of the impact while running the gauntlet of airport baggage-handling as it was loaded and unloaded twice. The case arrived undamaged both times and, more importantly, so did the regulator and computers inside it.
Conclusion
This is a neat way to transport your regulator and small accessories inside a soft carry-on bag, offering added protection if it is unexpectedly confiscated, as mine was. Recommended.
Specs
TESTER> Steve Warren
PRICES> £23
DIMENSIONS> 39 x 29 x 10cm
WEIGHT> 8670g
CONTACT> mares.com
DIVER GUIDE> 9/10