A defamation lawsuit has been brought against streaming platform Netflix and the producers of the freediving film No Limit by former record-breaking diver Francisco 'Pipin' Ferreras.
The 61-year-old alleges that the movie suggests that he deliberately caused the death of his wife Audrey Mestre, who failed to survive a deep breath-hold record bid 21 years ago, and that as a result he has been subjected to online abuse.
Also read: Dive Odyssey: Behind the Scenes
The French-language film came out last September, becoming for a time the most popular non-English movie on Netflix. It was reviewed as part of Divernet's feature 20 Titles For Divers Streaming On Netflix.
While the film contains standard disclaimers about any resemblance to living people being coincidental, it does claim to have been "inspired by real events". It ends with the words "In memory of Audrey Mestre, 1974-2002" beside the late freediver's photograph and a brief account of her death.
The lawsuit, which seeks damages for defamation and invasion of privacy, was filed on 29 March by Ferreras's US legal representative Alexander Rufus-Isaacs. It cites Netflix, the film's producer Nolita Cinema, writer-director David M Rosenthal and unnamed entities involved in the making of No Limit.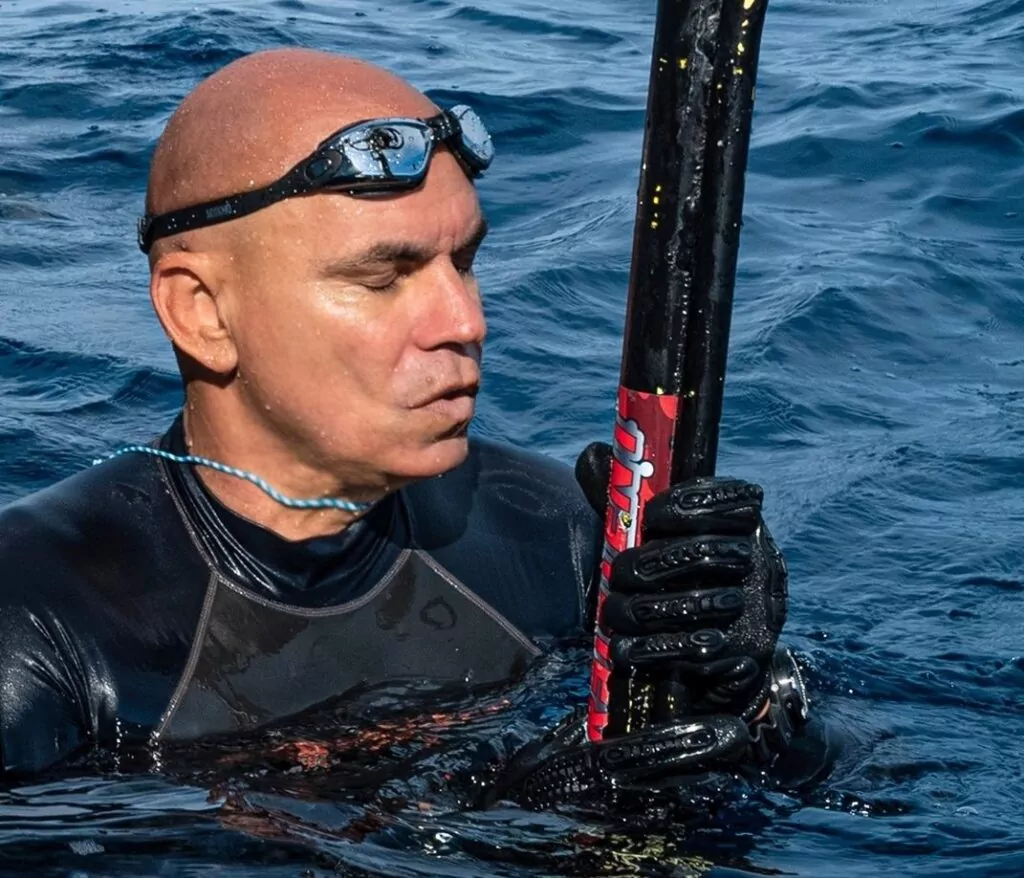 The film is described in the suit as a "thinly veiled account" of the events surrounding Mestre's death, at a time when she and Ferreras were "the two most famous 'No Limit' freedivers in the world".
"There are a large number of striking similarities between the facts presented by the film and the real-life facts (save of course for the defamatory accusation that Ferreras deliberately killed Audrey)," states the suit, going on to describe "a storm of online abuse" directed at Ferraras by viewers of the film who believed that he had murdered Mestre.
Mestre's death
In the No Limit discipline the freediver uses a weighted sled to descend the line, discards the weights on reaching the target depth and opens a valve on an air-tank to inflate a lift-bag for the ascent.
After US freediver Tanya Streeter set an outright record of 160m in the discipline in August 2002, Ferreras proposed to Mestre that she try to better it. On the day of the attempt, 4 October, he carried out the final checks on her equipment but did not use a pressure gauge to check the air in the tank.
A scuba diver stationed at 171m saw Mestre try to open the valve, but her sled failed to rise. He tried to bring her to the surface and Ferreras dived down to take over. There was no doctor on the dive-boat, and having been under water for 8.5 minutes she was later pronounced dead in hospital.
Subsequent reports by Dominican Republic authorities and the International Association of Free Divers (IAFD) concluded that Mestre's death had been accidental. Ferreras had himself set up the IAFD to rival governing body AIDA and headed the organisation, which closed in 2004.
In the film No Limit freediver Pascal Gautier, held back by repeated underwater black-outs (as Ferreras had been around the time of Mestre's death) becomes the mentor of Roxane Aubrey but is shown to be abusive and jealous of her success.
Aubrey goes for a 180m No Limit record in Porquerolles in France in 2016, and it is implied by Gautier's last-minute check – although not depicted – that he was aware that the air-tank meant to be used to propel her sled was empty.
Love and obsession
Ferreras is a US-Cuban citizen who now lives in Cuba. He set a series of 21 freediving world records, and the year after Mestre's death he reached 171m on a No Limit dive – the depth his wife had reached on her fatal dive.
His 2005 autobiography The Dive: A Story Of Love And Obsession blamed various technical factors, such as thin cable, stormy weather, the sled camera and damaged anti-friction bushing, for Mestre's death.
The following year Carlos Serra came out with his own book The Last Attempt, which squarely blamed his former business partner Ferreras for Mestre's death. The two men had fallen out over whether or not an independent investigation of the incident should have been carried out.
The lawsuit claims that: "The truth was not sufficiently dramatic for the defendants, who falsely portrayed the marriage as deeply troubled and Ferreras as a mean, narcissistic man who cheated on his wife and murdered her because she was threatening to leave him…
"Though Ferreras has been criticised for not taking sufficient precautions to prevent Audrey's death, no one has ever suggested that he deliberately emptied Audrey's air tank before her last dive."
Rosenthal has told Variety that his film had been checked in advance by lawyers and that he did not think Ferreras had a valid case, but was "trying to make a buck" by suing Netflix. As often happens in such cases, the legal action is likely to rekindle public interest in its subject, the film No Limit.