archive – Diving News
Swordfish gets stuck on diver – at 222m
When saturation diver Paolo Eduardo undertook a minor underwater repair on the seabed deep off the coast of Brazil, what he wasn't expecting was a swordfish to come up behind him and impale itself on his bail-out rig.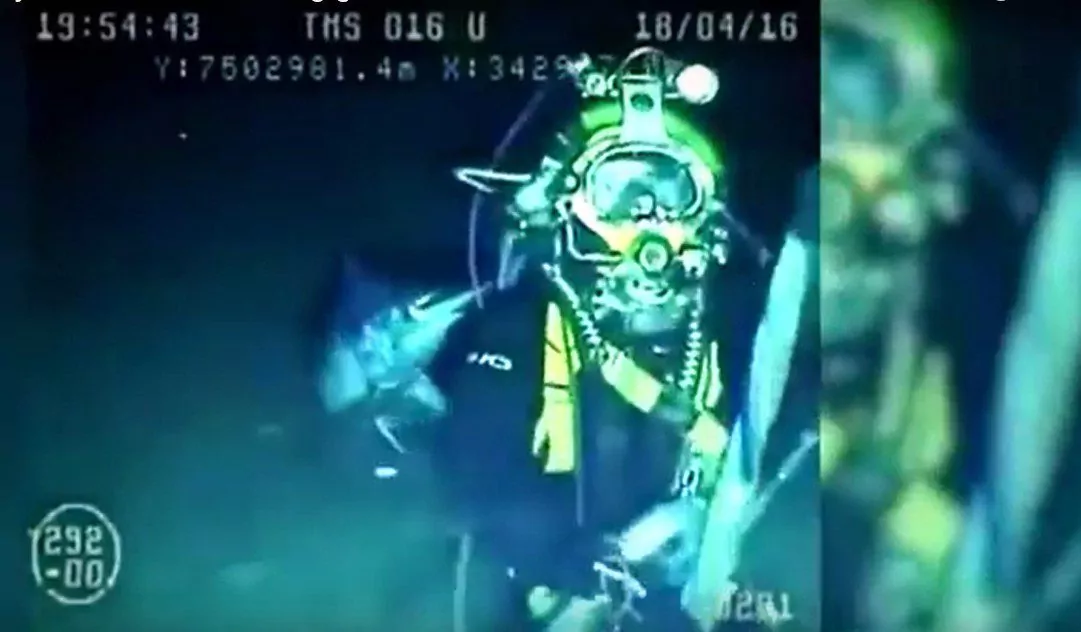 Eduardo was working from a two-man bell, attached by an umbilical supplying his gas and with a Divex SLS rebreather bail-out set on his back. The swordfish launched itself at him but its bill became jammed in the SLS and it thrashed about violently in an attempt to free itself.
The diver's gas supply was undamaged but, unable to deal with the situation behind his back, Eduardo managed to get back to the bell. It was only as he was preparing to enter it that the swordfish managed to extricate itself and swim away.
The diver was unharmed, although his SLS was damaged, but the whole incident had been captured on video by an accompanying ROV that was monitoring his safety. The footage was subsequently released and went viral on YouTube.
At around 1.5m the swordfish was relatively small – Atlantic swordfish typically grow to around 3m. Tending to be loners and rarely seen by divers, they are among the ocean's fastest-moving fish and an apex predator. The extended bill that gives the fish its name is used to attack prey with a side-slashing movement.
Eduardo was working from the diver-support vessel Wyatt Candies for an arm of the Dutch multinational Fugro when the incident occurred in mid-April.
"It was a very unusual operational incident and we were relieved that both the guy and the fish were swimming around at the end of it," Fugro Brasil's Subsea Services Director Andy Seymour told Divernet.
"We think the fish was attracted by a combination of the lights – because at that depth it would of course normally be pitch-black – possibly in conjunction with the shiny things. We've seen similar behaviour on our ROVs from time to time in the past, but it's hard to say what goes through a fish's head!
"The diver reacted very properly, and that's where the training comes in."
DIVERNET – The Biggest Online Resource for Scuba Divers