You're based in Belgium, but what's to stop you popping over to Bakewell for the weekend to explore a flooded chert mine? Notng! So what is chert anyway? STEFAN PANIS explains
Robin's light falls on old workboots and a shovel.
The Discovery and Journey to Holme Bank Chert Mine
ONE RAINY DAY I was trawling online when I came across a short YouTube video about the Holme Bank chert mine in Derbyshire. The water looked to be crystalline, and as there seemed to be plenty of interesting photogenic subjects inside, I forwarded the link to my dive-buddy Robin Verbruggen.
Also read: Shipwreck silver, brass – even a Model T Ford!
"When are we going?" was his immediate response. I started to gather information about the site and, finding that it was on private property, gated and locked, decided to contact the land-owner, Joe Oldfield.
We sent him our cave-diving certifications and other paperwork, and were pleased to hear back that permission had been granted. Next weekend, we left Belgium for Bakewell.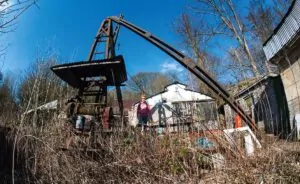 We arrived by shuttle in Folkestone on a Friday evening with a 200-mile-plus drive ahead, so it was late by the time we arrived at our hotel. We had a good sleep, and after a full English breakfast headed towards the mine.
Exploring the Dry Levels of the Mine
The Peak District is a national park with spectacular landscapes that we could appreciate now in the daylight. The mine is near the River Wye, on the outskirts of the town, and it took us quite a while to find the tiny entrance in the upper section.
Next to this entrance is an old crane with a winch, and further on are the remains of the point at which railway trucks emerging from the mine would be unloaded and pulled back in. It was a fantastic view of faded glory.
We had the entire day to explore and dive the site, so decided to start in the dry levels, and to photograph them before diving. We geared up, and headed into the mine.
What is Chert and Its History
So what is chert? Found in veins in the uppermost beds of limestone sediment, it was worked into tools in prehistoric times, but its most useful purpose, recognised in the 18th century, was for grinding calcined flint, a whitening agent used in earthenware manufacture.
In 1772 the potter Josiah Wedgwood recommended Derbyshire chert as a major improvement over granite millstones, which left annoying black specks in the pure white flint. Blocks of chert were initially taken to Yorkshire and Staffordshire by packhorse or cart, but from 1793 considerable quantities went to the Potteries by road and canal, and later rail.
Appeared in DIVER August 2018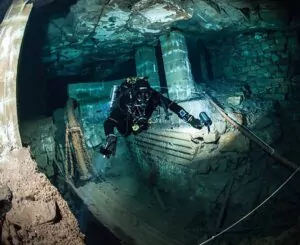 Black, and black & white, chert occurs, but the prized white "china stone" variety was found in only a few worthwhile deposits. Major extraction took place at Holme Bank and other mines in the Bakewell area, and became fully commercial in 1867. The mine eventually closed in 1960.
The upper levels of the mine have quite a few junctions leading to different areas, so as we entered, to be on the safe side, we decided to leave markers.
The tunnels were beautiful, with sections in which support walls had been constructed in stone, and timber and metal beams gave us the feeling of being in a proper mine.
Descending towards the lower, flooded levels, we came across some more photogenic areas. We had to negotiate passages that required us to stoop, before opening up into a section containing the old truck-rails, and even a wagon that had been left there. A little further on, we came across a hand-operated winch.
Diving into the Flooded Levels
THERE ARE TWO POSSIBLE access points to the water: Pits Base and Pump Base. The former gave a spooky impression as we set up the lights for photography, while Pump Base, as we lit it up, looked truly industrial.
We knew that it would take us at least two trips to get all the diving equipment on-site, and I hoped that it would be worth the effort.
We finally hauled everything in, but as we started to kit up I noticed an important detail – I had left my weight-belt in the car. After a bit of swearing there was nothing for it but to make another trip out to get the missing item and bring it back into the mine.
Closing the Loop: Reflecting on the Dive
After a few minutes' rest and a drink, we were ready to go. We had decided to make Pits Base our starting point. Submerging, it was immediately obvious that we were in luck, because the water was gin-clear, even if it did have a mysterious tint to it.
Robin was leading the dive so that I could focus on photography. We have dived together for a long time, so expect the modelling work to go like clockwork.
We swam through some small tunnels that opened up as we arrived at Pump Base, with its old pumpshaft and pipework. We followed the loop towards Arch Base, squeezing through tiny passages before emerging into beautiful galleries supported by pillars.
We passed through another low section, my rebreather-case scratching the ceiling, and found ourselves in an area of fallen slabs. This section made me feel as if I was diving a limestone cave rather than a mine.
A network of fixed lines in the mine made it easy for us to navigate. We came up at Arch Base, and after a brief chat continued through the last tunnel towards Pits Base. In the middle of the tunnel was a pair of boots and a shovel to give the location the human touch, reminding visitors of the circumstances in which the miners had to work.
We closed the loop when we came up again at Pits Base, and agreed that the dive had been well worth all the effort.