Divernet's recent account of a Model T Ford discovered in the Great Lakes struck a chord with underwater photographer STEFAN PANIS. Last year he dived the WW1 mine-victim Toward in the English Channel – and could hardly believe his eyes as long-hidden rewards kept coming
During my Dover diving years I had heard a lot about the steamship Toward, a World War One shipwreck owned by Tony Goodfellow and David Knight. However, it took me until 2022 before I finally had the chance to dive the site, as part of an annual international wreck-diving expedition.
Built in 1899 in Glasgow, the Toward was part of the Clyde Shipping Company fleet, a 1,218-tonne steel steamship with a single screw.
Sailing with a general cargo from London to Belfast on 31 October, 1915, Toward struck a mine that had been laid by UC-6, a very successful submarine that, commanded by Matthias Graf Von Schmettow, was responsible for sinking 54 ships in total.
The mine exploded under the hatch of number 2 hold, just forward of the bridge. Toward caught fire, the blaze spread rapidly, and the ship started to settle in the water.
The crew abandoned ship off South Foreland on the Kent Downs, and all the men were picked up, including five who had jumped into the sea. It turned out that no fewer than four ships had sunk within a few hours in that deadly minefield.
Instant brass
I was teamed up with my buddy Eddie, who knew the wreck and was willing to take me on a tour, and jumped in straight after him. While he was setting the hook, I started rummaging around the deck midships and a piece of brass caught my eye.
A closer look revealed it to be the nameplate from a door – not a bad start for a dive!
Eddie caught up with me and we headed off towards the stern of the ship. We swam past the accommodation, where a set of toilets made a nice setting for a few pictures, and a little further on saw a gaping black hold.
Toilets in the accommodation area
We dropped two decks down, landing on a very silty bottom littered with bottles and plates that had long ago spilt out from rotten wooden boxes. But when Eddie signalled with his torch to get my attention, it took me a while to figure out what it was that he was trying to show me.
Could it really be? Ahead of me was a vehicle – one that would turn out to be an early Henry Ford automobile! I had only one chance to take its picture before the room silted out, and at that point I was just happy to have a line to follow to get back out.
Dover sole
We dropped over the stern to the seabed to take a look at the rudder and propeller, which had remained nicely in place. Then we worked our way back towards the shot, and on the way reached the area where the accommodation used to be. We discovered there a beautiful mosaic floor, now a playground for Dover sole.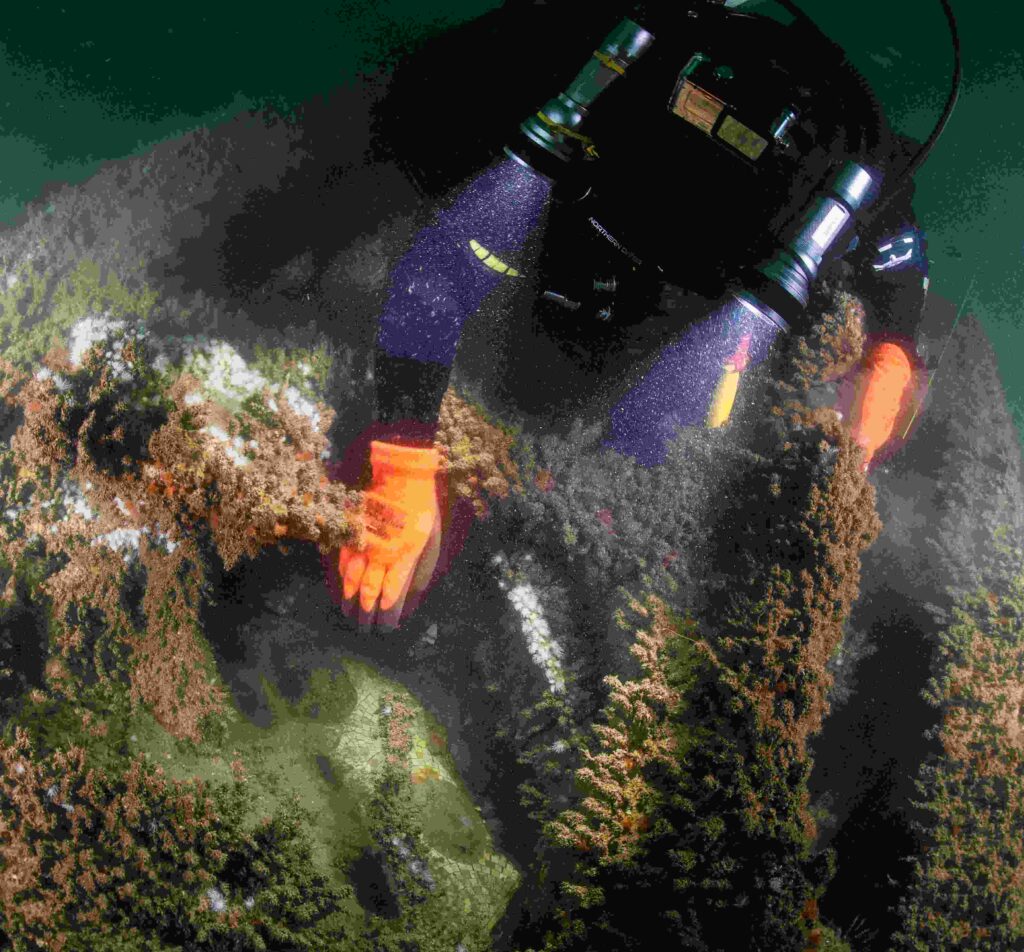 It took a long time for Eddie to get clear, however, but just as I had decided that I should go back in after him he showed up. It turns out that he had found a picnic-basket in the back of the car – and it was still loaded with plates and cutlery!
The area was littered with bottles, and we found some spoons bearing the shipping line's logo. Eddie was lucky again, and pulled out a beautiful silver-service rack, complete with pepper and salt shakers and even an olive-oil bottle with its contents intact – what a find!
That spot turned out to be a real treasure trove. What we had discovered were probably the remains of a silverware cabinet from the dining-room, because serving dishes, spoons and knives just keep coming out of it!
After bagging up our finds, it was time to surface again in the hope that all our 2022 expeditions would bring with them such broad smiles and treasures.
Also by Stefan Panis on Divernet: One-Off Dive Mining In The Slate Museum, A Tale Of Two Mines, Wondrous Dive Into Black Marble, HMS Brazen Wreck Dive, Monarch Of The Channel, Pearl Of The Peak District, Diver Article Prompts Wreck-Find Handover