GOZO DIVER
STANDING ON THE CLIFF with the Blue Hole below us, one of my fellow-divers looked out over the water and sighed. "This was one of my favourite spots," he said. "You used to be able to look up at the arch from the base of the stack, it was beautiful… and now it's gone."
The Azure Window, the 50m-high limestone arch made even more famous as a backdrop for the wedding of Daenarys Targaryen and Khal Drogo in Game of Thrones, collapsed into the depths in March of this year. The Maltese Prime Minister described the event as "heartbreaking". Looking at my fellow-diver, I could see that he felt the same.
The Blue Hole that is the entry point for this dive opens into an underwater arch, which then leads to a large cave, sloping chimneys and drop-offs.
But that could wait until later – the main attraction for this dive, what was left of the Azure Window, was just a fin away.
We were on Gozo for three days of diving – a whirlwind familiarisation trip organised by the tourist board for general press. I had gone along hoping to take advantage of sampling all the top dives the island had to offer – and which I had not experienced before, never having visited the island.
We were diving with Atlantis Divers, and dive-guide Denis clearly cared deeply about providing a high-quality diving experience.
The Azure Window had always been on my "dives to do" list, and although I might have been too late to dive the base of its stack, looking at the white sheen of its remains lying just beneath the surface gave me the feeling that I wouldn't be disappointed in diving its remains.
The blessing in the collapse of the Azure Window is that it didn't break up into small boulders, but instead into massive sheets of rock 20-30m wide and tall. The top of the arch now lies on its side, with shrubs and plants still present on its weathered and pock-marked surface. The newly exposed rock tells a story of how Gozo was formed out of the meeting of two continents.
Yellow lines break the brightness of the white limestone, which in the sun makes this look like no other site on the planet. It's like diving an off-piste ski-slope, as marine life has yet to colonise the surface of the new drop-offs, swim-throughs and tunnels.
The contrast with the brown algae and weed that covers the rocks that have been there for millennia is notable. But how long will this effect last? Six months, a year, two?
There is already a film of algae growing on the slopes of pristine white stone. This will always be a monumental site, but for now it has an extra layer of awesome.
ON THE THEME of everything in Gozo being massive, a few hundred metres from the Azure Window (will they have to call it something else now?) is the Inland Sea, more of an inland lake actually, and a small one at that. But what sets this site apart is the giant entrance to a cave that leads out to the sea.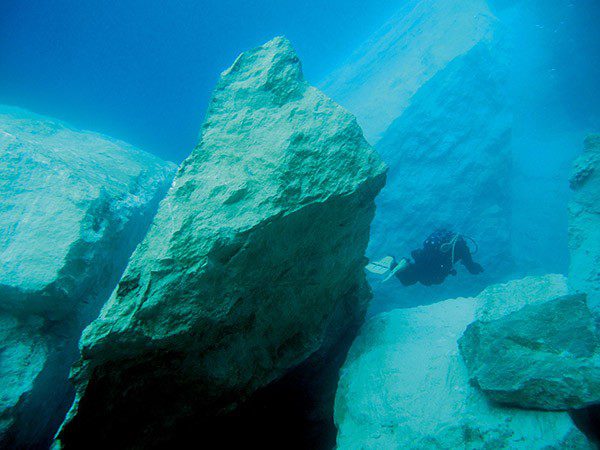 As one of the lead divers in my group, I was well placed to get ahead and marvel at seeing divers framed against the light entering the cave through its enormous entrance.
Once in the cave, you might think there would be little to see until you spill out into the open ocean. However, the lack of natural light means that there is space on the cavern walls for sponges and growth that would otherwise be strangled by the green and brown weed and algae that covers rocks exposed to the light.
On closer inspection of the brightly coloured sponges I found some that appeared to move. These were in fact rock crabs, their camouflage being sponges cut and placed on their backs using a claw adapted for this purpose.
To the touch they felt like sponges, which left the several octopuses we saw on this dive confused enough to leave them alone and feed on easier prey such as whelks and hermit crabs.
Cave-diving isn't for everyone, but in Gozo they're as safe as you can get before you have to start getting all technical.
On the nearby island of Comino, the system known as the Mark of Zorro is a classic example. Shafts of light shear through holes in the ceiling of this labyrinth, inviting photographers to play with its creative dance.
However, beyond this light-show are Comino's main attraction – spirals of nudibranch eggs hanging from the walls, as well as the tiny creatures that laid them in stunning purple and white.
In the cracks of the cave-walls we also found moray eels waiting for their next meal, while next to one of them a hermit crab balanced on a ledge catching flotsam.
This cave system can be disorientating, as one of my fellow-divers commented: "I had no idea where I was – I just followed the guide." This would make an excellent introduction to a no-clear-surface dive but it wasn't for everyone, as a few in our group found it difficult to achieve the necessary buoyancy control.
As the Mark of Zorro had put some of our party off caves we voted to dive something easier, and the P31, the old patrol-boat sunk as an artificial reef off Comino Island, is just that.
It's just a big toy to play in, a safe place to explore with its cabins and holds accessible to divers and, of course, a superb place to take part in clichéd Titanic bow shots.
It's a fun dive, but not one I would put on my list of Gozo "must-do" dives.
THE NEXT DAY DAEDALUS gave us three more intensely memorable experiences. We left the safety of the reef wall and swam further out, leaving the reef as visual reference in the distance.
The experience of drifting in the blue is an almost religious one. I became a speck in a sea of blue. My breathing slowed and I felt supported by the vast interconnected seas and oceans. Was this the ocean of infinite consciousness of which yogis talk?
My mind and body was drifting when a diver pointed towards the surface. That brought me back to the moment, because up there I could see the unmistakable shape of a manta ray.
The wings flew in perfect symmetry as it glided towards me into deeper waters. It's hard for your jaw to drop when you have a mouthpiece clamped between your teeth, so I let out a muffled sigh instead.
My camera had broken on day three, when I foolishly dropped it on the upper deck. And now I was grateful not to be watching the manta through the eye of my camera, because I wanted to drink in every detail of it. The two remoras hitching a ride on the pale belly of the ray were having a hitch-hiking experience to beat them all.
I wanted to take a closer look at the ray. The cephalic fins almost look coiled as they draw food to the mouth, which is forward-facing unlike that of other rays. My heart was beating faster as I tried to absorb my first-ever dive with a manta. This is why we dive.
So I discovered that I loved diving on and from a liveaboard. I had these incredible experiences thanks to thoughtful dive-guides, skilled boat-crew, my supportive dive-buddy Emma and a little bit of self-determination.
There is no shame in having a diver's wobble and you should get all the support you need to get back in the saddle and dive again. In retrospect, I'm glad that I missed that dive. It gave me the chance to regain composure, not to have an off-putting bad dive and learn some Arabic!
MUST-DO, HOWEVER, was what the Cathedral dive-site was. While the entrance to this cave revealed all that the Inland Sea and the Comino Caves offered, I wasn't prepared for the moment at which, once in the cave, I looked back.
The entrance is a vast circle of spectacular blue, but then I noticed the reflection of the entrance on the surface, even more spectacular. We ascended into the Cathedral's vast dome, where the air is good to breathe thanks to a small fissure on the ocean side.
The shimmer of light that creeps in through this hole is the added bonus of this dive. It makes the water glow an eerie turquoise when you splash it.
Before we descended to leave, we spent a moment in the dome in silence. As I experienced the sound of misty breath and the hypnotic shloop sound as the swell hit the back wall, I reflected on what Gozo is about for divers.
Awesome drop-offs, tunnels and caves – the boulders of giants and, for an island that is deeply religious, a fitting dive to end our trip. I've dived lots of sites called Cathedral across the world, but none can match this one.
One word of caution: as most of Gozo's dive-sites are accessible from the shore you might be tempted into thinking that access is easy, and for some of the beginner sites it is.
However, for sites such as the Azure Window and Cathedral there are a lot of rocks and stairs you'll need to manage.
My fitness level is good, but I still found these sites an effort to get in and out of, and I also saw some divers really struggle. Be fit!
As this was a press-familiarisation trip, food and wine loomed large. There are plenty of dining choices on Gozo, from budget pizza and burgers to the likes of the Ta Philippe restaurant, which was more of an experience than a meal.
The menu is typical Gozo: goat and sheep's cheeses, nettle pasta, lamb, rabbit and suckling pig.
You can ask to visit its wine-cellar, and visitors spend anything from 20 to 300 euros a bottle. Incidentally, Gozo's Marsovin range of wines is impressive, and as it makes so little of it (the island covers only 26sq miles), very little is exported.
Why visit Gozo? The dives are challenging, though they can be deep and do require some experience.
You wouldn't go primarily for the marine life, and the topography is mostly green and brown. Everything is giant-size and the visibility is consistently good, as there's no river run-off.
And the island is very laid back – perfect for those who want to escape the built-up hustle of Malta. The Gozitans are very welcoming, and just about everyone speaks fluent English. Explore the island on foot, on a bike, quad-bike or hire-car – you'll never be far away from the sea
FACTFILE
GETTING THERE> Budget-airline flight to Malta, 30-40 minute road-transfer with a short ferry-ride from Cirkewwa to Gozo.
DIVING & ACCOMMODATION> Atlantis Divers, Marsalforn, also has accommodation available, atlantisgozo.com. Most dive-centres either have their own accommodation or can help arrange it. Consider renting a Gozo farmhouse as a self-catering option for a group – access to this kind of luxury could end up cheaper per person even than the budget hotels and hostels.
WHEN TO GO> In summer some popular sites can be rammed with divers. The water is warmer and stays that way until October, and the air can be a blistering 30-35°C, making good hydration essential. In April and May you can experience more solitude at sites but might benefit from a drysuit at that time of year.
MONEY> Euro
PRICES> Atlantis has a November offer (it says water temperatures are still at 23°C down to 40m depth) with seven nights' at Atlantis Apartments, 10 accompanied shore-dives and airport transfers for 350 euros (two sharing); or with B&B at Atlantis Lodge 420 euros. Return flights from UK cost from £55.
VISITOR Information> visitmalta