CAVE DIVER
Down the Tube
Leading cave-diver MARTYN FARR gains exclusive access to one of the world's most impressive cave-systems – the Atlantida Tunnel in Lanzarote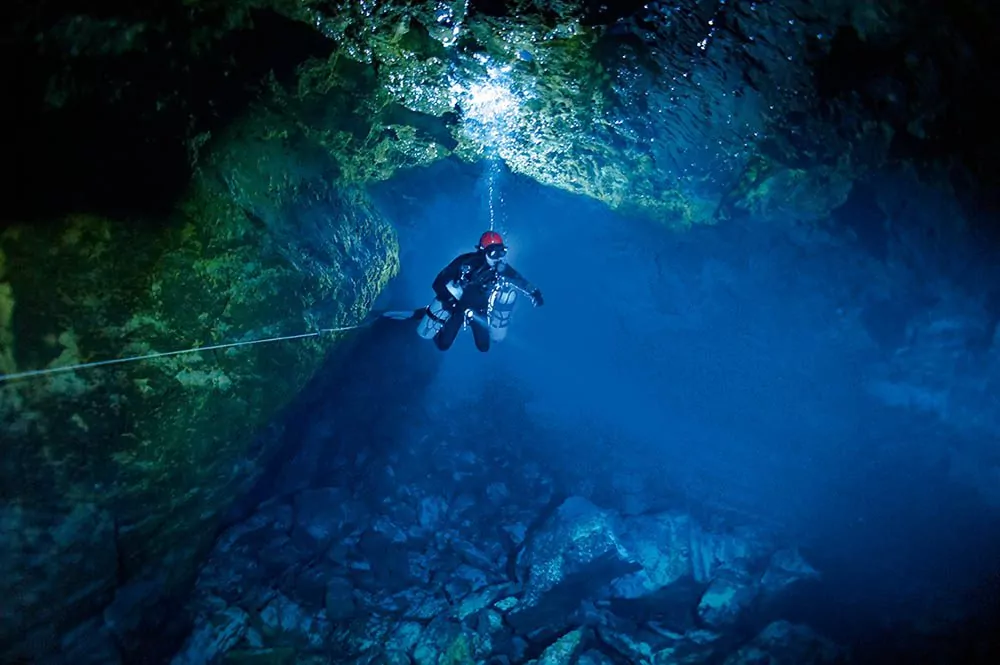 THE SMALL, ROUGH and colourful boulder-strewn pool slid away in the warm, clear water. The chatter of our helpers and the calm ethereal music piped out by the show-cave stopped. Of an instant, one world was transformed to another.
Ahead lay an immense blackness, bigger than any of the tunnels in the London Underground, as large and dramatic a water-filled tunnel as any on Earth.
Forged by volcanic action around 20,000 years ago and now flooded by the ocean, the Atlantida Tunnel is an incredible place by any standards.Other than to local divers and knowledgeable members of the cave-diving fraternity, this place on the Canary island of Lanzarote is poorly known.
The submarine Atlantida Tunnel lies at the popular tourist destination Jameos Del Agua, at the far north-eastern end of the island. Because it's a show-cave and, even more importantly, the home of a unique white, cave-adapted crustacean (Munidopsis polymorpha), dive access of any sort is not normally permitted.
It's a fascinating place. Unlike a limestone cave, in which the rock is dissolved away by fresh water, lava-tubes start their life as a liquid (flowing from a volcano) and then cool to leave rock walls around them.
Limestone caves form very, very slowly over tens of thousands of years, while lava-tubes such as this one owe their origin to a sudden volcanic eruption.
In this instance, a flow of molten lava poured down the slope from the now-dormant Mont Corona. When the activity stopped, the lava continued to quietly drain away, leaving in its wake a tunnel that is more than 7km long.
Today there are several points between the volcano and the sea where the roof of the lava-tube has collapsed, allowing access to a dry and dusty tunnel.
Lanzarote lies not far from north-west Africa and is famed for its sunshine. Understandably it's an attractive location for Europeans when winter approaches.
The Canary Islands as a whole owe their origin to volcanic action, and the scenery might appear desolate to some, but with its balmy water it's very popular with open-water divers.
The wind can be a bit of an issue, but at places such as Playa Blanca and Mala it's nearly always possible to slip peacefully into the ocean and, with training, enjoy some great cavern-diving.
I had been to Lanzarote twice before to sample its offerings, and thought that my cave-diving ambitions there had run their course. But in June this year I was invited to address a scientific conference, and everything suddenly took on a new perspective.
Appeared in DIVER February 2019
LIKE OTHER CAVE DIVERS, I knew that only scientists stood any real chance of getting into the famous undersea lava-tube. So this was an opportunity I couldn't turn down.
One of the principal speakers, and the person who had put my name forward to talk, was the American professor Tom Iliffe. Tom is perhaps the most internationally acclaimed cave biologist in the world today. He is credited with discovering countless new life-forms around the globe. I felt reasonably confident that access to the lava-tube would be forthcoming.
Tom Iliffe had laid his stamp on the flooded cave at Jameos del Agua long ago, and apart from his important scientific work had been present when one of the most dramatic cave-diving incidents had unfolded 35 years before.
In 1983 the US divers, led by none other than Sheck Exley, had joined a scientific expedition with real hopes of reaching the end of the tunnel, then wide open a half a mile from dive-base.
Their first operation took them to about 810m, virtually within sight of the Spanish limit.
The second dive laid 414m of new line, taking them well into virgin territory and hitting 53m depth. In so doing Exley and his partner Clark Pitcairn set a new world-record penetration, surpassing the previous record set by our British team in the Bahamas the previous year.
Dive number three would have taken them further still, were it not for a major equipment failure. They had set off with two stage-bottles apiece, complementing their back-mounted twin-sets. The passage was large, and the diving straightforward.
WITH ALL GOING WELL, they deployed their two partially used drop-off bottles along the route and were laying line as high as possible in the roof to conserve air.
Deep into the tunnel, Exley's partner Ken Fulghum suddenly suffered a catastrophic gas failure. When a cylinder O-ring failed it seems that Fulghum did not recognise, or address, the issue as fast as might be expected, and by the time that he and Exley closed on one another, most of his gas had been lost.
Their exit was not the calm, orderly retreat that one imagines they had trained for. Stress levels were high and, despite long hoses and Exley's undoubted composure under duress, they ran out of air completely before reaching the first stage-bottle!
It was however within sight, and Exley described holding his breath to reach it. The situation was critical. They had bought time, but worse was to follow.
Despite more air-sharing they ran out of air again before reaching the second stage-bottle, which this time lay around a corner. Just how they reached it is uncertain, but once more they made it.
Miraculously they reached dive-base having consumed all bar a few minutes' worth of air, and certainly with insufficient to conduct the mandatory decompression. Fortunately team-mates were in attendance, and extra gas was quickly delivered.
Hitherto such an equipment failure had been unknown in cave-diving. They had established a new world record and had survived one of the worst traumas in the annals of cave-diving.
The exploratory story doesn't end there. The Spanish returned in 1985, when Mari Carmen Portilla and Luis Ortega reached 1578m distance and 60m depth.
The following year, 1986, it fell to Swiss diver Olivier Isler to reach the apparent boulder-blocked end of the tunnel at 1620m and 64m deep to establish the longest marine cave in the world.
Since that time, no one has apparently returned to the furthest point.
TODAY MANY TENS OF thousands of tourists flock to the spectacular show-cave every year. Surprisingly, however, there is a dearth of information, or imagery, on the underwater environment.
My role in the diving operations was very simple – to photograph and capture video footage of the first few hundred metres. Fortunately Tom Iliffe, released from his academic duties on this trip, was more than happy to partake in the imaging programme.
Amazingly, on the very first dive I caught sight of an extremely rare cave-dweller, a remipede, just a couple of centimetres long. Other than at this site the animal had previously been found only in a few locations in the Caribbean. Sighting it was one thing; taking an image with a wide-angle lens sadly proved impossible.
The size of the underwater tunnel in Jameos del Agua is dramatic, and added to the proportions is the fact that it quickly splits into an upper and lower tunnel, with three separate shafts linking the levels.
Research under water has been limited – Atlantida Tunnel is very much the repository of untold science. Lying beneath the floor of the ocean, the lava-tube might be tidal but, being virtually sealed off from the sea above, the range is much reduced. The tides rise and fall by up to 3m in the ocean, but the levels at dive-base fluctuate by only 1m.
As has been observed throughout the length of the tunnel there is virtually no silt. This place quietly flooded at the end of the last glaciation, 10,000 or more years ago, and since then nothing has changed.
The cave-adapted life-forms are clearly worthy of far more attention.
To a diver normally operating in caves and mines, this project was fascinating. The terrain itself varied from rugged, jagged, walled massive tunnel festooned with boulders, to pleasant smaller-sized passage with a relatively flat floor.
In places the walls seemed perfectly smooth and rounded, reflecting presumably the uninterrupted flow of the lava. Almost-level shelves were occasionally seen on one wall or another, and now and again lava splash-marks and small lavacicles hung from the ceiling.
Formations that in a limestone cave might take hundreds or thousands of years to develop had appeared here, I presume, in but a few fleeting moments.
A fairly regular and very odd feature on the floor, very close against one wall or the other, looked for all the world like a giant water main.
Three diving operations were undertaken and a fair amount of science achieved. I had never seen anything quite like this place and, thankfully, some reasonable images were taken.
We had swum amid unique cave-adapted life-forms and gained an amazing insight to the science of volcanology.
Yes, I feel exceptionally privileged to have had this opportunity to dive in Atlantida Tunnel and hope that the images will enhance the experience for show-cave visitors in the future.
Martyn Farr is the author of The Darkness Beckons, farrworld.co.uk