MALDIVES DIVER
5★ Holidays plus diving
Anantara makes it clear – it's a luxury Maldives resort that offers diving, but it's not the main attraction. How will that work out for STEVE WARREN on a flying group visit?
On a safety-stop.
Appeared in DIVER October 2018
the indian ocean cuts across wealth, status and power. I'm staying at a Maldivian resort that costs from £600 a night, but the water is murky, the light poor and the sharks far below us. Whatever your net worth, you can't swipe your Amex black card and magic up the perfect dive. Nature doesn't do "have a nice day".
But, topside, Anantara, my host, does. Anantara isn't actually the place to visit for a diving holiday, it's very clear about that – you come here for a holiday with diving.
You come here because you have a partner who doesn't dive or kids who are too young or because you need some real R&R – and which intensive dive-trip ever feels anything but exhausting by the time you finish?
Some divers, especially in clubs, enjoy competing to get the cheapest possible deals on training, kit and, of course, holidays. There are also many others who prefer to do their own thing and are less keen on group trips. Nor are they ashamed to splash the cash to enjoy some creature comforts.
An old friend, Arthur, loved underwater photography and had willingly endured leaky dive-boats with failing generators to reach sites still on the frontier of diving exploration.
But on a led trip to a long-established destination that had an upmarket hotel, he had baulked when expected to stay with the group in accommodation best described as adequate. "I've made a bit of wedge, so, if there's a really good 5* hotel, why shouldn't I enjoy it?" he said.
Anantara is out to attract guests like Arthur who put a premium on service and facilities and understand that those attributes come at a price. For a few days I would be experiencing them too.
We complete paperwork at the Anantara office at Male airport, and at the nearby dockside board Nirvana, a gleaming 17m Sunseeker, for the half-hour hop to the South Male atoll resort.
On arrival the jetty is lined with staff in their best whites, and drummers beat a welcoming tattoo.
Three holiday islands make up this Anantara resort, linked either by piers or complimentary water taxi, with a fourth reserved for staff.
Dhigu is geared towards families, while Veli is adults only. Naladhu is called the private island. It isn't totally private, unless you hire it in its entirety, but it provides the most privacy.
I'm delivered by electric cart to my overwater bungalow on Dhigu. If you don't want to walk around the island, you can borrow a bicycle. The bungalow has a lot of opulent indoor living area, a vast bathroom and a private deck for chilling.
Steps lead down into thigh-deep water, and it's dark as I wander down to test a mask in the shallows.
A sting ray as big as a tennis racquet has settled on the sand beside the lowest step. I get my camera, but the ray has read my mind and departed.
My first dive is scheduled for just a few hours after arrival. The diving is outsourced to Aquafanatics, owned by Silversands which runs watersports operations for many Maldivian resorts.
At the centre, Antoine Perretti studies my qualifications. There's a compulsory check dive. I had wondered if, because my time is limited and as I'm an instructor, experienced and recently dived up, plus reporting for diver, they'll set the check-dive aside for me.
They don't. It's a good sign.
All dives take place from boats, and the 16m Neutral Buoyancy is very spacious. Maximum capacity is 12 guests but it's low season, and on several outings there's a dive-guide, skipper and two deck-hands to look after me and one other client.
Another boat, Zero Gravity, can be chartered for private diving.
Ibrahim, one of the ever-attentive deck-hands, is training as a divemaster. I ask if he has spent time in the States, given his broad US accent. "No, I just watch a lot of American TV," he answers.
Sleep-deprived throughout the trip, I'm grateful to him for buckling me into my harness and ensuring that my hoses are properly routed before releasing the bungee so that I can shuffle to the exit. In the water, I dive on muscle memory.
The dives are follow-my-leader, so if you're an underwater photographer you might like to hire a private guide, or you could struggle to work your subjects without disrupting the other guests.
I got to see diving operations from both group-guided and privately escorted perspectives, and none of the guides rushed the dives or seemed jaded.
shark encounters in the Maldives – baited whale sharks by night excepted – tend to be authentic. Though hoping to get close to sharks and, perhaps, rays, I've been warned that the currents will not be favourable during our visit.
I follow guides Paula Berenguer and Raffaelle Gualndris into the blue, where our search for pelagics begins.
The reef takes shape beneath us, where four or five grey reef sharks can be seen, but we're already close to our 30m threshold. In other destinations, had the sharks not been quite so far below, I'd have thought about crossing that line, but in the Maldives 30m is the legal limit and you have to wear a computer as evidence in case of transgressions.
I don't even raise my camera. I'm liberated knowing that all I can do is enjoy watching the greys.
We move on. I pause to try for a picture and am suddenly overrun by a dozen divers, possibly from a liveaboard. Further on, more divers are strung out on current hooks, like fish caught on long lines.
We pull ahead and leave the crowds behind, and I'm glad to say that this is the only time we share a site with other operators. In truth, there's little to see.
The fact that dives are scheduled at Anantara, as at so many resorts (8am for a two-dive trip, 3pm for a single-tank afternoon jaunt), makes it easy to plan your day around the needs of your lover, friends or family, but also means you can be diving when, as on that day, the conditions aren't conducive to seeing the Maldives' signature eagle or manta rays.
I feel sorry for Paula, who apologises that we spent longer in the blue than intended. If I wanted diving experiences on demand, I'd buy a VR headset and seek out a Blue Planet computer game.
If anything, some swimming against the current is useful, because I'm testing a pair of fins.
Our group is transferred to Naladhu, and even more luxurious ocean-facing accommodation. The villa is subtly furnished and very comfortable, though unostentatious. There are nods to technology with a tablet, flat-screen TV, sound system and phones with personal butler on speed dial 24/7, but the feel is that of a country house.
Below the terrace is a rocky shore that creates a natural barrier to being overlooked, allowing me the rare luxury of skinny-dipping in my private freshwater pool. It's also useful for leak-checking my cameras. There's a sauna/steamroom too.
"it's the maldives!" exclaims Patricia enthusiastically as Neutral Buoyancy rides at anchor between dives. I have asked why she's here, visiting from France.
I know what she means. The reefs at Anantara do teem with life. Some years before I had gone south, way beyond the tourist islands, and found the waters somewhat empty.
I'd skipped dives, bored with failing to find marine-life for my cameras. It was only as we returned to South Ari and the protection from fishing-boats of the tourist islands that the fish began to swarm.
That had been a far cry from my first visit in 2003, when we had kept saying we should back off on our dive-times and regular unplanned transgressions into deco, yet kept doing them anyway, seduced by the incredible pantheon of creatures great and small encountered on every dive.
Diving from Anantara the coral might be drab in places but the reefs still flicker with the movement of anthias, damsels and clownfish holding station in the current as they snatch invisible tidbits. These reefs reignite my previous fondness for the Maldives.
The place is certainly more retreat than resort. "Many people, especially the guys, book us because of all the activities they can and plan to do," PR Manager Lisa Jakobsson tells me over lunch. "Then they get here and do nearly none of it. But, if you have the stamina there's kite-surfing, glass-bottom kayaking, night snorkels, sailing, fishing and parascending on offer".
As we finish our lunch, a waitress draws our attention to three shark pups hunting under the restaurant's small footbridge. I'm enthralled.
christoph rubner takes over the guiding. He's 29 and from Austria. He's a grinner – if you've had a good dive, so has he. He grins a lot.
In the Maldives, you work out what the current is really doing by throwing in a divemaster. It seems to be an approach based on Pooh Sticks.
As we pull up to one site, Christoph isn't happy. He insists on jumping in twice to be sure of the conditions. He's being thorough, and it doesn't go unnoticed.
The skies have cleared and vis has improved, so there's plenty of sunlight playing through the blue water. With Mok, visiting from Malaysia, I follow Christoph along a steeply shelving coral bank.
Soon we have our first turtle, tail-up, head-down in the coral, feeding.
Below us is a distant grey reef shark and overhead a whitetip reef shark. Anthias are schooling around the bommies and there are parrotfish in abundance.
As I turn on my air for my next dive, the regulator I'm testing begins to freeflow. I try turning the air on and off, shaking the regulator and running water through the mouthpiece as well as pulling the cover off the second stage to look inside. I can't see any sand, nor should there be, as we haven't been beach-diving. Nothing works.
There is no spare reg on the boat, an omission for which, later, I will overhear Antoine demand an explanation.
Within 15 minutes a replacement, an upmarket Scubapro, is delivered by jetski. It's an oversight, but it proves that the ship-to-shore radio is working, and I confirm that the oxygen kit was on board.
Mok is an experienced, well-travelled diver with a preference for liveaboards that enable him to make four dives a day – so why Anantara?
"I'm here with my wife, who also dives, and my kids, aged five and three. They enjoy the sun and sea and beach. We like the resort and got a vacation package.
The kids can enjoy the facilities and I can take some time off to dive."
He expects to do more family trips like this as his children grow up, while also taking time out for more intensive diving holidays on his own. The Maldives is a good choice, he affirms – good fish-life, good sites, good resort. "There's not so much overfishing and big species are more friendly and come up closer than in some other destinations." How does he rate Aquafanatics? "Five star."
Brian Moh runs my next dive. Within seconds of hitting the water and while still at the surface, the other diver in our group has an anxiety attack, and Brian is straight on her. My own reactions are slower, to my shame. Brian is supporting her. I swim over and take her weightbelt. We quickly get her back onboard.
She's had a bit of a fright, and I briefly sit with her and explain that we all have those moments and how, early on in my career, I'd had a real scare.
I tell her how back then a far more experienced diver told me these things happen sometimes and reassure her that she'd done really well. I'm impressed by how decisively Brian acted. We re-enter the water as a pair, Brian spotting for me.
Kuda Giri with its archway and fishing trawler is a site I've already dived twice before. Aquafanatics isn't getting to show off the best diving I suspect its local waters offer. You might need to time your visit here not according to flight schedules, but tide-tables.
I'm suddenly out of time, and I haven't even found a moment to take the snorkel trail off the main island beach.
Before the flights home I opt for a massage – not just sheer indulgence, because I'm often racked with shoulder pain when I carry hand luggage.
Anantara is big on luxury spa treatments, with centres on Dhigu and Veli, the one I try. I'm asked which level of massage I want. Unsure, I order the way I opt for steak – medium. Forty-five minutes in, I fall asleep. It's the perfect end to my luxury holiday with some diving.
So, do you get what you pay for? As I wasn't paying, let me throw that question back at someone who was: Mok. "Worth every penny," he smiles.
FACTFILE
GETTING THERE> A number of airlines fly to Male from UK airports, often via the UAE or
Sri Lanka.
DIVING & ACCOMMODATION> Aquafanatics, facebook.com/aquafanaticsmaldives. Anantara Dhigu and Veli Maldives Resorts and Naladhu Private Island, anantara.com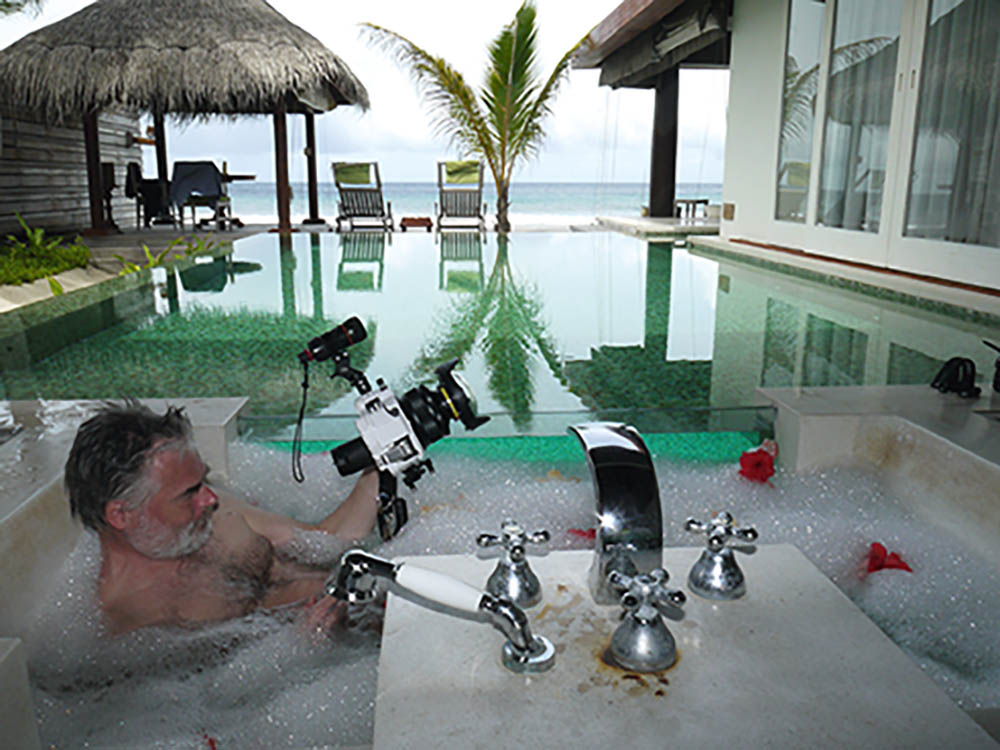 WHEN TO GO> Year round, but on average visibility is best between December and May, mainly because the weather is calmest then.
MONEY> Maldives rufiyaa, credit cards at resorts.
PRICES> Half-board nightly rates at Anantara Dhigu Maldives Resort start from £602pp per night, Veli from £594 and Naladhu (B&B) from £855. Return flights from London to Male from £470. Packages of 6-11 dives cost US $80 per dive.
VISITOR Information> visitmaldives.com