PHILIPPINES DIVER
Crystal Blue,
Midnight Black
HENLEY SPIERS & JADE HOKSBERGEN cross over to the dark side during a
rewarding trip to Anilao
A larval crab is just one member of the 'greatest migration on Earth'.
over the past decade, Anilao has exploded from a local secret into an internationally-renowned macro hotspot to rival the likes of Lembeh and Ambon.
Now that we're permanently ensconced in the Philippines, and with an ever-present macro itch to scratch, we decided that it was high time to hop on over and check it out for ourselves.
To get there you fly into Manila and then take a three-hour (traffic-dependent) drive to your resort of choice.
Mike Bartick has been a central figure in putting Anilao on the international map (to the chagrin of those who wished it had remained their private playground) and we decided to stay at his underwater photography-focused resort, Crystal Blue.
There by mid-afternoon, we couldn't resist the allure of the water, and signed up for a night-dive on the house-reef.
Frankly it was a frustrating and unproductive immersion, as we struggled with technical glitches to both camera and dive gear. No matter how often you dive, it seems that a new location always presents a few challenges as you get back into the groove and settle into the rhythms of a new dive-shop.
We retreated to the camera-room and made the adjustments that would ensure a smooth tomorrow.
With 50 dive-sites in the region one is not short of choice but, as is often the case with diving for macro, the focus is less on the site and more on the creatures to be found there. So we kicked things off with a nudibranch safari at Mainit.
Only 10 minutes' ride away by bangka, we were surprised to find such a luscious reef that it had us missing our wide-angle lenses. However, within minutes our guide Glenn had eased our consciences with a group of Kubaryana's Nembrotha – a green and black sea-slug with neon orange rhinophores, made famous by Alex Mustard when his image of one was awarded in the Wildlife Photographer of Year competition.
For a hungry nudibranch, Mainit's healthy corals are a delicious buffet, and the proliferation of sea-slugs delighted us as we uncovered more and more species over the next hour under water.
Appeared in DIVER June 2019
a surface interval later and we were headed to El Pinoy, headlined by Ambon scorpionfish, lemon gobies and the possibility of mimic octopuses. Glenn was both expert and tremendously helpful to us as photographers, ensuring that we spent as much time as possible shooting rather than looking for subjects.
Soon enough I was taking my pick from three heavily filamented Ambon scorpionfish, while Jade spent the whole of her dive patiently waiting for a tiny, cute lemon goby to yawn (it seemed a perfectly rational decision at the time!).
Originally from California, Mike Bartick has three main passions: cooking (he used to be a chef), diving and underwater photography.
We were pleased to find that Crystal Blue reflects its general manager perfectly. The dive schedule is packed, with up to four long dives a day available. The dive-guides are highly trained to work with photographers, and the camera-room is the best I've seen, with lots of large, individual stations available and even international converters so that you don't have to bring your own.
Finally, the food is fantastic, with every meal served as a buffet, offering a selection of international and local dishes and, crucially, no waiting on your food order between dives. Everything is set up so that you arrive, dive and shoot your heart out without a worry in the world.
The only real wreck in Anilao is the Dari-Laut, and it comes with quite a back-story. In the 1960s it was based in Thailand as a converted barge with a youth hostel on top. It also sidelined in smuggling heroin and marijuana, which would eventually lead to its seizure by the Thai police.
Auctioned off to new owners, it was moved to the Anilao area in the '70s, becoming one of the few accommodation options for divers. But discord among the owners meant that it was set on fire in an insurance scam, and sank.
In one last tragic addition to the tale, a German diver exploring the Dari-Laut soon after it went down became disoriented and perished inside.
These days the Dari-Laut leads a far more sedate existence, heavily encrusted in coral. With nothing but the skeleton of the ship remaining, it's a nice, shallow wreck-dive in a protected bay about 20 minutes' ride from Crystal Blue.
Once again, although we came equipped for small stuff we observed that a wide-angle set-up would not have been out of place at this site.
Continuing in her mission to find the cutest fish in the sea, Jade settled by some Acropora coral where a few pinkeye gobies were hovering. These inch-long fish have translucent bodies, a yellow belly and an oversized, neon-pink eyeball.
Meanwhile Glenn led me inside the shell of the wreck, where we scanned a group of cardinalfish for signs of eggs.
One individual's mouth was slightly agape and, with a little patience, our suspicions were confirmed when he opened wide and shuffled the eggs to ensure that they would all remain well-oxygenated.
I had brought along a snoot and an idea for a slow-shutter image that would eventually require three dives on the Dari-Laut and a lot of patience to achieve.
The idea was essentially to light the subject using the snooted, spotlight-style beam, while moving the camera to create a hazy blue blur around. I ended up liking the effect so much that it became a series of images covering a variety of subjects.
anilao is a hotbed for blackwater-diving and, having only ever attempted a couple of DIY blackwater dives, we were very keen to give it a go with the experts.
The basic premise is to witness what David Attenborough once famously described as "the greatest migration on earth". Almost every fish and creature on the reef, in its larval stages, starts life in the pelagic sea.
Taking shelter in the deep water by day, all these organisms drift up at night to feed – a huge mass of planktonic animals, each minutely formed.
Blackwater-diving is believed to have originated in Hawaii as far back as the 1970s, but until recently was the preserve of only a few radical pioneers. Today, it's one of the most fashionable styles of diving, especially loved by photographers, for whom it represents a whole new array of mindblowing subjects.
We headed out at night and threw in a lighted buoy, with a line descending to 20m, equipped with powerful lights every few metres. Several other boats were also engaged in this curious mission.
We jumped in with no point of reference but the lights on the rope, a disconcerting, dark and gloomy environment.
As we followed Glenn and our eyes adjusted, tiny apparitions glided by. At first we noticed the small jellyfish and tunicates – beautiful, but soon overlooked once we started spotting larval mantis shrimps and pelagic squid!
The cephalopods are the rock stars of blackwater-diving, their lack of skin pigmentation giving them a truly alien appearance. The words "settling wunderpus" seemed to be on everyone's lips pre-dive, with the experienced guests hoping to see one, and the dive-guides carefully tried to manage expectations.
Call it beginner's luck, but halfway through our first proper blackwater dive excitement rippled through the sea as we all rushed to a guide's flashing torch to find – a settling wunderpus!
I had only ever seen them in photos, usually the kind that win awards, and it truly was a magnificent creature. Intelligent eyes gazed back at us from a palm-sized body, its brain visible through the translucent head.
We would later find out that this octopus will spend up to a quarter of its life in the open ocean, building up strength before settling on a reef.
The atmosphere in the water was electric, with this tiny organism commanding the attention of every diver, and as we surfaced we were screaming with joy. Blackwater-diving is amazing, we are totally converted and would seriously recommend that you give it a go (with a well-organised operator, of course).
Blackwater-diving has gained such a following that some divers will now flip the schedule upside-down, diving all night and resting during the day – hungry for that next, incredible larval creature that crosses their path.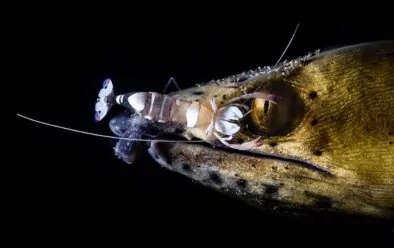 Blackwater was now a staple part of our daily diving diet, but in between we visited the muck-diving spot Coconut, and came across a highly co-operative and engaging subject. The black saddle snake eel is over a metre long but conceals its size by burying in the sand, with only its head protruding.
These eels have struck up a particular bond with cleaner shrimp and, as we ventured down the sandy slope, we came across a shrimp and eel engaged in a beautiful relationship.
While the eel lay prone, silently hoping that something tasty would swim by, the shrimp was busily bobbing around, cleaning it of parasites and getting a free meal in the process.
These eels look like a cross between a snake and a dinosaur, but this appearance belies their placid nature.
The shrimp could comfortably climb all over the eel's nose, mouth and eyes like an over-affectionate puppy, without ever getting the slightest reaction from its much larger companion.
quite possibly the most famous site in Anilao is Secret Bay, and we were frequent visitors to this large, mucky site, which merits several dives.
Away from the endless visual stimulation of reefs, the magic of muck-diving lies in finding treasures in a seemingly barren landscape.
This is one of the best sites in the area in which to find seahorses. We encountered a thorny seahorse on this occasion, a personal favourite as its smooth and slightly translucent skin, combined with a ridged body, makes for an excellent photographic subject.
Sadly, this kind of seahorse is also commonly harvested in large numbers and dried for use in Chinese medicine. Over two millennia, seahorses have become famous as a way to combat erectile dysfunction and demand is greater than ever as the Chinese economy grows.
Seahorses are targeted by some fishermen in the Philippines to satisfy this demand, so a tricky dilemma presents itself. One of the benefits of macro-diving tourism is that it gives financial value to these smaller creatures of the sea.
Indeed, a rare research paper into the macro-diving industry by Maarten de Brauwer conservatively estimated that dive-guides in the Philippines and Indonesia netted US $51 million annually from guiding muck-divers.
Knowing all of this, encounters with seahorses leave me with mixed feelings, and I can only hope that the economic benefit of tourism will outpace that of traditional Chinese medicine in the Philippines.
Anilao lived up to our expectations of world-class macro diving and introduced us to a new, and highly addictive style of diving: blackwater! While the macro opportunities abound, we plan to return with wide-angle lenses, because the area has a great deal to offer in that regard.
It might not be a secret anymore, but Anilao has earned a special place in our diving hearts!
FACTFILE
GETTING THERE> Philippine Airlines offers the only direct flights from London to Manila. The three-hour road transfer to Anilao can be arranged by the resort.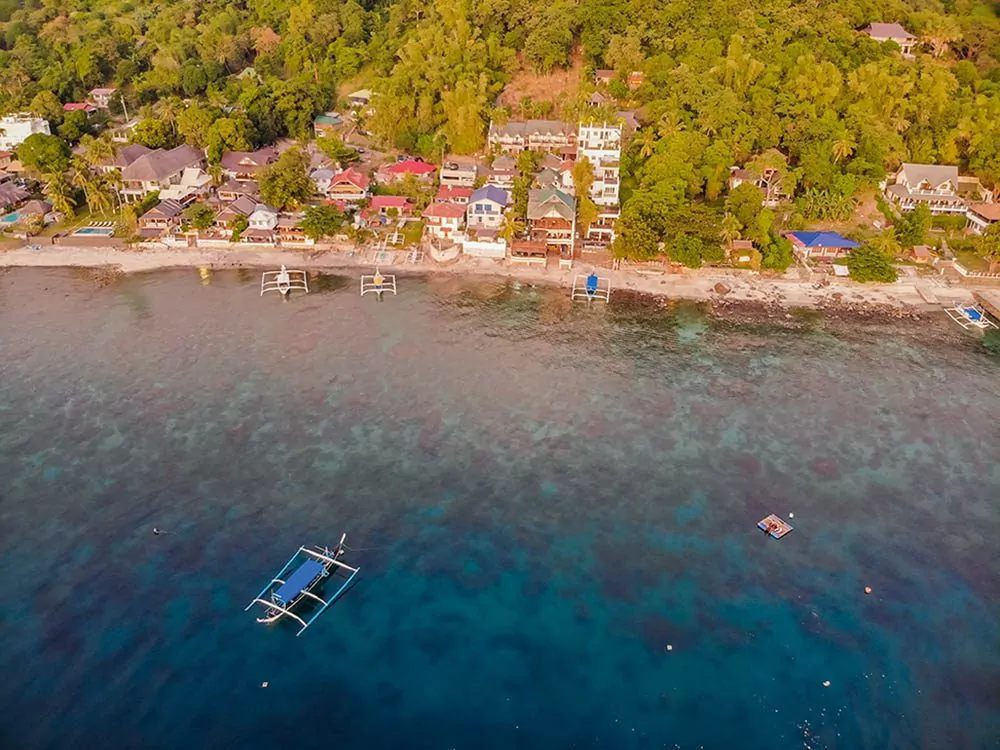 DIVING & ACCOMMODATION> Crystal Blue Resort offers a range of packages, divecbr.com
WHEN TO GO> Year-round. October to June is high season.
HEALTH>Nearest hyperbaric chamber is Batangas Hyperbaric & Wound Healing Centre in the Anilao area.
MONEY> Philippine peso.
PRICES> Return flights London to Manila with Philippine Airline from around £600. A seven-night stay at Crystal Blue with all meals, 18 boat dives and nitrox costs US $2582pp.
VISITOR Information> itsmorefuninthephilippines.co.uk