CARIBBEAN DIVER
South Tobago – River, Sea & Ocean
This small island makes a big impression in terms of the quantity and quality of its underwater sights. LISA COLLINS reports from one half of this Caribbean marine-life trap – watch out for her follow-up report soon
Porthole on the Maverick covered in Tubastraea soft coral.
Appeared in DIVER October 2018
"how's the water, randy?" John Austin, co-owner with wife Wendy of R & Sea Divers. His chief divemaster, with his 20 years-plus experience of diving in Tobago, replied: "Is black, man!"
We were in Tobago at Wendy's invitation, R & Sea being a member of the Association of Tobago Dive Operators (ATDO). She and John had moved there from Basingstoke 15 years ago, after an initial holiday visit and several more in the following 18 months. When R & Sea Divers came up for sale, they bought it.
We were staying at Shepherd's Inn, formerly the Toucan Inn, bought and refurbished by Colin "Sheppy" Shepherd in 2014. Located on the southern tip of Tobago at Crown Point, it's just far enough away from the busy centre of town but within walking distance of lots of bars and restaurants, and a five-minute drive from the beach, where the dive-facility and boat can be found.
We looked at John and Randy quizzically. The water didn't look black from where we were standing, more pale green. "It's the Orinoco – the weather's been bad in Venezuela," John explained. Still not much the wiser, we unpacked our kit.
We were joined by Sonia, on holiday with husband Adam, fellow-guests at Shepherd's Inn. They were taking it in turns to dive each day while the other looked after their five-month-old baby boy Ocean. It was Sonia's turn today.
R & Sea Divers usually offers small-group, personalised diving, though it can cater for larger groups from dive clubs. Today, it was just the three of us.
Randy and captain Shomari helped carry our equipment onto the dive-boat, moored off the beach. Shomari skillfully manoeuvred the boat into deeper water before speeding round the tip of Crown Point and east, where the Atlantic Ocean meets the Caribbean Sea.
Once past the tip, we saw the water turn dark brown. According to Randy, the plume of the Orinoco river on mainland South America is carried up on the Guyana Current, close to the shores of both Tobago and sister-island Trinidad.
This, he said, was one of the factors that makes diving in Tobago special.
river plumes occur where nutrient-rich waters from deep inland, including mud or debris swept into the water by rain-storms, are pushed far out to sea on a current. This exerts a massive influence on reefs and marine life. What we were seeing was the result of recent rainstorms in Venezuela, 100 miles away.
Because of the Guyana Current, the flow can be pretty strong around Tobago. Flying Reef is a drift-dive, with varying strengths of current depending on tides and moon cycle. Randy told us to stay close, because in the dark water visibility was likely to be low. He reminded us of the standard one-minute search pattern in case of separation several times.
We rolled into the slightly choppy waters and descended quickly as a group. Randy had his SMB up.
For the first couple of metres the water was milky-green, with 5-7m visibility and a notable halocline where the salt water of the ocean met the fresh water of the Orinoco. Deeper down we passed into Randy's "black" water – in reality, a very dark brown soup.
We closed together as the vis reduced even further until, at around 10m, we emerged into milky-green water again.
Through another halocline, the vis improved to 10-12m. We descended to 14m and a sandy seabed scattered with coral blocks, an incredible number of giant sponges, and large fronds of soft coral waving in the current.
We tried to stay together in the medium current, but after five minutes, as I turned to take a photo, the current picked up and split us into two buddy-pairs. Flying over the reef, we looked for tell-tale signs of air-bubbles but, after a minute of spotting neither bubbles nor Randy and Sonia, we followed the plan and ascended.
Luckily we did so near the boat, and Shomari spotted us without us needing to deploy our SMB. In the short space of time we could see that Randy and Sonia, at a slightly different depth, had been carried quite a distance.
After being picked up we decided to drop down again, but all to keep within touching distance.
At the bottom the current had dropped slightly, and as we continued, the group stopping as one for photography, it faded to virtually nothing. We moved apart and spent the last 20 minutes of the dive exploring the reefs, finding a large coral-covered anchor and chain on the sand.
the fish seemed far more abundant than I had seen anywhere else in the Caribbean. Chunky grey and French angelfish dominated the site, oblivious to our passing as they chomped down on the reef. Trumpetfish were everywhere, camouflaged in the fronds and big enough to be easily spotted. Yellow-stripe snapper in big schools sought refuge among the soft corals and around the anchor. We also saw fish we had never seen before in the Caribbean.
The first underwater colour photograph ever taken was of a hog snapper, off Florida in 1926. I had never seen one before but recognised its distinctive shape and patterning.
Painted lobster and white-spotted and giant green moray eels hid in crevices. Arrow crabs the size of dinner plates stood by to catch passing prey.
From the dive-shop we hopped into our hire car, arranged for us with Sheppy Auto Rentals, Colin Shepherd's original business on the island.
This allowed us to explore the south of the island every day after diving, usually taking in a roti shop for lunch. Along with a local beer a huge chickpea, potato and chicken-stuffed wrapped roti went down well – and all for under £3 each!
The Republic of Trinidad & Tobago has made its money from the oil and gas drilled off the larger capital island, where most businesses and the government are based. In contrast Tobago is sleepy and quiet, with tourism and diving its main, but very small, industry.
Oil revenues have dropped but the government has done little to market Tobago, and its tourism business is hurting. Annual visitor numbers have slumped in the past 10 years from 100,000 to 17,000.
Checking conditions the next day, Randy gave us some dive-site options, and we decided to go west towards Mount Irvine and dive the Maverick. The Orinoco flow passes to the east of Tobago, so it would not be affected.
I had opted for my macro lens, based on the previous day's experience, but was happy to dive a wreck that John had told me was full of macro life.
Skipping over light swells, we could see that the visibility had cleared slightly. We passed by Pigeon Point, with its beautiful beach, and over Nylon Pool, named by Princess Margaret because she thought the water was as clear as her stockings and made one look 10 years younger. Then we passed shallow Buccoo Reef, popular with snorkellers and glass-bottomed boats.
The Maverick's mooring buoy is two miles out from Mount Irvine beach. She was a passenger and cargo ferry, built in 1960 for transit between Trinidad and Tobago, and after nearly 40 years of service was sunk by the ATDO and Tourism Development Company as an artificial reef in 32m, standing almost upright on a flat sandy seabed.
At 60m long and 11m wide the wreck can be explored in one dive, though with the top of the wheelhouse at 24m, deco limits usually restrict dive-time to around 40 minutes.
we followed the mooring-line down to the top of the wreck. Vis was more like it, at around 15m, and we felt hardly any current. A large school of rainbow runners came up to meet us before we reached the colourful deck, encrusted with corals, big gorgonian fans and soft corals. Fish were everywhere.
Randy took Adam on a tour of the wreck while Mateusz and I concentrated on the smaller life on the raised bow, mast and wheelhouse.
Many beautiful-looking but dangerously prickly fireworms hung on the seafan branches; a few crawled over the deck. Damselfish and cleaner wrasse darted about, and tiny blenny faces poked comically out of almost every hole. A curious white-spotted filefish, battered and missing most of its "file", following us around the deck for some time.
After 35 minutes, we headed up the line. At 5m a knot denoted the safety-stop depth. A movement caught my eye – hiding in the knot was a miniscule slender filefish.
Back on board, Adam asked Randy about the giant fish under the stern. I kicked myself for not following them as Randy explained that they were cobia, and big ones at that.
Back in Mount Irvine Bay we cooled off in the shallows, while Shomari ran to the small beach bar to check on World Cup developments. A second, very lazy bimble followed at Mount Irvine Wall, at the edge of the northern end of the bay.
Interesting rock formations and swim-throughs made from rock boulders and coral blocks on the sandy seabed led us o discover many chunky angelfish, grouper, orange and white-spotted filefish, a big but shy porcupinefish, pretty sharpnose puffers, painted lobsters and a white reef octopus buried into a cut in the wall.
Randy spotted a humungous king crab under a small overhang, followed by something very rare to see, especially in daylight – a shortnose, red-lipped batfish.
As I went in to take a photo of the aesthetically challenged creature, a slight movement beneath me made me jump.
A perfectly camouflaged stonefish was warning me of its proximity.
Where the edge of the rock met the sand, dancing movements similar to those made by juvenile drums caught my eye. Tiny 2cm fish with long dorsal fins like ribbons seemed to be around every corner. It took an online search later to discover that they were juvenile high-hats. Another first for me!
With a mean depth of 13m we managed an 81-minute dive before, reluctantly, we returned to the surface.
Dinner couldn't come soon enough, as we enjoyed a delicious coconut shrimp and fish of the day at the restaurant by the hotel pool. For a small hotel, the food far exceeded our expectations.
With Sonia and Adam touring the island next day we had the boat to ourselves. We wanted to go back to Mount Irvine and explore two sites. Again we had macro lenses on, so were looking for long shallow dives.
Mount Irvine Extension was a continuation of the previous day's second dive. Being low tide,we felt a slight surge as we explored a small bay, formed by the rocks above, and continued through canyons and overhangs.
A young, curious hawksbill turtle came close to check us out. The 15m seabed had formed into strange, uniform sand bumps I haven't seen before. As we swam over a large rock, on the sand below was a huge southern sting ray with its tail missing. Its wingspan was more than 1.5m.
dutchman's reef, just off the beach, was our second dive, named after a coral-encrusted cannon found there and originally thought to be Dutch, though in fact French. Another king crab, a giant green moray and lots of grey and French angelfish were found around boulders covered mainly with brain coral and plating hard coral, sea-fans and soft corals. A neon blue jawfish lay in the sand.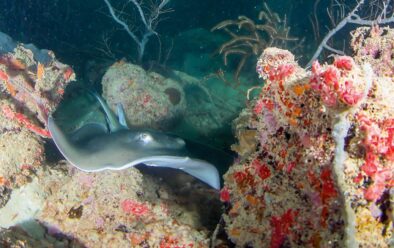 Two relaxing dives adding up to 150 minutes left our memory cards nearly full.
We were happy to dive the Maverick again, for Sonia's benefit, this time with wide-angle to go in search of cobia.
The wind was now whipping the sea into small white-capped waves and the skies were more overcast. After a bumpy ride Shomari and Randy managed to find the small mooring buoy quickly.
The visibility was a little lower than before, and we couldn't quite make out the sand from the deck. Fish flocked around the rails, and the whole hull was covered in tubastraea sun coral, a riot of bright orange and pink.
We rounded the stern and followed Randy down to the seabed to peer under the cargo-holds, collapsed by storms.
The cobia weren't there but, surprising us greatly, we saw another shortnose red-lipped batfish, perched on its hand-like fins.
Back at the wheelhouse we peered through portholes and windows, watching the marine life going about its business. One window was almost completely covered in gorgonian sea-fans. As we ascended, I showed Sonia the tiny filefish in the rope knot.
Back at Mount Irvine Wall there was a little more surge, but we found the original shortnose batfish again and explored a cavern.
A French angelfish approached Mateusz with, attached to one side, a remora that was clearly bothering it. Again and again it rubbed up against his camera and metal pointer to try to dislodge its unwelcome guest, unfortunately without success. There was little we could do to help.
Our last two nights in the south were to be spent at Plantation Beach Villas in Black Rock, a little further up the Caribbean coast from Crown Point and a 20-minute drive from the dive-centre. The location is said to be perfect for viewing nesting hawksbill, green and leatherback turtles from January to September.
The local SOS turtle organisation can alert you if any turtles are spotted laying their eggs, which they do at night.
Sean, the manager, showed us around a three-bedroom, three-bathroom villa built in plantation style with a large lymin' deck, perfect for parties.
He had arranged for villa attendant Betty to make us one of Tobago's best-known dishes, pelau, a delicious combination of rice, beans and chicken.
Our last day diving in the south was to be Adam's too, so we were surprised to see a smiling Sonia at the dive-centre. Adam had gifted his last diving day to her to spend quality time with Ocean – and also to watch a crucial England match.
could we dive the Atlantic again? Randy warned us of swells and rain, but Sonia was up for it too so Shomari set off towards Scarborough, the island's main town. The seas were indeed bouncy as we headed to Cove Reef, 1.5 miles offshore.
There was no sign of "black" water – the Orinoco flow was virtually invisible, leaving only a small halocline just below the surface and again at around 18m.
The current was fairly mild as we descended to 22m, swimming slowly across the hard coral boulders and plating corals that made up most of the reef.
I saw a couple of lionfish, which Randy expertly speared, practising the culling techniques needed to control the invasive species. Another hog snapper caught my eye, displaying different patterns as it tried to hide itself in the soft coral.
A beautiful, almost neon, queen angelfish stood out on the reef. Mateusz found a hermit crab the size of a football crawling over the sand, as well as several white-spotted morays and one golden-tailed version. And Randy called us over when he found a fat juvenile nurse shark resting in a hole.
Our final dive in the south was at Bopez, or Ketchup reef, named after a cargo boat filled with tomato sauce that foundered on the reef nearby.
On a sandy slope, we started our dive at 20m, ascending over the reef and finding a sting ray on a coral boulder and a forest of soft coral fronds – a refuge for so many fish. A really enjoyable 72-minute dive.