CARIBBEAN DIVER
The decorative hallmarks of St Lucia dive-sites are its sponges – drop onto these scenic reefs and prepare for a rich slice of Caribbean marine life. STEVE WEINMAN makes the most of his stay – and an irritable turtle adds to the merriment
The hawksbill turtle looked baffled. In front of it was what appeared to be an inoffensive chunk of sponge with red algae attached to it, debris a diver wouldn't even notice, but there was something about it that fascinated that turtle, perhaps even rendered it a challenge.
I had been watching a peacock flounder when dive-guide Dave indicated the turtle's backside some distance away.
There were only the two of us on the dive, at 24m and with nowhere special to be.
As you do in these circumstances, I acted as if I hadn't seen the turtle and set off at a discreet angle in the hope of moving surreptitiously round to its head-end, then nonchalantly closing in.
As I circled and settled a few feet away from it, just above the sand, I realised that I'd been given the greatest gift a diver can hope for when approaching normally skittish marine life – Preoccupation.
That turtle couldn't have cared less about me. It was prodding the rubble with its beak, swiping at it with its flipper. This raised little clouds of sand, and
a dedicated team of bluehead and yellowhead wrasse had arrived to help.
As the fish darted at the turtle's toy, whether because it contained something appealing or just because the turtle wanted it so badly, this seemed to infuriate the turtle. I swear at one point it lifted its head to roll its eyes to heaven.
Then it uprooted the thing and was off like a winger on a mazy run, booting it along the sand towards me. Did it want to eat it, keep it or torment it?
I stayed entranced for some time, until finally managing to tear myself away. There would be other things to see; there usually were in St Lucia.
I rejoined Dave and, glancing back, could see the turtle and the wrasse still engaged in a cloudy altercation.
The dive-site was Devil's Hole, and I was glad I did move on, or I might have missed the large seahorse on its red perch that proved as pleasingly indifferent to my presence as the turtle had been.
Memorable moments from a memorable trip. I had visited this Caribbean island some years before and remembered it for its turtles and for the gentle nature of the dives.
This time I was here in October, taking a bit of a chance on the weather pre-season but enjoying the fact that the currents seemed stronger this time, facilitating some enjoyable drift diving.
Also, I was staying at a resort I had long wanted to visit, one of the best-known on the island. Anse Chastanet is a remarkable blend of architecture with Nature, extending vertically through trees, foliage and flowers to its uphill and even more upscale sister-resort, Jade Mountain.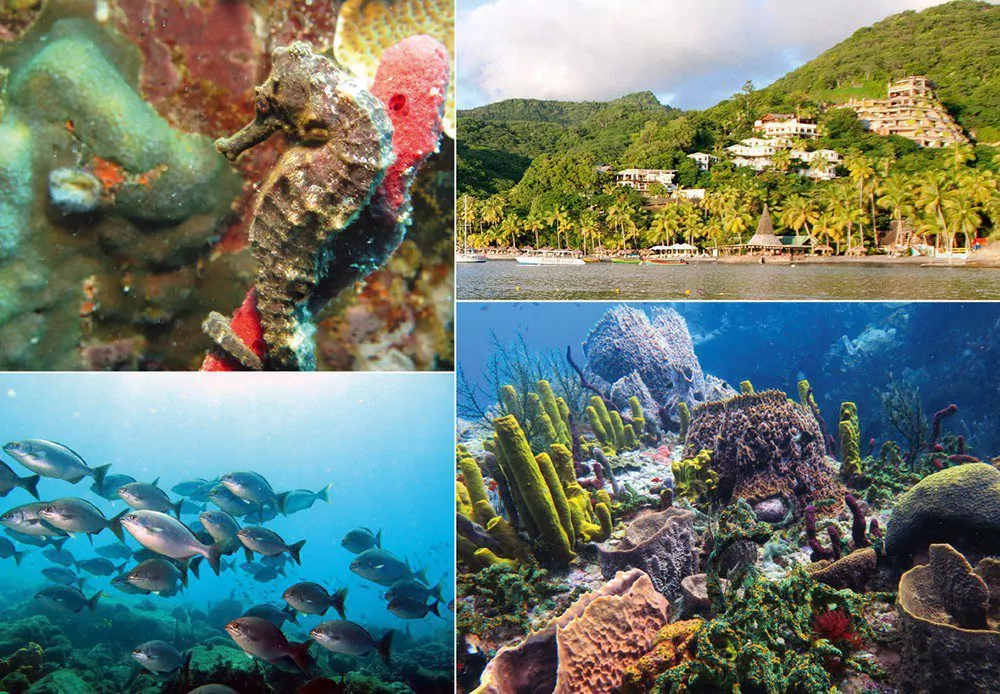 We had attended a reception there on arrival, sipping cocktails high above the treeline and marvelling at the view north towards the famous twin Pitons, and the layers of infinity pools for the rooms below. The owners frequently refer to "the fourth wall" being absent from many rooms, so facilitating spectacular views.
Those owners are Nick and Karolin Troubetzkoy, who are now planning a third phase of development on the 60-acre estate. Jade Sea will sweep down towards the two private bays below, with their silver-sand beaches sweeping into what is now a marine reserve.
Our spacious beachside room was in a desirable location as it was only a few steps from Scuba St Lucia dive-centre.
That meant a winding climb to the restaurant far above for breakfast and dinner – you could always call for a shuttle, but the exercise was welcome.
And the room was well-appointed and very comfortable.
I didn't have far to go on my first morning for the check-out dive. In my experience these can turn out to be as good as any other dive, and this shore-dive certainly set the week up nicely.
Set out on the sand and in the seagrass were a number of set-pieces guaranteed to divert any diver, almost as if there by design. I mean, how can you complain about seeing a little white seahorse in the first few moments of your first dive, and later a tiny red frogfish perfectly positioned for portraits.
There were moray eels, peacock flounders and several sharpnose eels slithering around in the open. I was to see a lot more of these attractive snake-like eels than I remember seeing before in the Caribbean.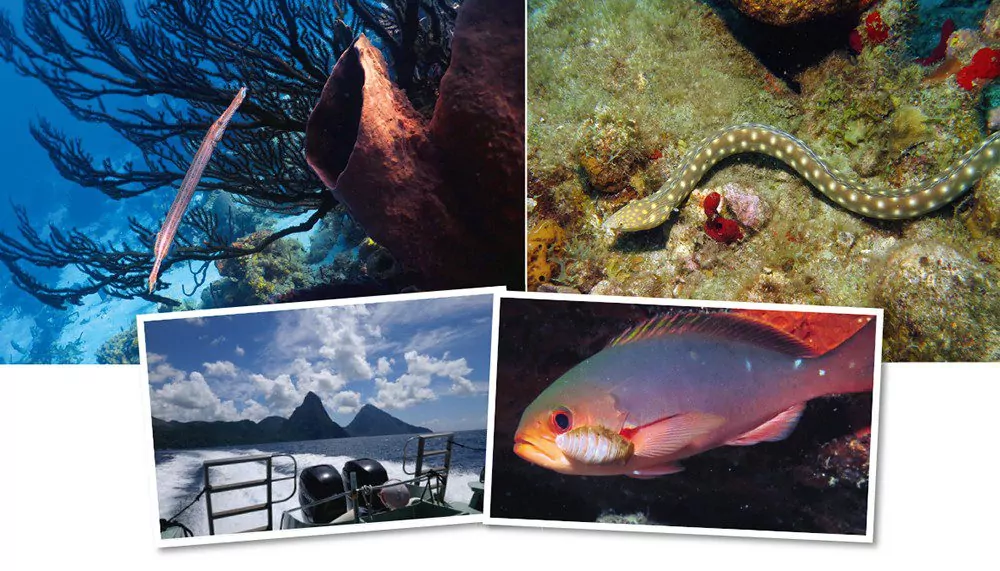 That afternoon we made the first of several visits in one of the centre's four dive-boats to Fairyland, a site I well remembered. It sums up the appeal of St Lucia, because it looks so damn good.
I suppose most of us have grown too used to seeing a deterioration in coral reefs these days. The corals in St Lucia are no more all pristine than they are elsewhere, but there are plenty of beautiful hard corals, particularly of the brain persuasion, and a profusion of soft corals including seafans.
But what makes St Lucia reefs stand out are the sponges and their variety.
Vast red barrels, yellow-to-gold tubes, lavender-to-purple pillar sponges, and all the flat encrustations in every colour imaginable make for extraordinary seascapes, and nowhere is this more evident than at Fairyland.
I had been reading about people who suffer from trypophobia, the fear of holes. It's a terrible affliction that I wouldn't wish on anyone, and I certainly would advise them against diving in St Lucia, because the profusion of container-style sponges mean there are holes everywhere.
Also common at sites such as Fairyland, of which there are quite a few, are reef denizens such as trumpetfish posing against the sponges and waving soft-coral fronds, sergeant-majors, parrotfish and bright red bigeyes lurking in pools of shade. From time to time you look over to find a solitary barracuda shadowing you, in their sinister way.
I freely admit to having been a bit of a glutton while staying at Anse Chastanet. This applied to the dining, which was exceptionally good, but also to the diving, because I'd been out of the water for a while, so did fill my boots.
It being pre-season, there weren't that many other divers around, but I kept the dive-boat crews and guides busy ferrying me to the many dive-sites, most only a short ride away, south towards the Pitons or north towards Anse La Raye.
The guys kindly professed to prefer to be working when I expressed my half-hearted guilt – and I was happy to believe them. They were great company, highly professional and a credit to the operation.
Enjoyable as the reefs were, they could sometimes seem a little samey (they wouldn't have, had I been less greedy). But it was particularly pleasant to dive a couple of wrecks for a change of pace.
We were able to combine new girl Vicky B with tried and trusted Lesleen M on one terrific dive with, I'm glad to say, other guests along for the ride on this occasion.
Vicky B hadn't been a wreck when I last visited. In fact it had been scuttled as an artificial reef for only about 18 months, so was not heavily colonised.
It lies just out of sight of Lesleen M in the Anse Cochon (Bay of Pigs) area, part of an effort to boost the number of dive-sites and take the pressure off existing ones, but also there because the older wreck is becoming less safe to penetrate.
Vicky B had been an eyesore, lying impounded in the harbour of the capital Castries for seven years. On the seabed at 25m or so, it is now making itself useful.
This 1960-built freighter has a bit of a shady past, too. When it was seized off St Lucia in 2011, its cargo was found to include, in a compartment in the bow, significant amounts of cocaine, cannabis, guns and grenades. Six Guyanese crew were arrested; the owner went into hiding.
We toured the wreck from the line at the stern, where the rudder and prop sit clear of the sand. Shoals of baitfish hung over the deck.
Overhead and dominating the scene was the crane, already supporting a surprising amount of frondy growth as it dangles over a hold that's open to explore. A forklift truck has been left in there. Did it or the crane ever handle contraband?
The scooped-out bow with its winch and the rest of the wreck should keep photographers happy. We stayed for some time before shuttling over to Lesleen M.
About 50m long, built in 1947 and scuttled back in 1986, what strikes you is the resplendent colonisation of the wreck by corals, sponges and fish.
This time we started from the bow and, working our way along, could see that the hull where the hold starts has folded in on itself. There are yellow tube sponges everywhere – zero in and you'll find cleaner shrimps among them.
Speckled moray eels and stonefish have found homes there too, I noticed.
The layout isn't unlike that of the Vicky B and gives an idea of how that will look a few decades down the line. It's quite a treat of a double-decker dive.
Nearby Anse Cochon coral reef is also well-populated, and makes for a pleasant shallow follow-up dive.
Other picturesque sites came and went in what became a blur of sponges, corals and fish – Coral Gardens, the Pinnacles, Jalousie, and the landmark Pitons.
I see these twin peaks on a hoarding whenever I drive along London's North Circular Road, and they always make me long for the Caribbean.
That day at the Pitons I was drawn to a haunted-looking creolefish with a parasitic crustacean attached to its gill. I wished I could have removed it.
Moving on, a pinkish frogfish seemed to be straining to attain the deeper orange shade of the coral into which it was trying to melt. Nearby a blue Pederson's shrimp danced about, and I looked up from it to see a shoal of Bermuda chub. Coral-reef cameos. Even on the safety stop, we were accompanied by a lone baby squid.
The only downside were a couple of lionfish. Often, when in a group, a vigilant guide at the rear will be discreetly sweeping such invaders into a container.
I'd started diving on the Tuesday and we were covering more ground as the currents increased, as at Grand Cay and Malgretoute. This also offered the chance of a faster spin through Fairyland than I'd experienced before.
Contrasting slightly to some of the sites was Turtle Reef, which we visited a couple of times. It was such a short ride out on the boat that while I was still asking how far it was, we were there.
An extension of the house reef with seagrass and coral outcrops over sand, it's a happy place to be. An octopus burrow is the first required stop, but you're lucky to see more than a baleful eye wrapped in tentacles. Corals are adorned with multi-coloured Christmas tree worms, and here it's the turn of a golden frogfish to fail to make itself inconspicuous.
A handful of spiny lobsters wave their antenna from neighbouring ledges, but the star turn is a giant green moray.
A turtle swims into view, but it doesn't hang around. Fair enough – I can hardly expect them all to be preoccupied.
FACTFILE
GETTING THERE: Steve flew with Virgin Atlantic. These flights stop in 2020 but direct BA flights are continuing.
DIVING & ACCOMMODATION: Scuba St Lucia is a PADI 5* dive resort at Anse Chastanet.
WHEN TO GO: Year-round, though the Caribbean stormy season runs from June to November. Water temperature is 28-30°C.
MONEY: Eastern Caribbean or US dollar.
PRICES: Return flights from £530. Nightly room rates from US $375 (two sharing). A 10-dive package costs $350, nitrox adds $75.
VISITOR Information: Saint Lucia Caribbean Island Official Tourism Website