PHOTO TECHNIQUE
Be The Champ!
The Spread  / Alex Mustard – Small in the Frame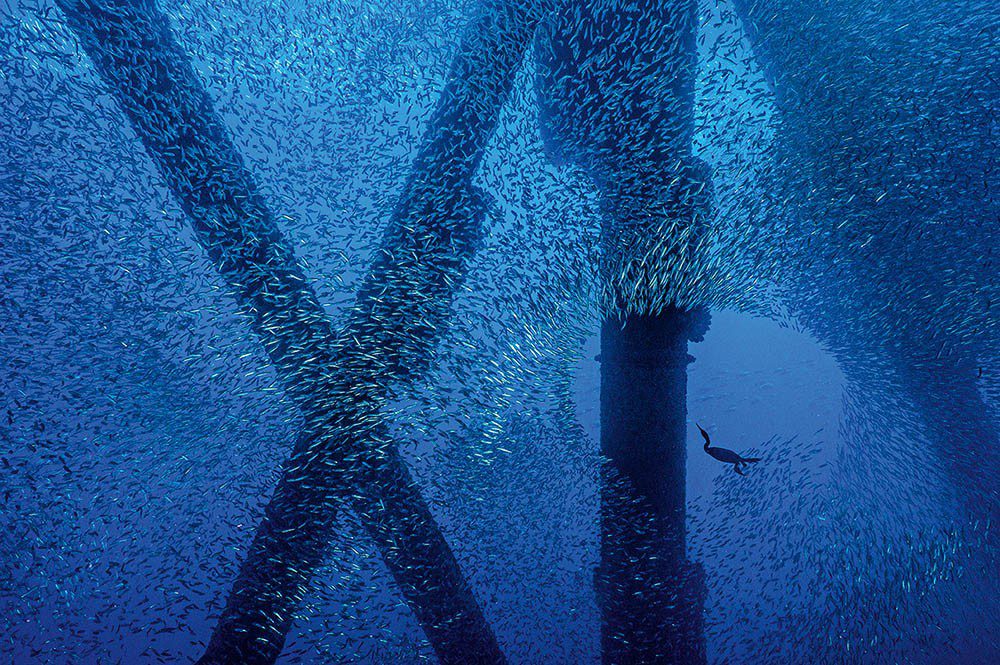 Cormorant Hunting. Taken with Nikon D4 and Nikon 20mm. Subal housing. Zeiss UW Corrector. 2 x Seacam strobes. 1/250th @ f/10, ISO 800.
THE CLASSIC NIKONOS viewfinder cameras that dominated underwater photography from the 1960s to the 1990s added an element of guesswork to focus and framing.
The upshot was that photographers would compose differently, favouring shooting scenes with creatures in them, rather than creating a frame-filling shot of a single animal.
Since these cameras have fallen from use, so the type of image that they specialised in producing has been forgotten. All our portfolios could benefit from bringing back the Nikonos speciality of the "animal in its environment" type of shot.
Creating a compelling image when shooting a subject small in the frame is much more of challenge than when the subject is on the dome and impossible to ignore.
There are usually two key factors. First, the subject must be positioned in an interesting point in the frame, which is rarely the middle. The best spots are often on the thirds, facing into the space in the picture.
The second factor is that the negative space shouldn't be wasted, but should make the picture more eye-catching, ideally telling a grander story of the subject.
This cormorant was hunting beneath an oil-rig in California. I set up my shot to produce a pleasing composition of the legs of the rig, then waited (for a while) for the cormorant to swim to just the right spot.
These pictures can be hard to appreciate viewed small on the back of the camera, but you'll love them more and more the bigger you view them.
Appeared in DIVER November 2018