archive – PhotographyNorthern Six
THE NORTHERN UNDERWATER PHOTOGRAPHY GROUP held its second annual Print Competition at the Great Northern Dive Show in Manchester in early April, with entries in four categories judged by visitors and overall winners selected and rewarded by competition sponsors Fleet Dive and Safari Diving Lanzarote.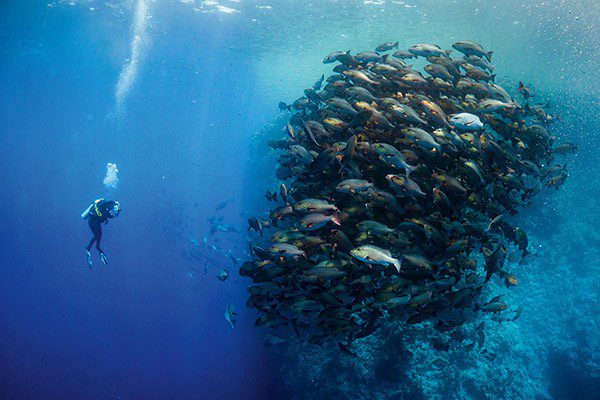 The British Macro winner was Trevor Rees, with a shot of a Coryphella lineata nudibranch grazing on hydroids, taken at Loch Carron with a Nikon D600 and 60mm lens.
British Wide Angle winner was Caroline Robertson-Brown with Grey Seal Nose, taken in the Farne Islands with a Nikon D7100 and Tokina 10-17mm lens.
In the Overseas Macro category, John Spencer won with his anemonefish image taken on a night dive in Lembeh, Indonesia with a Nikon D7000 and 60mm lens, while Justin Beevor won the Overseas Wide Angle title with Snapper v Snappers, a spectacular photograph of bohar snapper at Ras Mohammed in Egypt, taken with a Sony A6300 with a 16mm lens with fisheye converter.
Overall British & Irish Champion was John Spencer with his shot of a pair of hermit crabs from Loch Sunart, who won a diving package with Fleet Dive, while Caroline Robertson-Brown also won a diving package from Safari Diving Lanzarote after becoming Overall Overseas Champion thanks to a playful Cape fur seal seen in South Africa.
Appeared in DIVER July 2017