The distinctive images created by CHRISTY LEE ROGERS have won her renown in the art world, but the underwater technique that requires this US photographer to stay high and dry came about by accident. She explains her methods to STEVE WEINMAN
Formal training to explore the underwater world hardly seemed necessary for kids growing up in Hawaii, says Christy Lee Rogers. She had been one of those kids.
"I grew up in the water – I was a surfer and a boogie-boarder, and I would do kinda crazy things," she says. "There'd be a lava tube with rock everywhere leading out into the ocean, and I'd dive down while the waves were coming in so that they sucked you out into the sea. So I'm used to being crushed by waves, where you don't know which way is up and which way is down."
A favourite site was an island cave near her childhood home on Oahu. "There's a little bit of air, all these creatures on the walls and then the waves come in and fill up that hole and you kinda have to time it and go back out with the water."
Snorkelling seemed tame and as for freediving she says – surprisingly – "I never could hold my breath for very long!"
"I would go diving with tanks but I just learnt from my friends – they'd take me out on a boat and give me a little lesson and then we'd go down 60ft and around the base of the island to where they knew this tiger shark was. My friends would be spearfishing and there'd be blood in the water and it was just crazy!"
Christy's obsession with water has never left her, although she has found success with a pursuit that requires her to stay clear of it.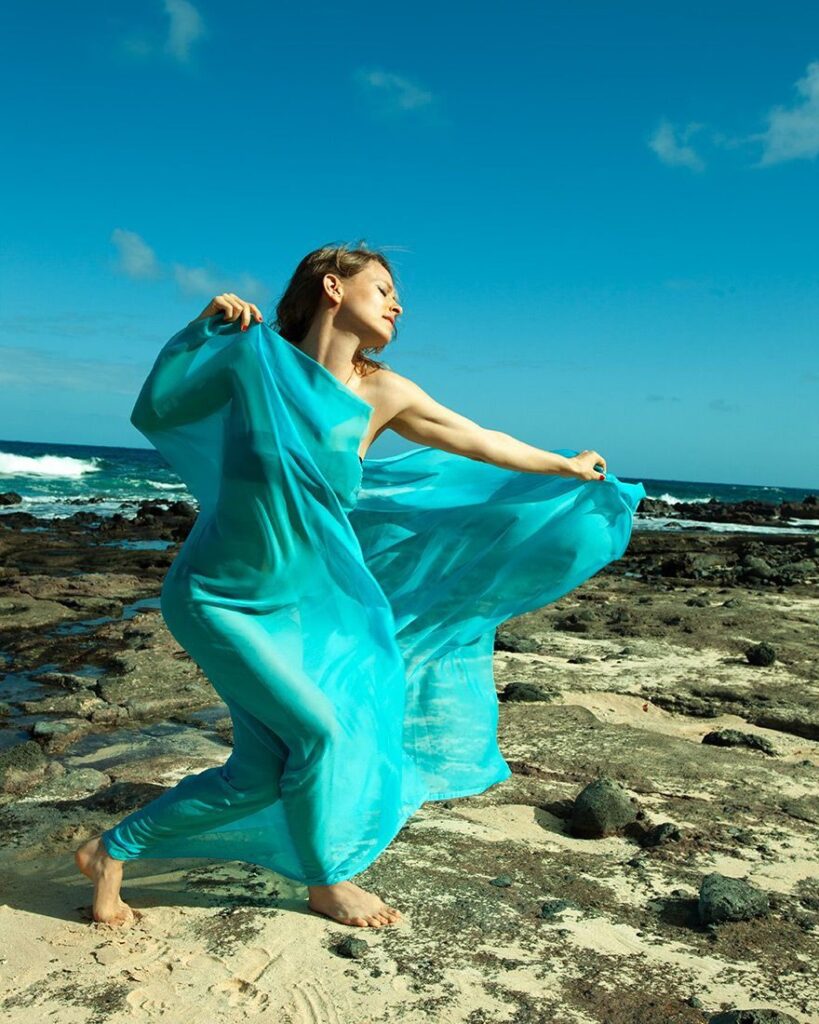 Based in Nashville, she is described as an underwater photographer but one with a distinctive fine-art style. This hinges on the twilight zone between her submerged models and her topside camera, with the refracted light at their interface helping to create the extraordinary effects that attract buyers around the world.
A number of underwater photography competitions include categories for images that feature human models, but Christy's work is different. It has been scooping up awards since 2011, and it commands high prices. Limited-edition prints range from £3,000 up to £28,000, while her one-off works can fetch anything from £50,000 up into six-figure territory. As underwater photography goes, that's stellar.
Her work can be found in private and public collections, glossy magazines and the walls of stately homes. She created an album cover for Wang Chung, a calendar cover for Lavazza and saw off 274,000 other entries to become Open Photographer of the Year at the Sony World Photography Awards. Apple commissioned her to create images to show what the iPhone 11Pro could do under water.
"Breaking the conventions of contemporary photography", as her London outlet A Gallery puts it, Christy's elaborate images of drifting, intertwined human bodies in colourful swirling garments bring to mind baroque paintings by old masters such as Rubens or Poussin. And it all came about by accident.
The joy of refraction
A boyfriend gave Christy her first 35mm camera when she was 15. "Then I took a photography and film-making class, very rare to have in high school. I would lock myself away in the darkroom producing all these images, but I was also making Super 8 films, which I would say was my first love."
Not having enjoyed any other subjects, she headed for film school in San Diego. "I lost some of my passion there – it was more about theory, and just so structured. I was really into experimenting and I was curious, but people would tell me: you can't do it like this because there's this rule in film-making. I was like, yeah but it looks good! I was always a little bit of a rule-breaker.
"I was taking photos outdoors for a really long time and I guess I was a little bored. I would print out stacks of prints from a million photographs taken with my digital camera, but nothing ever stuck with me until, because I like water, I said to one of my models: let's just jump in the pool!
"That was when I started to see how things were bending, but only when I was outside of the water. When I put the camera in the water, which I did test with 35mm, it wasn't very pretty.
"From the surface I started to see all these shapes and forms and realised that like that I could create something magical that you could see only through the camera. I didn't even know it was called refraction at the time, or understand the physics behind it.
"I started to push it a little bit this way or that, adjusting my camera and my lights, finding out what looked good. Then it became very precise, because if you do too much it can be a big mess!"
On the night shift
Christy would conduct her shoots in pools until way past the midnight hour. "I used these really harsh lights, which I always liked the look of at night. But when some people saw the first images they would say they reminded them of Caravaggio. I had never really thought of them that way but I am a very dramatic person, very emotional, so that idea went along with what I was creating at the time.
"I'd gone through a really dark time in my life and there is a point where you think 'I'm gonna die'. Then I realised, oh wow, I'm not going to die, it's very interesting that I just keep surviving.
"So the message I started putting into my images was of this ethereal other world of hope, of what's possible. It's an underwater image that is real technically, but taking us into a whole other realm."
Initially Christy's friends would act as her models and, being Hawaiian, she says they didn't baulk at being submerged while holding strange positions. In landlocked Nashville she tends to hire actors, models or dancers – "I do like using different people and experiencing things differently" – and acknowledges that what she asks of them can take a bit of getting used to.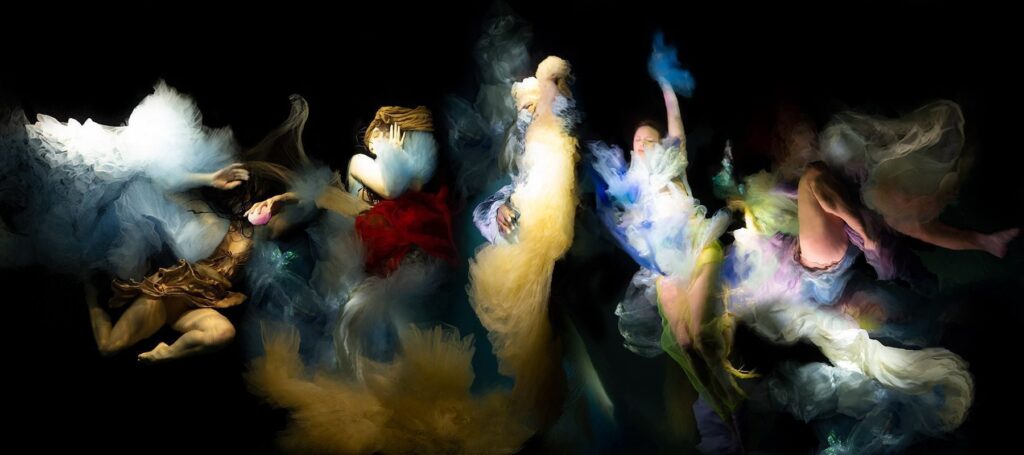 "Just standing in the water it's great, but as soon as you start to move upside-down and get that water in your nose it's a whole other skill-set that comes in!
"A lot of the photographs I took early on were of myself, so I know exactly what it's like to be down there and have to hold your breath for a long time and try to look beautiful. Divers and other people used to being in the water know how to do it, but there's a lot of experimentation, doing it over and over, teaching the models how to be comfortable. We have to go through the pain.
"I usually choose people who love pushing the limits. They wanna get it, they don't give up and I can feel their energy. When they're done they might feel exhausted but they also feel invigorated – especially when they see the images."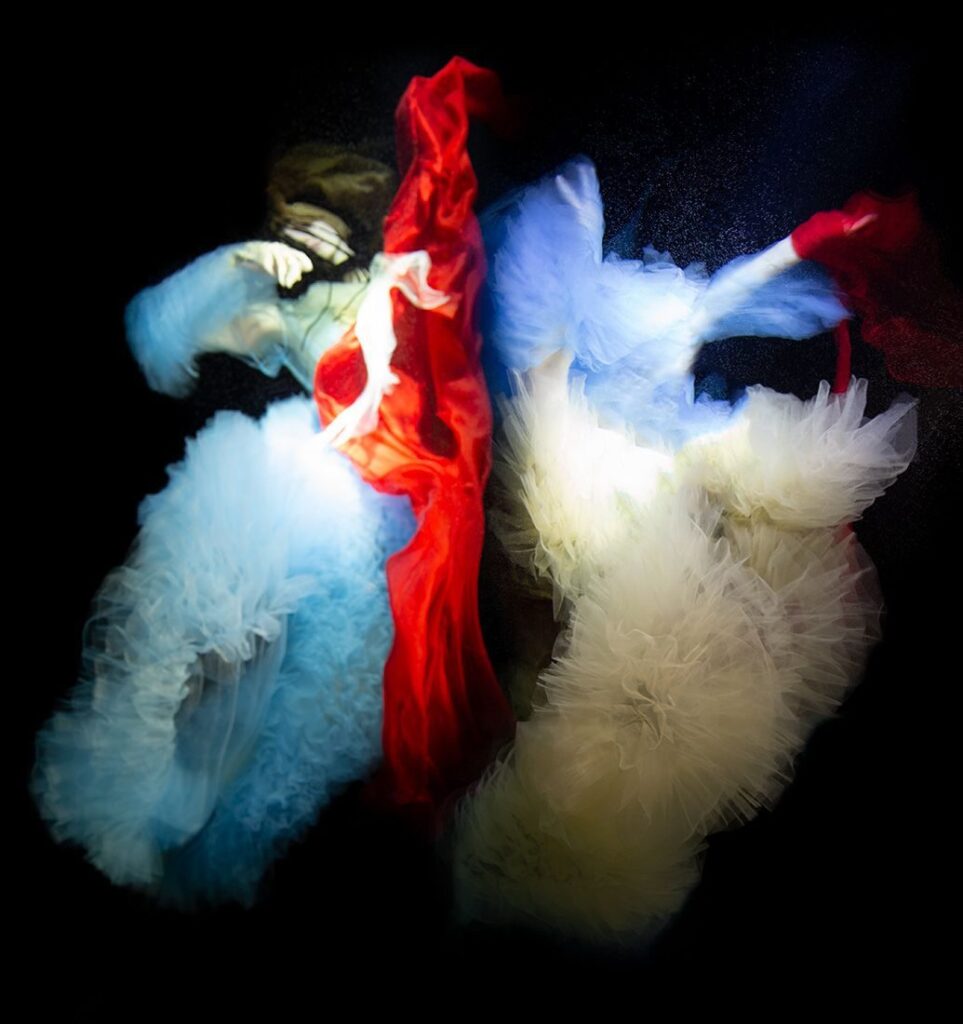 Several deep breaths, exhale, submerge, expel any bubbles and hold. "They need to get rid of the air or they'll start to go upside-down, and the water wants to suck into your nose, so it has to be very precise. Once they learn to let go, they know that if they don't suck in that water it will just sit in the nostrils. It's going to be uncomfortable and feel weird, but then you come up and blow it straight out."
The models are rarely under water for more than a minute at a time so there's no question of extreme breath-holds, but the nocturnal sessions can last up to six hours at a time, with everyone left feeling wiped out by 1am. "But when you do two nights of shooting, on the second night you're going to be so much better now you've already gone through all the mistakes."
Once submerged, the models drop into pre-arranged patterns. "Then they come back up and I re-adjust – OK, this is working, that's not working – and attend to any problems. We're just going up and down, up and down constantly. I'm open to working at it, because I feel something new comes out of each experience.
"I'm not using this big flash unit, I'm trying to get that painting-like feeling, so if there's a lot of movement it can be hard to get the balance right." A safety team is on standby for bigger shoots or commissions but usually the images are conjured up in water so shallow that "at any point someone could simply stand up!"
"In the end, the process is uncomfortable and life is uncomfortable," says Christy, "but when you push through, hope and beauty kind of shine through."
Camera choice
As for hardware, Christy has been using the Fuji GFX 100, "which is a newer mirrorless camera that can shoot an image at billboard size – it's amazing, though it does have its pluses and minuses.
"My first collections were done with a Canon EOS 5D Mk 3 and some other Canons. I tried Sony and other cameras but I like the colour palette of the Canon and it tends to blur a little bit more, whereas the Fuji wants to capture everything perfectly. It's funny but that can be a problem for me!
"My new collection is shot with the Fuji and you can definitely see more clarity with faces, which is good, but I think when people purchase my art they want a little more of that softness and not really to see the face completely. That's what I'm known for."
Is much post-production work needed? "I started out with everything just shot in camera, and you see a lot of craziness in the images. I have one collection called Reckless Unbound [displayed at Longleat House in Wiltshire], and it really was the easiest collection to create because I let the light just blow things out.
"Now, let's say we've got a shot of three bodies and a model's perfect here but not in this one, I'm open to playing with things." There can also be a lot of "digital defects", as opposed to bubbles, depending on the amount of movement. "Some images I just let it go and others I want it out. Post-production is not my skill, it's just a tool I can use, and it does take me a hundred times longer to create an image!"
Deeper, darker pools
Christy starts most shoots with a firm concept in mind but finds that it can take unexpected turns. "On one I was shooting with LED lights, which I don't like as my main light, so I brought in these underwater dive flashlights to accentuate the colours.
"I had almost cancelled the shoot because I felt we didn't have enough light but then, boom, you get these almost-too-much bursts of colour." This resulted in the collection called Luminescence, shot in deeper, darker pools with the models intensely lit. The images shown here come from that collection.
Christy has long wanted to be able to shoot at any time of day, as the mood takes her, at her Nashville home. "I bought this piece of land in the forest a while ago and built a house on it but the main purpose was to build a pool. I'll have all the tools, be able to use different backdrops, different colours and have lights all set up to exactly what I need."
She will continue to shoot in Hawaii from time to time too, whenever she returns to see her family, calling on her old friends once again as models.
And now, after all this time shooting from above the surface, it turns out that Christy is thinking of smashing that refractive wall and getting wet again after all. "I think next time I want to go completely under water!" she says. "Maybe a bit more experimentation with the cameras completely immersed. I have done a little of that with video – and I think I want to dive more into video.
"Moving images are really fascinating and, although you wouldn't have the refraction, I'm thinking about playing more with light."
Christy Lee Rogers' many other collections can be seen on her website and on Instagram; at the A Gallery; in a July solo exhibition in Venice and, jointly with British underwater photographer Zena Holloway, in Sweden, where their Guardian of Water exhibition is being held on the lighthouse island of Pater Noster near Gothenburg until the end of August.
Also on Divernet: The diver who likes to leave his mark, World of blur, Scuba diver lights London blue, Flying high under water: Rob Franklin, James Set Free