AN IMAGE CAPTURING the exact moment a pack of grey reef sharks catch and devour a parrotfish has seen British photographer Richard Barnden named Underwater Photographer of the Year 2019. His exciting picture triumphed over 5000 others, entered by divers from 65 countries.
UPY is an annual competition, based in the UK, that seeks to celebrate photography beneath the surface of the ocean, lakes and even swimming pools.
British photographer Phil Smith was the first Underwater Photographer of the Year back in 1965, when the competition was started by DIVER Magazine founder Bernard Eaton, and following a long hiatus the event was revived in 2014/15.
Today's competition has 13 categories, testing photographers with themes such as Macro, Wide Angle, Behaviour and Wreck photography, as well as now four categories for photos taken specifically in British waters.
The judges alongside Mustard were experienced underwater photographers Peter Rowlands and Martin Edge. The winners in each category are shown here…
Behaviour, Underwater Photographer of the Year & British UPY / The Gauntlet – Richard Barnden (UK)
"As the sun sets on Fakarava South Pass [in French Polynesia], the estimated 700 sharks that patrol the mouth of the channel by day begin to hunt at night. The gauntlet is about to unfold.
"Descending into the darkness I can feel my heart beating a little faster than normal as hundreds of sharks are now covering the bottom. This unlucky parrotfish dodged in and out of the patch coral heads looking for somewhere to hide as swarms of sharks followed in hot pursuit.
"One grey reef shark suddenly grabbed the parrotfish by its head as another twisted underneath it to get a better grip. In desperation it hurtled straight towards me as I snapped a few passing shots and curled up into a ball as the frenzy of sharks shot past, leaving only a few falling parrotfish scales behind."
Taken with a Nikon D810 with 15mm Sigma lens in a Nauticam NA D810 housing with Inon Z240 strobes, Dive Pro / Big Blue video lights. ISO 1000, f/8, 1/80th
ALEX MUSTARD COMMENTS: "Photography is about capturing moments and what an unforgettable and terrifying moment, especially if you're a parrotfish, this is. At night, in the heart of the Pacific Ocean, Richard transports us right to the peak of the action as a tangle of grey reef sharks rise like a breaking wave to tear apart their prey.
"To take this picture in the dark with a wide-angle lens meant that the photographer was right in the midst of the hunt, and the photo takes us right there too, letting us experience the ocean's wilder side."
MARTIN EDGE COMMENTS: "As soon as the eye connects with the light and the action it's an insane and no doubt very disconcerting moment for the photographer. It's peak of the action as I have seldom seen before and, to be perfectly honest, an encounter I would prefer to sit out if I had the chance. Breath-taking!"
PETER ROWLANDS COMMENTS: "I worry that this image will refuel the public's imbalanced perception of sharks but as an image capturing behaviour it has drama, adrenaline, grace, beauty and finality. That's a very rare combination in one image."
Wide Angle / Gentle Giants – Francois Baelen (Reunion)
"At the end of the day, this humpback whale was resting 15m down and allowed me to freedive centimetres from her tail. I told my friend I wanted him to be part of the shot, but didn't need to ask the playful calf – he was very curious. From down there the scene looked unreal and I'm glad that this photograph has captured this moment.
"Humpback whales are amazing and peaceful animals, and I can't believe they are still being hunted by mankind today."
Taken at Saint-Gilles, Reunion, with a Sony A7III with Sony-Zeiss 16-35mm lens in a Nauticam NA7RIII housing, Natural light, ISO 400, f/9, 1/80th.
MARTIN EDGE COMMENTS: "The first moment I viewed this image I knew it would be a strong contender. For me it's the symmetry of the humpback and the balance between diver and calf. Everything about it is in perfect alignment. The shape of the tail in relation to the four corners of the frame, not to mention the position of the freediver and calf. Superb imagery at its very best."
Macro / Fast Cuttlefish – Fabio Iardino (Italy)
"In the first three months of the year I often go to the Gulf of Trieste in the north-east of Italy, where I do night-dives to take pictures of small cuttlefish of the species Sepiola. The hope, given the period, is to find them during the mating phase.
"I found this Sepiola that moved about a half-metre from the bottom. Looking at his way of moving, I thought of trying to make a panning shot and to photograph the effect of the movement to give dynamism to the image.
"Using the slow sync flash technique, after some unsuccessful attempts and after changing the parameters of my camera, I managed to capture an image that represents the movement and with good visual impact."
Taken with a Reflex Nikon D850 with Micro Nikkor AFS 60mm lens in a Hugyfot HFN-D850 housing, Inon Z330 strobes. ISO 160, f/29, 1/16th.
ALEX MUSTARD COMMENTS: "Fabio's use of long exposure and panning has turned a classic portrait of a Sepiola into an unforgettable one. The sharp and ghosted images of the bobtail squid balance pleasingly in the frame and, combined with the outstretched tentacles, give the feeling of the cephalopod lunging for its prey. An innovative and most deserving category winner."
Wrecks / Big Guns – René B Andersen (Denmark)
"My inspiration for this picture is Leigh Bishop's black and white image of the HMS Audacious turret. Audacious, which lies at 64m off Malin Head, Ireland, was a Dreadnought battleship that struck a mine in 1914. After she capsized, the shells magazine exploded and she sank.
"I used a tripod and three Big Blue video lights to illuminate the turret with the majestic 13.5in guns and myself as the model. There was a small current so it wasn't easy to lie still during this long exposure shot.
"It took some time to achieve, and at 64m the clock is ticking fast. That is the challenge with deep wreck photography. When I used the tripod with me as a model, there was a risk that something would go wrong as I was far from the camera, so I had to cross my fingers every single shot."
Taken with a Nikon D7000 with Nikon fisheye 10.5mm lens in a Hugyfot housing, with two Big Blue 15,000 and one Big Blue 33,000 lumen lights. ISO 200, f/22, 8sec
PETER ROWLANDS COMMENTS: "So simple yet so powerful; the additional lighting of the turret and the main diver perfectly positioned. This was a very strong category this year with a deserved winner and it's refreshing to read the acknowledgement to Leigh Bishop's pioneering work."
Portrait / Fly High and Smile – Nicholas Samaras (Greece)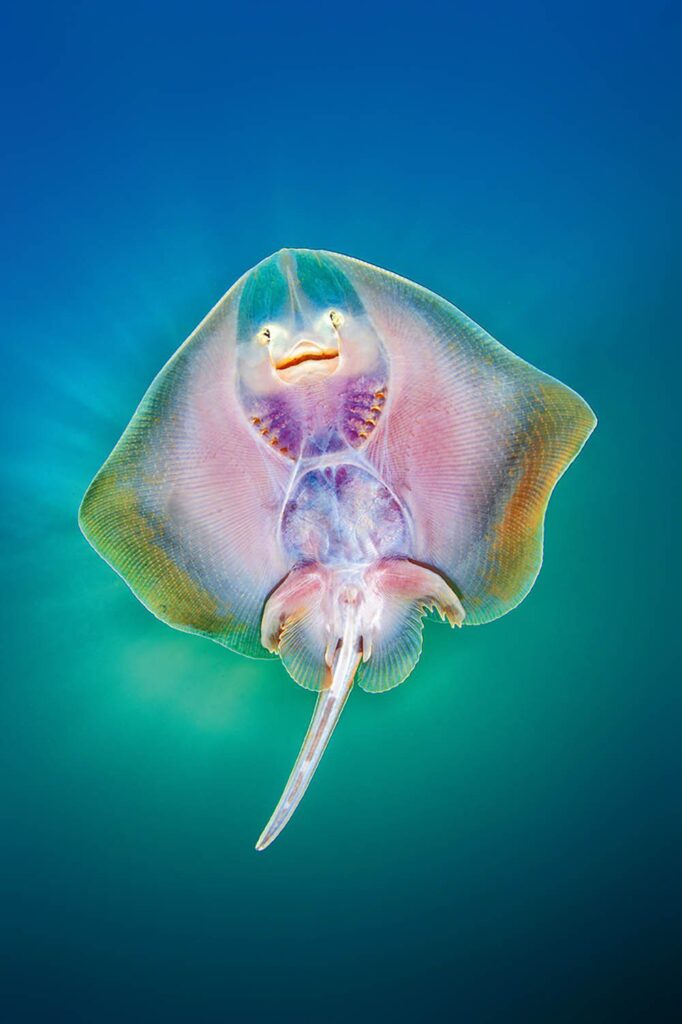 "Abandoned by swimmers and divers for many years because of the gold mine just on the edge of the gulf, Stratoni [in northern Greece] is a well-kept secret for scuba-divers and macro photographers.
"I visited three times in August 2018 for a photo project dedicated to the seahorse colony that manages to survive there.
"On my last visit I was planning to create a specific group photo of seahorses, before the sunset using natural light. Just on time for the big finale, a small ray came onto the scene!
"Hidden in the sand a few centimetres from my camera, it took off swimming in the shallows. I managed to swim with it and place my camera underneath to capture a portrait of its belly with the mouth and nose looking like a smiling happy angel's face, with the sunbeams in the background softening the colour to emerald."
Taken with a Canon EOS 5D Mk II with Canon EF 8-15mm f/4L fisheye USM + Kenko TelePlus lenses in a Sea & Sea MDX-5D MKII housing, Retra flash. ISO 125, f/13, 1/80th
MARTIN EDGE COMMENTS: "Superb impact from the very first moment it was presented. Perfect composition within the image frame and the understated colours. To top it off the author's comments above say it all… a smiling happy angel's face. One of my favourites."
Black & White / Between Two Worlds – Henley Spiers (Philippines)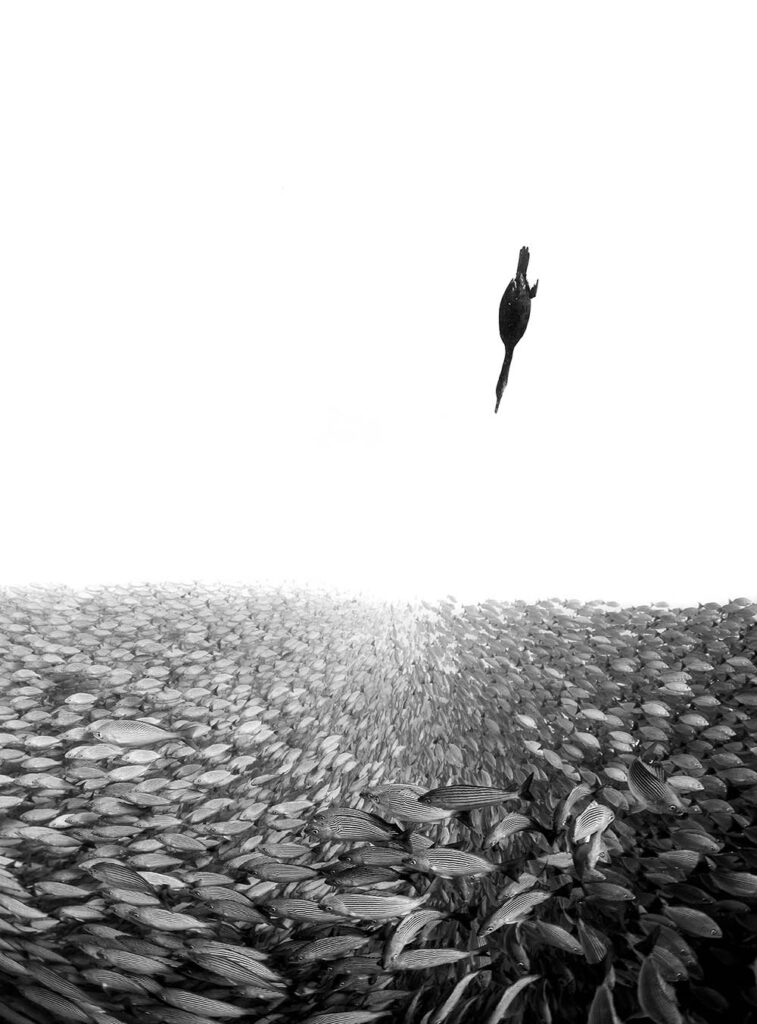 "Ten metres down, I found myself hovering between two worlds. Below, an enormous school of fish covered the bottom as far as I could see. Above, a single cormorant patrolled the surface, catching its breath and peering down at a potential underwater feast.
"Better designed for swimming than flying, it would dive down at speed, aggressively pursuing the fish. The school would move in unison to escape the bird's sharp beak, making it difficult to isolate a single target. More often than not, the bird returned to the surface empty-handed and peace would momentarily be restored. I would squint up at the sunny surface, trying to keep track of the predator and anticipate the next underwater raid.
"This image captures the hostile, black silhouette of the cormorant as it dives down onto its prey which, for a brief moment, remain unaware of the danger above."
Taken at Isla Espiritu Santo, Baja California Sur in Mexico with a Nikon D850 with Nikon 28-70mm (@28mm) lens and Nauticam WACP in a Nauticam NA D850 housing. Natural light. ISO 500, f/8, 1/500th
PETER ROWLANDS COMMENTS: "It must be 11 out of 10 for this groundbreaking image. Conception, interpretation and perseverance coupled with black and white's ability to concentrate on the key elements. It gets better with each viewing."
Compact / Hairy in the Sunrise – Enrico Somogyi (Germany)
"I woke up early to get a half-and-half shot with a fishing boat and the sunrise. This was the first picture. The second was with this hairy frogfish on Laha, using an Inon S2000 with a snoot. For the blue backlighting I used a coloured fiber-optic snoot on an Inon Z240.
I was using the double exposure setting in the camera to get the two pictures together."
Taken in Ambon, Indonesia with a Panasonic LX100 with Sony Fisheye Converter, Inon UCL 165 in a Nauticam LX100 housing. ISO 200, f/9, 1/2000th
MARTIN EDGE COMMENTS: "This image was a very popular choice between the panel. Ideal for a split rendition. What makes this a winner for me, notwithstanding the double exposure, is the sympathetic balance of light and colour connected between the top half and bottom of the image frame."
Up & Coming / Paradise – Taeyup Kim (Rep of Korea)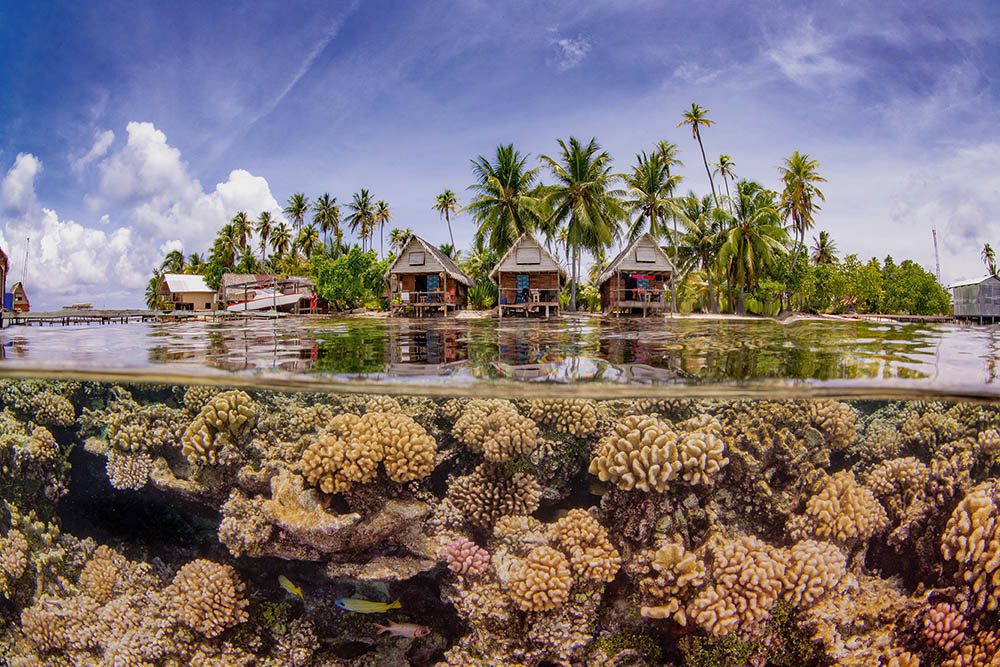 "Over water, beautiful resorts and palm trees in a super clear sky. Under water, nearly 1m depth, colourful and untouched hard corals with some reef fishes. On the first dive there I was running out of time but I had asked to dive there just to get nice split shots.
"I worked for about 30 minutes. The surface was not that calm because of passing boats, and I felt unstable at the super-shallow depth among hard corals. I was waiting for grey and blacktip reef sharks to enter the composition and failed, but I like this paradise."
Taken at South Fakarava in French Polynesia with a Nikon D850 with Nikon AF-S Fisheye Nikkor 8-15mm f/3.5-4.5E ED lens in a Nauticam NA D850 housing with Sea & Sea YS-D2 strobes. ISO 800, f/29 1/160th.
MARTIN EDGE COMMENTS: "Beautiful split shot with both a perfect under and over split. A very strong favourite with all the judges and one of the best examples I have seen of this type of image for some time. Just superb!"
British Waters Wide Angle / Off the Wall – Robert Bailey (UK)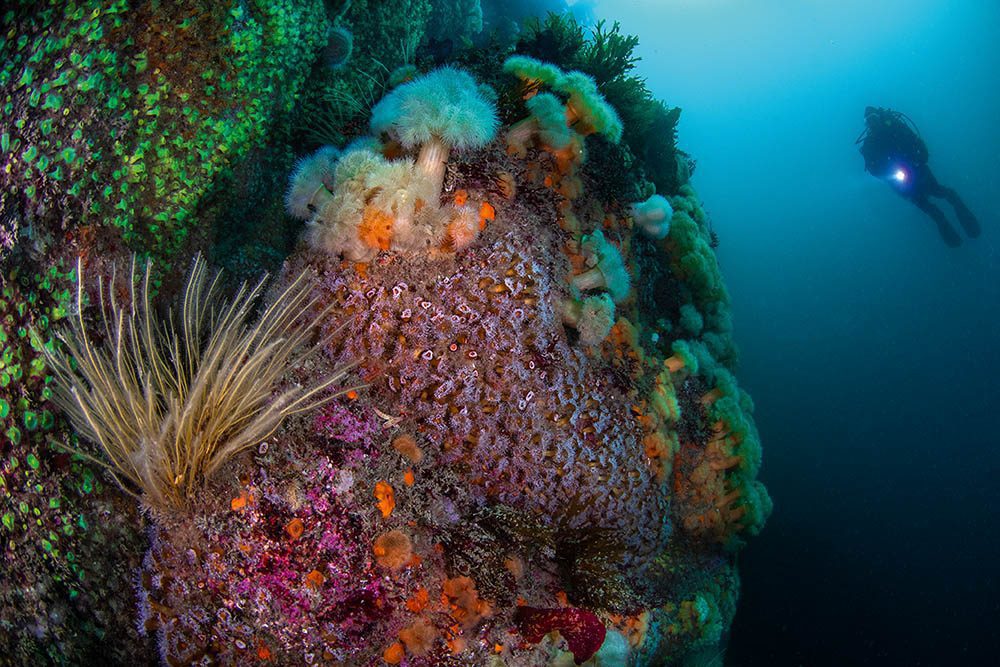 "Our dive group was on a private charter with Dive Scilly late last summer. The skipper dropped us on this lovely wall festooned with invertebrate life. I was keen to capture a good wide-angle scenic featuring jewel anemones and a diver. When diving in the UK I've found that the visibility is rarely good enough for making contrasty wide-angle pictures, let alone including a model.
"On this occasion the offshore site afforded us with clear water. I took advantage of the opportunity, and encouraged my wife and model Paula to work her way into the frame.
I took 20 shots in a series on this portion of the wall before settling on this image."
Taken with a Nikon D500 with Tokina 10-17 Fisheye zoom in a Sea & Sea MDX-D500 housing, two Inon Z240 strobes. ISO 320, f/8, 1/60th
ALEX MUSTARD COMMENTS: "Photographers often feel that competition shots must be packed with new tricks to win. At UPY we always appreciate classic technique when it raises the bar of what has been done before. Rob's full technicolour wide-angle scenic reveals the richness of UK seas with an elegant simplicity that is incredibly challenging to pull off in British conditions."
British Waters Macro / Beauty in the Mud – Arthur Kingdon (UK)
"Easter 2018 found me diving in Loch Duich on the west coast of Scotland. My target subject was the fireworks anemone found on the muddy seabed towards the head of the loch. However, while searching for these, I spotted a length of plastic pipe lying partially buried in the mud. Moving cautiously to avoid stirring up the silt, I reached the open end and was delighted to find this collection of marine life.
"A long-clawed squat lobster posed proudly outside its man-made home, which it shared with numerous brittlestars, while dainty sea loch anemones decorated the entrance.
"To capture the beauty of this scene I chose to restrict the lighting to one strobe, snooted for a spotlight effect to avoid illuminating the unattractive background and angled to avoid lighting the interior of the pipe and to give a black background to the squat lobster."
Taken with a Nikon D7000 with Tokina 10-17mm lens in an Aquatica AD7000 housing, Inon S2000 strobe. ISO 200, f/13, 1/125th
MARTIN EDGE COMMENTS: "A mantra of mine is 'It's not what it is. It's where it is', and this squat lobster is in a perfect position to make a memorable image. The author, instead of 'blasting' it with light, has gone in the opposite direction by restricting the strobe into a snooted spotlight to illuminate just the features of the lobster and the dainty sea loch anemones. Isolation lighting at its very best.
"Many underwater photographers invest their time in what they want to illuminate. This is an example which in my opinion illustrates features that they do not want to illuminate, hence the punchy black background and the soft delicate hues of dark sand, facial features topped off by the sea loch anemones."
British Waters Living Together / Morning Tide Mackerel – Victoria Walker (UK)
"This huge shoal of mackerel forgot to check the tide timetable! Caught out by the spring low tide in St Ives harbour, hundreds found themselves stuck for a few hours until the tide came back in.
"I'd been out for a swim, testing my new weight-belt with my camera when I came upon this unusual event. The local fisherman told me it very rarely happens, so I slowly immersed myself into the pool to capture the spectacle. I had to sit very still, not wanting to panic the fish, but after just a few minutes they were swimming all around me.
"I wanted to capture the public watching from above, along with what was happening below. Luckily I had my wide-angle lens to get the composition I wanted to achieve."
Taken with a Canon 5D Mk iii with Sigma 15mm lens in an Ikelite housing. Natural light. ISO 100, f/10, 1/250th
PETER ROWLANDS COMMENTS: "Images tell stories, but well thought out and executed ones speak volumes. This is such an example, which feeds the eye with tales of the seaside on summer days, lively marine spectacles and excited human interaction."
British Waters Compact / Playtime? – Martin Edser (UK)
"If ever there was an invitation to play, this was it! I love diving with and photographing seals, and have dived with them around the UK but this was my first trip to the Farne Islands, and what a 'sealfest' I was treated to! The younger pups especially were very curious of us, the lumbering black bubble-monsters. This is great for us as photographers, as we can wait for them to become increasingly inquisitive.
"This adorable seal pirhouetted and arabesqued around me before sliding in and flicking sand over itself in a final attempt to get me to play – and it nearly worked!
"Using the ambient light and managing the aperture and shutter speed I have tried to focus and lock on the face but also capture a sense of movement – but the irresistible pose and eyes are all this seal's own work."
Taken with a Canon G7x Mk2 with Fantasea UWL 09F lens in a Nauticam NA-G7XII housing. Natural light. ISO 400, f/4, 1/200th
ALEX MUSTARD COMMENTS: "Does British diving get any better than a fun encounter with a grey seal pup? This youngster's relaxed and curious face is captured perfectly by Martin, making us all want to be there too."
Marine Conservation / Caretta caretta Turtle – Eduardo Acevedo (Spain)
"Caretta caretta turtles spend much of their life in open ocean. They reach the Canary Islands from Caribbean beaches, and on their multi-year trip have to avoid many dangerous traps such as plastics, ropes and fishing-nets.
"This one was very lucky to be able to escape from the net, with the help of two underwater photographers sailing nearby."
Taken at Los Gigantes, South Tenerife, with a Canon 5D Mk II with 15mm lens in Seacam housing, Inon Z 240 strobes. ISO 160, f/8, 1/100th
ALEX MUSTARD COMMENTS: "The problems of plastic pollution and ghost-fishing are both illustrated by this struggling loggerhead turtle. I am happy to learn that this individual was lucky enough to survive this deathtrap, thanks to the photographer."
Full Results
• Malcolm Nimmo was named Most Promising British Underwater Photographer of the Year.
Full results and details of the 2019 UPY Yearbook can be found at Under Water Photographer of the Year Website.
© All images copyright of respective owner/UPY 2019