archive – Diving News
Big ghost-gear haul from Scapa wrecks
A hundred kilograms of fishing-net and line, more than 30 pots and creels and other lost fishing-gear have been removed from Scapa Flow's deeper wrecks by the charity Ghost Fishing UK, carrying out its third annual dive-week in Orkney.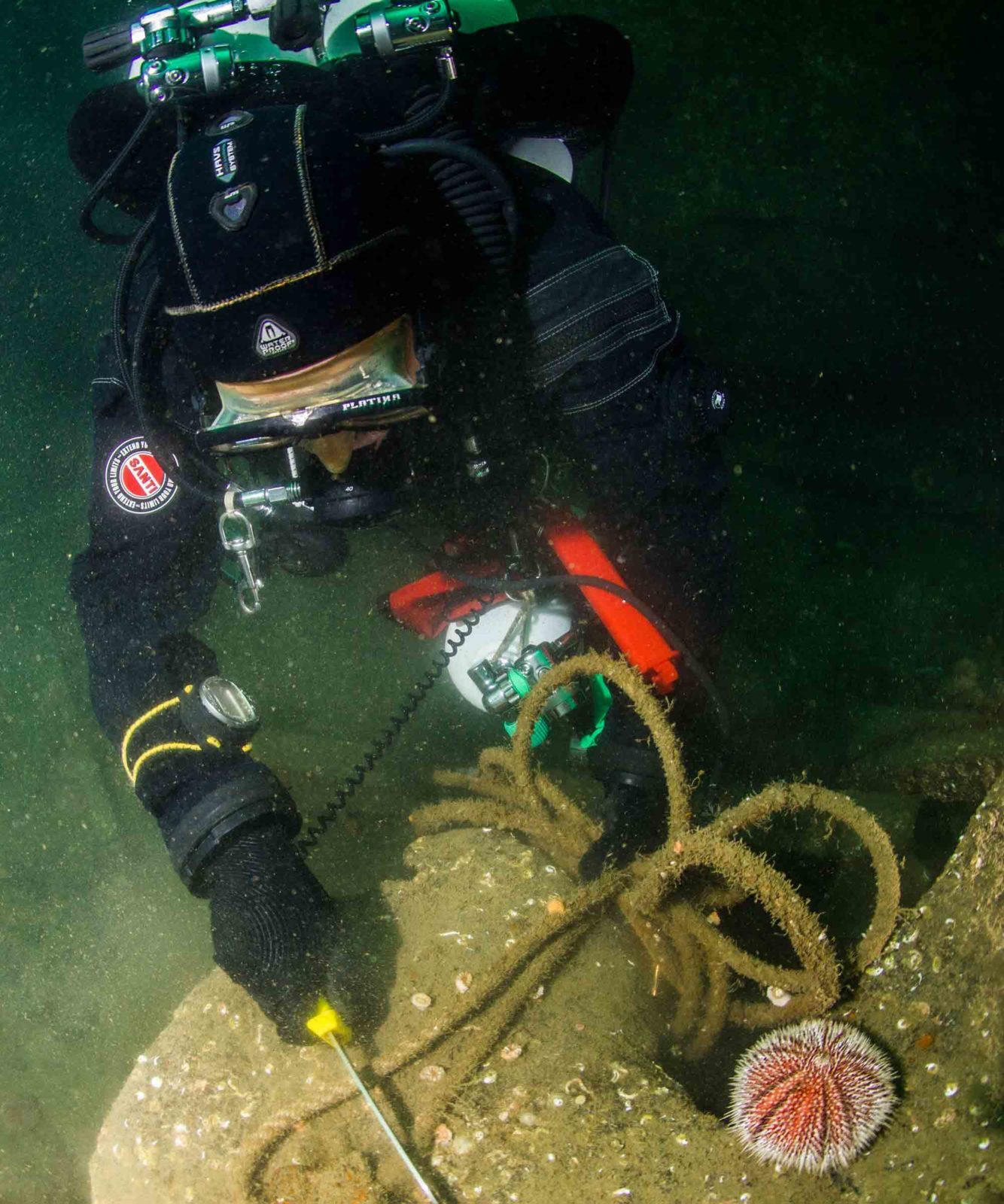 Using the dive-boat Halton, the team of technical divers focused on the WW1 German warship wrecks at depths down to 45m, rendering them safer both for visiting divers and marine-life.
For the first time the organisation was also able to use the event to train new volunteers, with a second team diving from an additional charter-boat, Sunrise.
These divers had been invited from across the UK, with the aim of creating units around the country experienced enough to carry out underwater clean-up operations.
Already mixed-gas-qualified, the trainee divers needed to learn how to remove ghost-gear safely, to identify and where possible free trapped marine life and to document their work.
Altogether 18 volunteers worked together for a week, diving twice a day. They were guided by the website of the Big Scapa Cleanup project, which collects data on the location and nature of ghost-gear at the wreck-sites provided by visiting divers. The information allowed the work to be tightly focused – important on deeper dives with limited bottom-times.
"Using amateur divers to remove ghost fishing-gear is a unique approach to the problem," said Rich Walker, Chairman of Ghost Fishing UK.
"Divers are the only group of people that are able to see what happens beneath the surface of our seas, yet the effects of ghost fishing-gear affect marine animals, the fishing industry and ultimately society as a whole.
"If divers do not remove this ghost gear, then I worry that nobody else has the information or capabilities to remove it from the seas."
The ghost-gear collected is being shipped to Denmark for recycling by project partner Plastix.
The Scapa Flow project was funded by World Animal Protection and the Fat Face Foundation as part of the international Global Ghost Gear Initiative (GGGI). Fat Face, which sells swimwear made from recycled fishing-nets, funded the additional dive-boat.
Divernet – The Biggest Online Resource for Scuba Divers