archive – Diving NewsCouple's diving-helmet collection nets £570,000
A couple's collection of more than 500 items of standard-dress diving equipment has yielded £570,000 at a live auction in Exeter.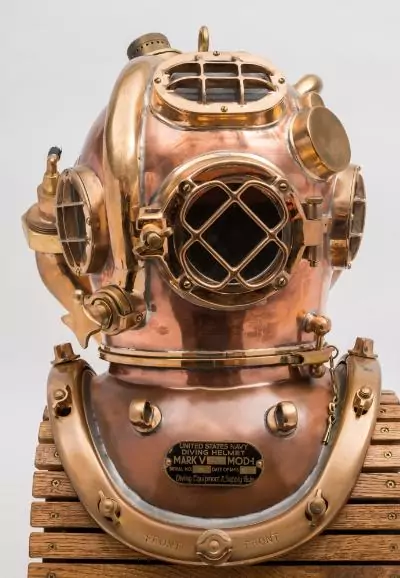 Tony and Yvonne Pardoe from Devon were selling their entire collection of more than 150 diving helmets as well as pumps, suits, knives, lamps, boots, weights and other accessories from famous manufacturers such as Siebe Gorman, Heinke, Draeger, Morse and Schrader.
Their collection was already well-known because Tony Pardoe had published his own two-volume, £300 catalogue four years ago.
One of the helmets sold had been fashioned from a steel drum, another from metal scraps by a Swedish farmer who needed to retrieve his tractor from a lake. His home-made boots, weights, knife, lamp and telephone were also included, fetching £1100.
The oldest lots dated back to the 1850s but items from as late as the 1970s were also included.
The live auction aroused considerable interest from overseas collectors, resulting in the original estimate of £300,000 to £500,000 being surpassed.
The highest price for an individual helmet was £8000, paid for a US Navy MK V Helium MOD-1 made by Morse Diving Equipment Co, Boston in 1905.
Christopher Hampton, of the auction house Bearnes Hampton & Littlewood, described the outcome of the sale as 'like a lottery win'.
DIVERNET – The Biggest Online Resource for Scuba Divers