archive – Diving NewsFame at last: Poole wreck mystery solved
After years of research, the historic Swash Channel Wreck has finally been identified as a Dutch armed merchant vessel called the Fame, which sank in a storm near Poole Harbour in Dorset in March 1631.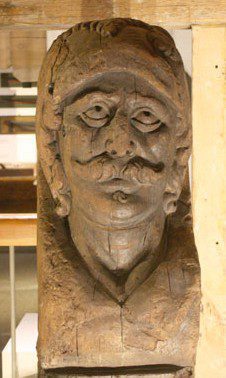 The wreck was first noted when a dredger struck it on Hook Sands in 1990, and Wessex Archaeology began to investigate the site in 2004. The work has been led by marine-archaeological divers from Bournemouth University.
Lying between 7 and 9m deep with about 40m of the port side of the hull remaining, and now buried under sand, the vessel was designated a Protected Wreck Site in recognition of its historical significance.
The announcement of the identification was timed to coincide with the display at Poole Museum in March of the ship's decorated 8m-long rudder.
This was raised – along with the bowcastle, part of the upper structure and various artefacts – in the years up to 2013 and conserved by York Archaeological Trust. Analysis of the raised timbers helped to identify the wreck as the Fame.
"It's the right name at the right date with the right age of the timbers," commented Bournemouth University marine archaeologist Dave Parham. "Everything fits, although you can never be sure."
Commissioned by the university to undertake the historical research into the wreck, Dr Ian Friel says that he sifted through more than 15,000 manuscript pages in Dorset and London before eventually finding contemporary accounts of the Fame being declared a danger to shipping after breaking up on a sandbank.
The ship was believed to have sailed in ballast from Hoorn in the Netherlands in January 1631, heading for the Caribbean with 45 crew under captain John Jacobson Botemaker. Seeking shelter from a storm in Studland Bay in February, it dragged its anchor and broke up on Hook Sands.
The crew survived, but contents and cannon appeared to have been looted. Dr Friel believes that the missing guns could indicate that a celebrated Dutch salvor known as Jacob the Diver was active at the site following the sinking.
Dr Friel's account of the detective work that went into identifying the Fame can be read here
Divernet – The Biggest Online Resource for Scuba Divers